It's a craze that has swept the world. Movie stars are doing it, and so too are TV personalities. Top executives are joining in, while footballers have become experts in the art. You do it too, whether with friends or without makeup, with a message or without saying anything.

The selfie photo shared virally has become quite the talking point in recent times and in no place more so than English football where leading Premier League stars have embraced the phenomenon.

Four months ago, television cameras caught Wojciech Szczesny grabbing his phone from the bench after Arsenal's 1-0 derby victory over Tottenham at White Hart Lane.

The goalkeeper made a beeline for the celebrating away supporters, summoned over Kieran Gibbs and Lukas Podolski and snapped a picture that was liked more than 66,000 times on Podolski's Instagram account.

Podolski is perhaps the most prolific of all the selfie enthusiasts at Arsenal. His selfies on Instagram kicked off in earnest on the away trip to Bayern Munich in March with an image of the forward alongside team-mates Serge Gnabry and Bacary Sagna on the plane. Indeed, flights have become a popular setting for players to take a quick shareable snap.

Podolski also posted a selfie with Per Mertesacker following the FA Cup semi-final win against Wigan and pictures with Aaron Ramsey, Carl Jenkinson and Jack Wilshere ahead of the final against Hull.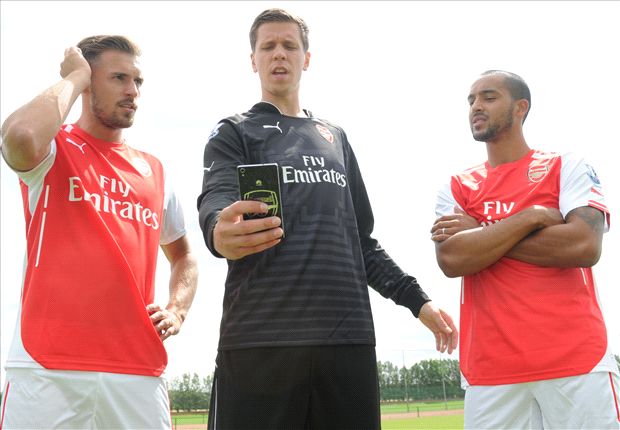 The German's influence appears to have rubbed off on Wilshere with the England star documenting his trip to the World Cup with a number of selfies accompanied by various international team-mates - including Alex Oxlade-Chamberlain - from Brazil.

Before that, Arsenal's triumph at Wembley was marked with some crowd-pleasing snaps from the open-top bus parade that followed. Podolski and Szczesny seized the opportunity while Ramsey and Mesut Ozil were also involved.

Such examples are quite the turnaround for Premier League footballers given their previous reputation for shunning the public gaze off the field.

The selfie is the latest example of how social media has brought about a change in emphasis, with footballers becoming more accessible to fans as they showcase the everyday human side to their lives. Players no longer need the mainstream media to portray their personalities.

Huawei, Arsenal's official smartphone partner, are celebrating the team's fondness for selfies with the launch of the P7 Ascend Arsenal edition. The 4G phone is equipped with camera technology designed to take the ultimate selfie.

Click here to register your interest in the Huawei P7 Ascend Arsenal edition and to win exclusive Arsenal prizes!