The Dutchman has been given the same first fixture as his Manchester United predecessor and must use it as a platform to build an era of success at Old Trafford
COMMENT
By Harry Sherlock
Same fixture, different man. As
David Moyes
prepared to lead
Manchester United
into a new era, a smile etched upon his face, the fixture computer threw up a relatively straightforward fixture to start;
Swansea City
away.
Moyes and his charges travelled to Wales and did the job that many expected of them, swatting aside Michael Laudrup's men with Robin van Persie and Danny Welbeck both netting doubles in a 4-1 win.
Some would argue that it was the zenith of Moyes's reign. United played fast, attacking football and won well. The future looked bright but they came crashing down to earth in their next two fixtures, drawing with Chelsea and losing to Liverpool.
It would set the tone for a disastrous season, Moyes was sacked in April and Louis van Gaal was chosen as his successor. Currently managing his native Netherlands at the World Cup, the 62-year-old will have had his ear to the ground on Wednesday as the computer spat out the fixtures for the coming season.
The result was similar. Swansea, at home this time. Again it will be seen as a banker.
The Swans endured a similarly difficult season, with Laudrup sacked midway through the season, and his successor, Garry Monk, may lose Wilfried Bony – his best player by a clear distance – to a top-six team this summer.
Yet Van Gaal must be wary. A win at the Liberty Stadium may have lulled several United supporters into a false sense of security last season. Moyes had the team playing attractive football but the feel-good factor quickly dissipated as a pragmatic, almost negative, approach emerged.
The new man cannot allow the same to happen. Supporters watching the World Cup will have been left drooling as his Netherlands team tore world champions Spain apart in Brazil. Van Persie scored what is likely to be the goal of the tournament in that staggering 5-1 victory and immediately sprinted to his manager for a huge (missed) high-five.
He didn't do that with Moyes. In fact, the Dutchman was keen to leave, having grown distant under the Scot. He is
Oranje
captain, however, and is likely to be handed the same role in Manchester.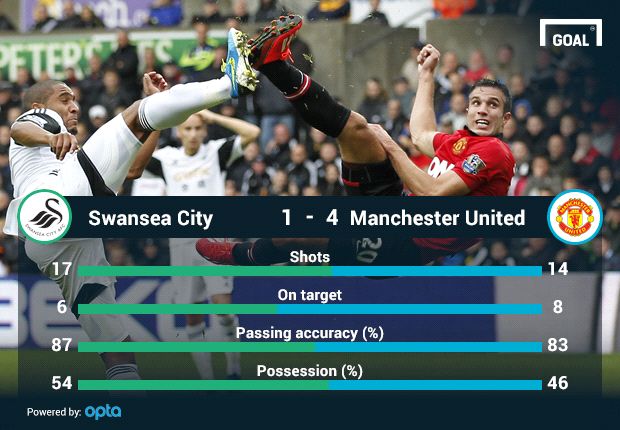 WHAT A DIFFERENCE A YEAR MAKES...
How the Moyes era began in Wales

It is Wayne Rooney about whom United must worry. Cutting a forlorn figure during a frustrating performance for England in Manaus, the striker was shunted to the left as Roy Hodgson looked to accommodate Daniel Sturridge and Raheem Sterling in the 2-1 defeat to Italy. It will be similar at Old Trafford.
Van Persie will become the main man and Rooney could well lose his place in the starting XI. Persuaded to sign a £300,000-a-week contract by Moyes and his staff during the last season, no sane manager in Europe would look to match his wage demands on current form and so Van Gaal faces the prospect of being lumbered with an unhappy striker who was once the envy of Chelsea and Paris Saint-Germain.
The new boss's restructuring plans are grand – Rooney is likely to be a major casualty one way or the other – but so were Moyes's. A summer of hope started with extensive scouting and the decision to go after big names. A public pursuit of Cesc Fabregas – now at Chelsea – was launched, with Ed Woodward attempting to woo the Catalan to Old Trafford. Public refusals did nothing to dent their hopes of landing the midfielder but Moyes and Woodward were left with egg on their face as only Marouane Fellaini arrived, despite bids for a raft of stars – including Gareth Bale.
Van Gaal is certain that he can land Southampton's Luke Shaw
but has already had to deal with a snub of his own, Thomas Muller forgoing the chance to head to England in order to sign a new contract at Bayern Munich.
It cannot turn into another summer of discontent. United need surgery ahead of their curtain-raiser, with midfield a key area needing strengthening. Ditto defence, with Nemanja Vidic, Rio Ferdinand and
Alexander Buttner all set to leave the club.
There are names on the shortlist but the ones at the top of the page need to be signed. Moyes and Woodward appeared content to work their way down. With Fellaini – a player woefully under-equipped to adjust to life at Old Trafford – they had to turn it over.
With Van Gaal in Brazil – and set to stay for a while, if their trouncing of
La Roja
is anything to go by – Woodward will be handed the reins when it comes to negotiating and acquiring signatures.
He cannot afford to dither. When he flew back from the club's pre-season tour on "urgent transfer business" last year many expected a signing. Nothing happened.
It is unlikely that the Dutchman will afford him as much patience as Moyes did; he is an experienced coach and, by all accounts, does not suffer fools gladly. If Woodward gets it wrong, there could be an early change within the Old Trafford hierarchy.
Likewise on the pitch, Van Gaal has no qualms in dispensing with players if they are not performing. Moyes was often seen as too passive – he rarely barracked his players from the touchline, a trademark of Ferguson – and there are suggestions that he let the dressing room of star names overawe him. There is little danger of Van Gaal doing the same.
He must assert his authority early on and inform the players that he is the man in charge. If they don't like it, they must be told to lump it.
Moyes, despite that opening-day win, allowed the size of the job to get the better of him. A long-held theory has always stated that succeeding the man who succeeded Ferguson would be simple. Van Gaal must prove that adage right, for the sake of the football club, starting with Swansea.
The beginning of the chapter may be the same but United will be hoping the rest of the book is quite different.
Follow Harry Sherlock on