By Paul Clennam
Incoming
Manchester United
manager
Louis van Gaal
is set to kick off his summer spending by
tearing up the club's training pitches at a cost of £3 million.
DESSO GrassMaster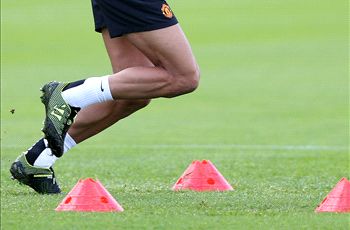 The Desso website describes their product as
"a hybrid grass system that has more than proven itself at Premier League and NFL clubs, multifunctional stadiums and renowned events such as the football World Cup, rugby World Cup, Uefa European Championships. The playing quality is the favourite of top players around the world."
The Netherlands boss, who will take over at Old Trafford following this summer's World Cup, wants the turf at Carrington to be replaced by "hybrid grass" made by Dutch company Desso Sports Systems.
The Red Devils installed Desso's "GrassMaster" at Old Trafford in 2012 after growing tired at having to regularly replace their traditional turf playing surface.
The revolutionary pitches are also used by Manchester City, Arsenal and at Wembley and Van Gaal is keen to replicate matchday conditions at Carrington.
The 62-year-old is keen to make his mark in England and also wants floodlights installed at the training ground for use in the winter months.
The proposed work will be not be ready until the end of the year, although that is considerably quicker than it has taken Manchester City to lay 16 pitches at their new Etihad Campus.
Whereas Carrington already has grass pitches in place to help facilitate the work, City were forced to start from scratch on their multi-million pound project, which spans two postcodes.