COMMENT
By Julian Bennetts
In 2005, Arsenal were so used to winning trophies they didn't even bother holding a parade to celebrate their FA Cup victory.
In 2014, 250,000 supporters lined the streets, the club mascot led the way in his sponsored car and they celebrated as if they had won the Champions League.
In the middle of it all stood a man who appeared to have discovered the secret of defying the ageing process.
There was colour back in Arsene Wenger's face, and his hands – which, whenever he is feeling the pressure on the touchline, are wrung repeatedly – hung easily by his side.
Standing outside Islington Town Hall he again looked like the man who had swept all before him in the first half of his Arsenal career.
That man has been more difficult to locate in recent years, weighed down by talk of stadium debt and trophies for finishing in the top four, but there are signs he has returned.
Certainly Arsenal believe so, with the new three-year contract handed to the Frenchman proof of their commitment to him.
What has been less obvious this season is whether he is as committed to them, and as convinced he remains the man best qualified to take the club forward.
The reasons for his delay in signing this new deal have never been fully explained, but it has raised questions both inside and outside the club. Wenger was consistent in saying he would sign it, but never why it took so long – and the suspicion is that he may well have walked away had Hull held on to their 2-0 lead on May 17.
Arsenal will now hope the victory at Wembley marked the end of life under austerity, a line drawn in the sand and the start of a new era.
The club have long based their future around the new financial reality of FFP, and if Uefa live up to their promises of serious punishments - and £50 million fines do not necessarily equate to that - then they are well placed to take advantage.
The stadium debt is almost gone, and some £120.6m in cash reserves are in the bank. Wenger has built himself a relatively young team that now has to – as Jose Mourinho put it when he won his first trophy – "get used to the taste of champagne".
At present, though, it still isn't quite enough.
Reinforcements are clearly required, and Wenger must show to fans that the £42.4m signing of Mesut Ozil was not the exception that proves the rule of his thriftiness.
The prime need is a replacement for Bacary Sagna, while one – perhaps two – strikers must also arrive.
With Lukasz Fabianski having departed for Swansea City, a quality goalkeeper to put pressure on Wojciech Szczesny will also be high on his shopping list, while another centre-back and a defensive midfielder would certainly be useful.
Talk of a £100m kitty and links with the likes of Karim Benzema and Loic Remy and encouraging, but these deals must be seen through.
Secondly – and with the exception of Sagna this should be far easier than in previous years – Wenger must retain the core of his current squad.
Thirdly, he must complete the review into Arsenal's medical facilities. Wenger admitted for the first time this season that he is concerned about the number of games his players are missing; certainly the absence of Aaron Ramsey for over three months with what at first seemed a simple thigh injury was catastrophic for the club.
Figures from
physioroom.com
show, Arsenal players missed a combined 289 weeks of last season through injury. Aston Villa were second worst with 212, while Chelsea had the least of the top-four clubs with 109.
Impact injuries – Theo Walcott's knee ligament damage, for example – are unavoidable, but for too long a three week injury for an Arsenal player has ended up taking three months to heal.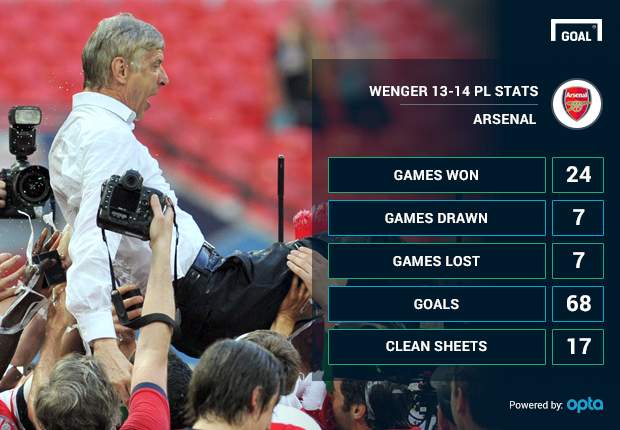 Ultimately, though, what Wenger has to do is give the fans hope. In recent years supporters have largely split into the AKBs and the WOBs – Arsene Knows Best and Wenger Out Brigade – but they have to unite behind the manager now.
In Ramsey, Ozil, the centre-back pairing of Laurent Koscielny and Per Mertesacker, there is genuine cause for optimism.
Liverpool have shown that perhaps the gap to Manchester City, Chelsea and the rest is not as unbridgeable as was previously thought.
It will be harder this year once the likes of Louis van Gaal at Manchester United and Diego Costa, Chelsea's likely flagship signing, make themselves at home, but there is a feeling that Arsenal have right to believe they might last the course once more.
Last season they topped the table for 128 days – City only did so for 15 – but there was still a sense that they were certain to fall short.
For that reason the FA Cup could be vitally important – "I think it could be a turning point in the life span of this team," Wenger admitted afterwards – but what he does next will be decisive.
The WOBs have been silenced for three years at least, and there is a chance of another trophy parade in the near future. If it is to celebrate a first league title since 2004 then there really will be some turnout.