Wayne Veysey




Goal UK Chief Correspondent




MANCHESTER CITY POISED TO BUILD DYNASTY DESPITE PELLEGRINI'S DEFICIENCIES

As the champagne flowed and Manuel Pellegrini was given the bumps by his ecstatic players while Manchester City's powerbrokers beamed in the posh seats, the blue moon had risen to its highest point.
Two years ago, City were an underachieving club who had struck rich and overturned 44 years of history.
This time, it feels like the club have taken control of English football and are building the kind of dynasty that their arch-rivals in the metropolis established during a generation of hegemony.
VIEW FROM THE ETIHAD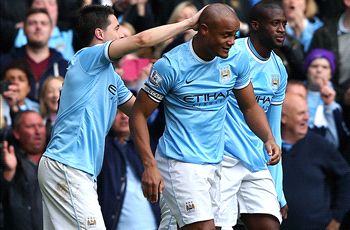 By Greg Stobart

They could get used to this. City made hard work of it two years ago but this was more like a procession as they sealed their second title in three seasons.

Even before kick-off, it felt like a day of celebration as supporters turned up with flares, flags... and inflatable bananas.

Samir Nasri and Vincent Kompany scored the goals to seal the title on the day but this is a deserved title for City's performances throughout a season in which they scored 102 goals and played some exhilarating football.

At full-time, thousands of fans stormed on to the pitch to mob their heroes, while manager Manuel Pellegrini darted down the tunnel to avoid the stampede.

This title victory, on the back of their Capital One Cup, is why Pellegrini was hired to replace Roberto Mancini last summer. And it stands City in good stead to repeat the trick next season.
"Forget about the money," said Vincent Kompany as he saluted his team's achievement. "Since I was six years old all I dreamed of was winning matches and trophies and now I am doing that."
Yet, cold cash is at the heart of the City story. Their rise has been smoothed by £1billion of oil money from the Abu Dhabi royal family.
With a turnover that cannot comfortably handle the Premier League's biggest wage bill, Uefa have turned their guns on Manchester's second club with a £50 million fine for Financial Fair Play breaches. Greg Dyke, the Football Association chairman, stuck the boot in by saying it would be "depressing" if they won the league with so few English players.
It is nonsensical that City, Paris Saint-Germain and the other FFP rule-breakers are able to negotiate their punishment with Uefa bureaucrats. The threat of Champions League expulsion, consistently trumpeted by Uefa in recent years, is clearly an empty one.
Moreover, the £50m fine is only of merit if it hits the club's accounts and can effect FFP calculations further down the line.
Yet, the scale of the owners' commitment is such that Chelsea, Manchester United, Liverpool, Arsenal and the rest have a mighty challenge to merely hang on to City's coat-tails.
A second championship pot in three summers, coupled with FA Cup and League Cup triumphs, is not the culmination of a journey. It feels more like a starting point.
The week will begin with City deciding how hard to fight Uefa's fine and Champions League squad reduction. But the Premier League season ended with the players totally united, committed to thrill and secure in the knowledge that the team will be hard to dislodge as England's premier club.
The next step is considerably more difficult: dominate at home for a decade and grow into a mighty force that is feared by Europe's finest.
City have reason to be optimistic. The premier players are all at ideal ages. Sergio Aguero, David Silva, Samir Nasri, Edin Dzeko, Joe Hart, Fernandinho, Alvaro Negredo and Kompany are all at their peak or have their best years ahead of them. Yaya Toure and Pablo Zabaleta, the team's two stand-out players this season, are in their 31st and 30th years respectively but are hardly ready for a zimmer frame quite yet.
Martin Demichelis, 33, won over his army of critics with an outstanding finish to the campaign that reflected his team's, but a new centre-back and left-back should top Tziki Begiristain's summer wish-list.
After the 3-2 defeat at Liverpool, City were seven points behind with six games to go, but the depth of their talent pool is unmatched in Europe and this helped them through the 2-2 draw at home to Sunderland after the Anfield setback. They performed when they needed to.
Defending champions in the 2012-13 campaign, City were complacent in the aftermath of that triumph and Roberto Mancini's man-management howlers helped to tear the dressing room apart and hand the title back to Man United. That error is unlikely to be repeated.
You need only to see what is taking shape at the Etihad Campus and an academy being filled with the brightest young global talent to recognise the investment in the community and the club's future.
Manuel Pellegrini has also become the first non-European manager to win an English title. He was awarded the job a year ago because he was the polar opposite of Mancini: a tranquil figure in place of a firebrand.
He may appear to have the charisma of a Manchester roundabout, but City fans do not care whether their manager hosts quotable press conferences. His ability to win trophies with attacking football will do for them.
Going forward, there are question marks over Pellegrini's in-game management against the top teams and his tactics in tough away assignments. Given that he is 60 and the pressures of the job, he is unlikely to become the dominant figure in the story of City's rebirth.
But Pellegrini and his players deserve huge credit. They have put City back on top, and did it in some style. The next trick is to stay there.