COMMENT
By
Ewan Roberts
When Ian Holloway left Crystal Palace in October, he did so as a broken man. The once bubbling, Bristolian enthusiasm that had defined him was replaced by bleak despondency and a crushing resignation that the side he had fought so hard to get into the Premier League were not likely to stay there much longer.
As Brendan Rodgers was on the training pitch honing a Liverpool side that included top scorer and Player of the Year Luis Suarez into a slick, fast-breaking attacking unit that would tear apart countless teams, Palace's muddle of loanees, free transfers and Championship cast-offs created a bloated and inadequate squad performing terribly and ill-equipped to deal with top-level football.
While Liverpool fans were designing banners that proclaimed 'Make Us Dream', Palace supporters might have been more inclined to hold aloft signs reading 'Make It Stop'. After just eight games of the season, the question was not if Palace could survive, but who would be joining them in the Championship and whether Derby's unwanted points record would remain intact for much longer.
At the height of their gloom, the south London club turned to Tony Pulis to try and turn the tide, a manager who had never previously been relegated. Initially he was reluctant to take the job - "Everyone I spoke to said it was a difficult one," he mused last month - but eventually he agreed to replace caretaker boss Keith Millen, whose own ship steadying should not be forgotten.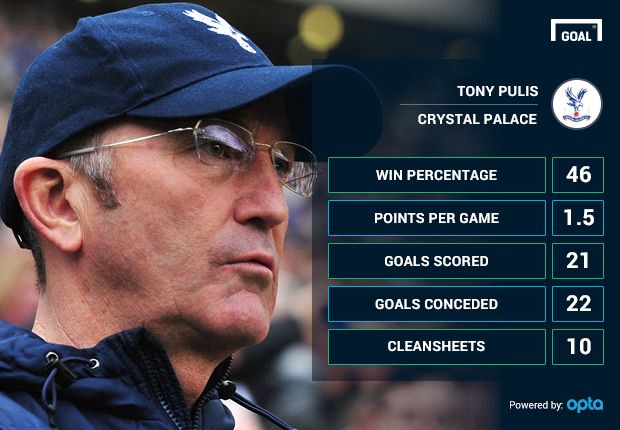 What followed was nothing short of remarkable. Pulis quickly set about rebuilding the confidence of a squad whose belief was at rock bottom and worked tirelessly to mould the side into a more disciplined and organised outfit.
The Welshman also took greater control over transfer strategy, streamlining a squad that had been badly assembled by Holloway and chairman Steve Parish, whose preference for quantity over quality had left the squad bereft of class. Seventeen players exited the club after Pulis' arrival, permanently or on loan, as he looked to construct a tightly-knit group with shared values of work rate and desire.
From meekly leaking goals and surrendering leads, Palace started to frustrate opponents with their renewed work rate, commitment and
Catenaccio
-like defence. In an era where the art of defending can appear little more than an afterthought, it became Palace's calling card. Having conceded 1.75 goals per game before Pulis's arrival, they have let in just 0.87 under his stewardship.
Palace have kept a cleansheet in 10 of the 24 games Pulis has managed – incredibly, only Arsenal (12) and Chelsea (14) boast more shut-outs over the same period. A 1-0 win over said Blues, the only side to concede fewer goals than Palace's 22 under Pulis, even prompted Jose Mourinho to visit the Palace dressing room to congratulate the victors. "That was a game, a real game," he remarked. "I had that feeling of respect for football, for opponents."
MIRACLE WORKER | Crystal Palace's precarious position before Pulis arrived, above, and how the table stands now, below
But Pulis did not merely improve Palace's back-line, he also created a vibrant attack that counter-punches with speed, intensity and dynamism – all the more impressive with Marouane Chamakh up front.
The pulsating, surging electricity that flows though the Palace forward line warrants a re-evaluation of Pulis's style, who has shed the perception that he is a purveyor of negative, so-called "anti-football". Only four teams play fewer long balls than the Selhurst Park outfit, only two attempt fewer crosses, and in Yanick Bolasie and Jason Puncheon the club have two devilishly tricky and intoxicatingly exciting widemen.
His tenure at Palace has enacted a remarkable turnaround in opinion and affection towards Pulis. The remarkable job he has done, and the purposeful, engaging football his side have played, are totally at odds with the reputation he had as a footballing dinosaur - a reputation that prompted Stoke to part company with him last summer, a move that barely raised an eyebrow at the time.
Previously no club placed bottom of the table at the start of December had finished higher than 17th come the end of the season, but Palace could yet finish in the top half. The side now boast one of the meanest defences in the division and an attack capable of swashbuckling entertainment.
Pulis took on the impossible job and exceeded all expectations, reinventing himself along the way, and has worked more magic than any other manager this year.
Follow Ewan Roberts on