The band member feels that the move to the future Olympic Stadium will see low attendances and the atmosphere at games suffer - unless performances on the pitch improve
Goal
spoke to Joel Stoker from The Rifles about West Ham, Sam Allardyce's tactics, the impending move to the Olympic Stadium and why everyone should go to Germany.
Why are you a West Ham fan?
"All my family are Tottenham fans but I used to go to Upton Park with my mates when I was around 12 or 13 and was a fan from then on. I got a season ticket and that was that.
"There is no rivalry in the family. I mean, if I was Arsenal then there would be trouble!
"I don't feel the West Ham-Spurs rivalry. I'm sure some do but it's always been more relaxed to me compared to West Ham-Chelsea. Then again, they hardly love each other, do they?"
How would you rate the season as a whole for West Ham?
"It's been a typical West Ham season. We never expected to be battling it out with the big guns but we will be alright.
"It's always a bit nail-biting at the end but there really is no difference to other seasons, really."
Do you like Sam Allardyce?
"I get why he was appointed initially but, ironically, we are in a position now where we might approach someone like him to make sure we were not relegated!
"You almost want him for just half a season to give the team a solid start and then go on from there but, if you brought someone else in to try and play the style of football we used to play ... you never know [what might happen].
"The 'typical West Ham way' and what we currently play are two different things but you have to avoid relegation otherwise you can just disappear."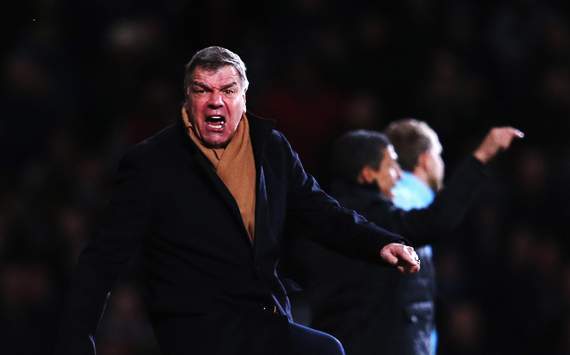 "Ironically, we are in a position now where we might approach someone like Allardyce to make sure we were not relegated!"
Jose Mourinho recently dismissed your style of football as from the "19th Century"...
"I don't mind Mourinho. He's definitely a Marmite type of character - you either love him or hate him. He just likes controversy. [Arsene] Wenger does it as well."
How well has Andy Carroll performed since his club-record £15 million move?
"He's just hasn't fulfilled his expectation this season. I haven't been over there enough to see what kind of impact he has had fully but no-one is raving about him, is he?
"He's a great player and he's very dangerous so there is an argument that even if he hasn't had the best of seasons then he should still go [to the World Cup].
"I don't want to say he should go to the World Cup and I don't want to say he shouldn't.
"Hardly any player warrants a £15m bracket and he certainly isn't up there with those who do."
You are due to move into the Olympic Stadium in the near future - is that something you are looking forward to?
"I haven't been all season to watch a game but I went over there a little while ago to play 'I'm Forever Blowing Bubbles' in the stadium.
"I will absolutely miss Upton Park. I just don't think you'll ever get an atmosphere at the Olympic Stadium like you do at Upton Park. I'd rather travel further and stay at Upton Park than head to Stratford, which is near my house.
"Even if we have a full stadium at home, that's still only half the capacity - or so - of the Olympic Stadium. I guess they are hoping to attract more people to the games but I can't see that happening until performances on the pitch improve."
So, you have a new single out soon - what else have you been up to?
"We have a new single coming out on Monday called 'All You Need'. It's the third one off the new album ['None the Wiser'].
"We are delighted with how the album turned out and the fans' reaction to it. We've just started a tour and we expected to play a few of the new ones and then chuck in some old ones but the reaction to the album has seen us play mostly the new album.
"We are in Shepherd's Bush on Friday night and then dotting around the country before heading off the Germany. I would recommend anyone go to Germany, I love it. Especially to go with a band. We were treated so well by everyone ... I sound like the German Tourist Board, don't I?!"
New single 'All I need' is released on May 5, 2014 - the third single from their fourth album 'None the Wiser', which is out now http://www.therifles.com