Liverpool
have begun paying tribute to the 96 victims of Hillsborough on the 25th anniversary of the disaster ahead of the Reds' clash with
Manchester City
.
City, who are locked in a title fight with the Merseyside club and Chelsea, joined in the tributes presenting a wreath of flowers and 96 red and blue roses to Kenny Dalglish and Ian Rush prior to kick-off.
As with games all over the country this weekend, the fixture kicked off seven minutes late with a minute's silence prior to kick-off.
A mosaic bearing the words '96 25 years' was also held up by fans during the silence with a large 'Patch for the 96' also placed in the centre circle prior to the match getting underway.
JFT96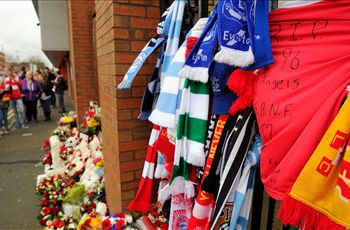 By Greg Stobart at Anfield

"I was talking to the taxi driver who brought me to Anfield today, a Liverpool fan, and he told me that he used to be a regular here but had not been to a football match for 25 years. He was at Hillsborough on April 15, 1989 and such were the emotional scars that he hasn't been able to set football inside a football stadium since.

"Kenny Dalglish, the manager that day, and Manchester City legend Mike Summerbee presented a floral tribute for the 96 before kick-off today as 'justice for the 96' rang out around Anfield. Outside, the Shankly Gates are adorned with scarves and flowers as supporters pay tribute to the 96 fellow fans who went to a football match and never came home."
Liverpool players will wear a smaller 'Patch for the 96' which reads 'Never forgotten, 25 years' on their shirts during their final three home matches of the season. The patch is also available for fans to purchase with all proceeds being donated to Hillsborough families.
There are further activities planned with Celtic due to present a wreath of flowers and a scarf to Ian Ayre and Dalglish at half-time.
Former Reds boss Dalglish will then present a signed Liverpool shirt and letter of thanks to Celtic chief executive Peter Lawwell with both wreaths to be laid at the Hillsborough Memorial
Further activities have also been planned by the club with the annual memorial service due to take place at Anfield on Tuesday April 15.
Manager Brendan Rodgers and his Everton counterpart Roberto Martinez will both carry out readings at the service with club directors, players, staff, former managers joining families and supporters at Anfield.
Ahead of the service Liverpool have also asked fans and cubs to donate a scarf to the club as a sign of unity with each scarf to be laid out on the pitch at Anfield in the shape of the number '96'.
After the service, the club's charity Liverpool FC Foundation, will donate all the scarves to local good causes, including homeless charities, along with a signed item of LFC memorabilia.
A charity match, planned by the Hillsborough Family Support Group (HFSG), with support from Liverpool and involving players past and present will also take place at Anfield on Monday, April 21.