COMMENT
By Liam Twomey at Selhurst Park
Win or lose, in glory or ignominy, this otherwise unremarkable evening at Selhurst Park was always going to be about
Wayne Rooney
.
His latest contract saga had seen the 28-year-old labelled both savvy and unselfish as he capitalised on the nadir of Manchester United's painful post-Sir Alex Ferguson transition to line his own pockets like never before. The next time he ventured onto a football pitch, it was inevitable that Rooney's every action would be judged with a pointedly raised level of expectation.
ROO BEAUTY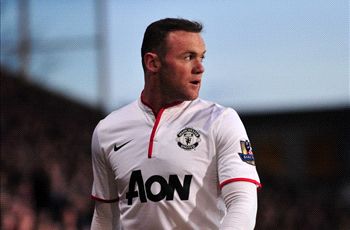 PLAYER RATING VS CRYSTAL PALACE






Given the events of the past 24 hours this match was always going to be about United's much-maligned No.10. He was uninspired for long spells but produced a finish worthy of £300,000-a-week on 68 minutes to double his side's advantage.
FROM OUR LIVE! COMMENTARY


GOAL! What a goal by Rooney! Mata is brilliant donwn the left, he slips in between two players and passes it to Evra who brilliantly cuts it back to Rooney just inside the area and lashes home briliantly on the half volley. Speroni had no chance.
In the event, he neither disappointed nor surprised. Rooney's ability to produce moments of brilliance is one of the few parts of his heavily scrutinised game that has never been in doubt.
It has been ever-present since he announced his arrival on the Premier League stage as a fearless 16-year-old for Everton in October 2002, lashing the ball impudently beyond David Seaman from absurd range to end Arsenal's 30-game unbeaten run, though at times it has felt like the anarchic streak inherent in genius has been all but coached out of him.
But nevertheless, the nonchalance with which Rooney fired Patrice Evra's intelligent cutback beyond Julian Speroni to make sure of a vital United victory was a timely reminder of the mercurial quality David Moyes and Ed Woodward will be banking on to preserve their credibility in the eyes of United fans and the wider footballing community for the next five-and-a-half years.
This was not an entirely convincing performance by Rooney or United. Crystal Palace, resurgent and disciplined under Tony Pulis, looked comfortable for long spells even as their illustrious opponents sought to do more than simply fire cross after aimless cross into the penalty area.
Juan Mata, given greater freedom to drift in from his starting position on the right flank, still looks unsure of his role in this team, while Adnan Januzaj produced a level of inconsistency unavoidable even with the most talented teenagers. Neither caused a great deal of panic until the youngster threaded a teasing ball into Evra just inside the box and Marouane Chamakh took the bait.
Rooney, while willing and eager as he has been all season, rarely looked inclined to do anything more than play the ball out to the flank and try to ghost his way into the box. Marouane Fellaini almost found him with one knockdown but Palace appeared in control of their own destiny. A wayward free kick just before half-time suggested it was not going to be his day.
But goals change games as the old adage goes, and Van Persie sending Speroni the wrong way from 12 yards woke United and Rooney from their slumber. Their surges forward carried greater conviction and accuracy and it is no coincidence that the 28-year-old's eye-catching goal sprang from an Evra pass that found him with the most room he had been afforded all evening.
The breathing space afforded by a two-goal cushion appeared to free United from the pressure which has been crippling them in recent weeks, and Van Persie showed signs of regaining his dead-eyed finishing touch with a fierce strike that was unlucky to crash off the crossbar.
There were at least flashes of the old confidence and menace, even though this remains a pale shadow of the side which grew to regard domination as a birth right under Sir Alex.
And, of course, one goal does not a performance make – even a spectacular one that brings Rooney within 40 goals of Sir Bobby Charlton's all-time scoring record at the Old Trafford club. United fans still have time to figure out how they will feel about that particular amendment to history and Rooney's apparent indifference towards his place in the Old Trafford pantheon will fuel the misgivings of some.
"I'm not too far away but it's not something I think of every day," Rooney told
Sky Sports
when asked about the record after the match. "Once I get a little bit closer, that's obviously when I'll start thinking about it. I just want to try and score goals to help us win games and if they add up then that would be great."
In truth, the debate over whether Rooney is truly worth the £300,000-a-week and countless add-ons United have sanctioned to keep him at Old Trafford – or the baggage which has tended to come with him over the years – is one that can only be judged over seasons. Only time will tell whether he can defy Sir Alex's expectations and shine in this team into his mid-thirties.
But one thing
is
certain: with United in their greatest crisis for over 20 years, the moment of brilliance which made sure of three points for his side at Selhurst Park was priceless to Moyes.
Follow Liam Twomey on