Goal
sat down with Josh Franceschi from You Me At Six, whose new album 'Cavalier Youth' is currently top of the charts, to talk about all things Arsenal.
So, who's your favourite player at the moment?
JF: Right now, probably Laurent Koscielny or Aaron Ramsey just because they've had a standout season so far. Obviously Aaron's out [injured] at the moment but I think Laurent, when he came to the club, was like an unknown defender from a club in France, which isn't exactly the most competitive or top quality league in the world.
He came to a big club like Arsenal and I think he's really done well. Hats off to Arsene Wenger and all our scouts for actually signing him, because I think he's a top quality defender now, probably one of the best in the Premier League.
What's your best memory as an Arsenal fan?
JF: Obviously, you'll probably expect it to be stuff like the doubles or the unbeaten season, but for me, in most recent times, it'll probably have to be Thierry Henry coming back and scoring that goal against Leeds in the FA Cup in 2012. It was a pretty insane moment to be fair, so I was really glad I was there for that.
JOSH'S FAVOURITE MOMENT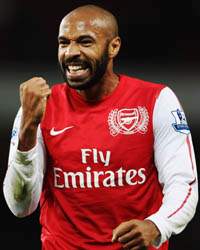 You'll probably expect it to be the doubles or the unbeaten season, but for me it'll probably have to be Thierry Henry coming back and scoring against Leeds in the FA Cup.

Did you ever used to play football?
JF: I used to play football but just Sunday League sort of stuff. Everyone says 'I wish I'd have tried when I was younger because, X, Y, Z' but I reckon it's just one of those things that if you're ever going to get a chance playing at any sort of level, it's got to be the craft.
Football lost its shine for me at about 12 when music came in, and that's when I played guitar. I couldn't go and train and stuff like that. It's just one of those things, I got into skateboarding and punk music, and football just became a Saturday evening event on TV with my Dad.
Obviously you've been busy writing and everything, but do you and the other boys in the band ever get to play football now?
JF: Yeah, we used to. Before I moved from Surrey we used to do a lot of five-a-side on a Sunday night, and we did a few seven-a-sides which was pretty decent. Whenever we get the chance to play football we do.
I mean, obviously it's really alarming when you think you're fit because you go to the gym and then you start playing a game of football and it's hard. It's quite funny.
And do you go to many matches? I've heard you were at the Arsenal - Crystal Palace game?
JF: I'm a season ticket holder at the Emirates, so whenever I have some time off tour I go with my Dad. I've been enjoying the home games this season actually; I think I've only missed Napoli and maybe Marseille in the Champions League, but I've managed to go to Dortmund.
But, you know, there's a lot of a good games, all the big ones coming up now, like Manchester United and Bayern Munich, and it's all in the next 10 or 12 days. I'm excited for that.
How do you think this season has been so far?
JF: It's been really, really exciting. I think Arsenal, for the most part, have surprised a lot of people with their position in the league. I don't really know what it is; whether it's the coming together of years of Wenger moulding a certain team and now it all seems to have pieced together.
TESTING TIMES
Arsenal's next four fixtures


Feb 8



Liverpool (a)


Feb 12



Man Utd (h)


Feb 16




Liverpool (h)

Feb 19



Bayern Munich (h)

But, I still think we are a few players short. I'd love to think Arsenal will go on and win silverware this year but whether it's the Premier League title, I don't know.
I just think that, although they lost on Monday, Manchester City are probably the favourites, just because of the squad depth they've got. If you think of the players they've got, like Stevan Jovetic who isn't even being used at the moment, on the bench or anything. That just shows what they've got if they need to call upon it.
And, with Chelsea, you can't ever really doubt Jose Mourinho. He's probably one of the best managers in my lifetime that I've seen and we've lost to before. It's going to be a really, really open finish.
For Arsenal in February and March it's like do or die; we need to step up and win the games against the big teams or our season sort of collapses. So, fingers crossed!
You said about Wenger moulding the team; he got a lot of criticism last season so how do you think he's doing now? Do you think he's proved everyone wrong?
JF: What's been great for us is that when you look at Arsenal over the last three or four seasons, yeah OK, we haven't been winning things, but it's entertaining football every year. Then you look at [last season's champions] Manchester United and the form they've been in and the squad they've got, it really is not good enough.
Whereas I don't think Wenger even had that kind of squad to work with when he was still getting Champions League football every year. I've never really been a 'Wenger out' fan, I've always been a firm believer that we've got the right guy in place and I think he's the boss. I believe he's the man that will win us silverware this season.
So, 'You Me At Six' have had a crazy year. You've been touring in USA, you've been on a European tour and, recently, even in Australia...
JF: Yeah, we just got back from Australia, we were there for a few weeks. We did some arena shows over there with a band called Paramore, which was great. And then, obviously, we've had the No.1 album last week. We're in the top-10 singles again this week, it's been pretty mental.
We've been announced for Reading and Leeds festivals on the main stage this summer, which will be great. We've achieved lots of milestones all so early on in the year so we're very overwhelmed and just enjoying it as much as we can.
How excited are you with the No.1 album?
JF: It's amazing, man. I think if someone had said to our band eight years ago when we started off that a) we'd be a band eight years later or b) we'd have a No.1 album, I think both theories would have been laughed at.
It's a real testament to our fans that went out and got that No.1 album, because obviously Beyonce had her performance at the Grammys which helped her shift some units, Ellie Goulding has been consistently serving for the last month - like 25,000 to 30,000 a week - so for us to come out and get 32,000 in the first week and get that No.1 was a massive thing for us. It feels great.
Going back to football again, you've got your lead single on the new Fifa game?
JF: Yeah, we have our song on Fifa 14. It's called 'Lived a Lie' and it's off the new album. Whenever we play Fifa it's always quite jokes when that song comes on. So, it's a nice little thing to have when I play Fifa with the boys. It's cool.
So, what has 2014 got in store for you?
JF: Well we're heading back out to Europe in a few weeks' time for a headline tour, but then we've got a UK headline tour. Then we're going out and doing a headline tour in America in April and May.
We're doing festival season, we're doing Reading and Leeds which we got confirmed for on Monday. We might go out and do some stuff in Brazil over the World Cup - but I don't know what is going to happen with that - so we've got a very exciting year ahead.
The number one album 'Cavalier Youth' is out now