The Baggies named their successor to Steve Clarke on Thursday and the Spaniard arrives after doing a fine job under financially-stricken conditions at Real Betis
PROFILE
By Ryan Benson

Some West Brom fans will have met the appointment of Pepe Mel as their new man in charge with relative unease and indeed questioned the very decision to relieve Steve Clarke of his duties in December.

Many will be quick to ponder why the 50-year-old, who was only recently ditched by La Liga's basement club Real Betis, has been entrusted with the task of steering the Baggies away from the Premier League's own relegation zone.



'TACTICALLY ASTUTE & A GREAT MOTIVATOR'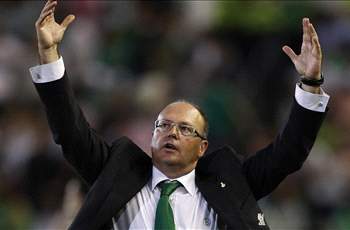 Ben Hayward | Spanish Football Writer

It is not often that fans and players are sad to see a coach go when their team is rooted to the bottom of the table, but that was the case with Pepe Mel.

Everybody loves him.

Mel brought Betis up to the Primera Division playing an exciting brand of attacking football, took the Andalusians to a seventh-placed finish and earned respect for his bold and brave tactics against the big boys like Barcelona and Real Madrid.

An astute tactician and a great motivator, Mel's teams play a high defensive line and attack in numbers. Only time will tell if he is the right man for West Brom, but he looks like a shrewd choice and, whatever happens, it certainly won't be boring.

That, however, would be short-sighted.

Mel's issues at Betis delved far deeper than the misleading truths painted out in the Liga standings. While his team had been enduring a disastrous campaign, little blame should be attached to the coach himself.

In fact, the former striker actually left Betis coming across rather well, as the club's president Miguel Guillen and then-sporting director Vlada Stosic took the brunt of the criticism.

Two weeks after the departure of Mel, Guillen seemingly acknowledged Stosic's part in their troubles as he sent the former Serbian midfielder packing.

Still well-regarded by the Betis households of Seville, there is little doubt that West Brom are getting an able – and charming – coach.

But, in the decade leading up to his appointment at Betis in 2010, Mel was verging on being labelled 'nomadic', coaching eight different unfancied teams with little success.

While in charge of Rayo Vallecano, who he took over in 2006, he helped lift the club back into the second division after falling into relative obscurity, but he would eventually be sacked following a run of bad results in 2010.

Then came his chance at Betis. His entire time in charge of the Seville-based club was dominated by financial problems. From issues with their incarcerated former president's shares to administration – Mel saw it all.

That proved not to be a stumbling block, though. In his first season in charge he guided Betis back into La Liga before earning a commendable 13th place finish the next year.

The following season – 2012-13 – was when he really earned his plaudits, however. With a minimal budget and an unfancied squad, he helped steer Betis to seventh in the table, thus earning them a place in the Europa League. This – chiefly – is why he now finds himself in the west Midlands.

Although he is often highlighted as being fluid and adaptable with regards to his strategies, Mel has generally opted for 4-3-3 and the several variations that can be derived from it.

When sitting back and defending, the use of hard-working wingers sees his side's shape look more of a 4-5-1, but they represent integral out-balls either on the flank or in a narrower position on the offensive. These transitions between attack and defence are significant with a man who was spent his formative career as a player at Real Madrid.

At the heart of the midfield he has been known to deploy a pivot and a more dogged partner alongside him. In Claudio Yacob and Youssouf Mulumbu he has players who can fill those roles, just as Benat and Canas did last term.

Away from home Mel's Betis were particularly accustomed to absorbing their hosts' attacks before springing on the counter, and their nimble interchanging in the final third proved deadly on occasion.

This interchangeability could prove to be particularly effective with West Brom. The very basis of Mel's thinking in this area is to create uncertainty in the opponent's defence and the likes of Saido Berahino, Matej Vydra, Stephane Sessegnon and Shane Long may turn out to be good fits for this system.

A concern which is often thrown about when a foreign manager comes to the Premier League is whether he can speak English. While this is not necessarily a reason to not appoint someone, it can have an impact.

However, Mauricio Pochettino's English skills were in their early stages of development when he joined Southampton in January 2013, yet his start at the club has been a success.

Nevertheless, Mel has been keenly studying English since his departure from Estadio Benito Villamarin, with the local press in Seville adamant from an early stage that his next destination would in fact be the Premier League.

This will give him a boost upon his arrival at the Hawthorns, particularly with one main aspect of his coaching repertoire; maintaining a close relationship with his players.

Mutual respect is a virtue the Spaniard has previously preached, while keeping possession will almost certainly now be the focus in training.

Something of a revamp does look set to take shape at West Brom and with a coach of Mel's ability there is no reason why they cannot be lifted back into the top half of the Premier League table.

It may perhaps be a little outlandish to expect improvements of a Pochettino-like standard, but do not be surprised if Steve Clarke is nothing but a name and a distant memory in a few months' time.


Follow Ryan Benson on