SPECIAL REPORT
By Greg Stobart
Erik Lamela spent the international break in comfortable surroundings, conversing freely in his native Spanish with the rest of the Argentina squad over a pot of mate.
The Tottenham midfielder played in the second of his national team's two games in the United States, replacing Sergio Aguero late on in the 2-0 victory over Bosnia in St Louis on Monday.
Back in the country Lamela now calls home, he will hope to line up against Aguero on Sunday as Spurs take on Manchester City at the Etihad Stadium.
If selected by Andre Villas-Boas, it would be Lamela's first Premier League start for the club since his £30 million summer transfer from Roma following a slow settling in period in north London.
THE GOOD & THE BAD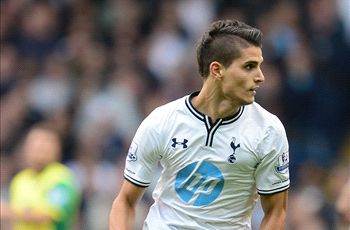 PLAYER RATING v ANZHI (OCT 3)





A hit-and-miss performance from the stylish midfielder. Popped up in all areas of the pitch, showing good touches, but his passing was often loose.
PLAYER RATING v SHERIFF (NOV 7)

Lamela arrived for a club record fee and with a big reputation having scored 15 goals in Serie A last term. Before he had even kicked a ball in England, the comparisons with the man he replaced at Spurs, Gareth Bale, were flying around.
Yet while Bale has already found his feet at Real Madrid, the on and off-pitch integration has not been so simple for Lamela at White Hart Lane.
His chances have so far been limited to starts in Capital One Cup and Europa League games, in no small part due to the unexpected rise of Andros Townsend, another left-footed player who operates mainly on the right wing.
Lamela scored his first goal for Spurs in an eye-catching man-of-the-match performance in the Europa League win over Sheriff earlier this month, only to find himself back on the bench as an unused substitute in the defeat to Newcastle three days later.
The 21-year-old is starting to grow frustrated with his lack of opportunities in the league as he feels he is ready to make his mark. He has told manager Villas-Boas - a fluent Spanish speaker - as much in recent weeks.
The fact that Lamela is pushing for a place in the side can only be a good sign for Villas-Boas, especially with playmaker Christian Eriksen out with an ankle injury sustained with Denmark.
Lamela's personality is starting to develop around the training ground. He is certainly more comfortable than the young man who arrived in September unable to speak a single word of English and looking frightened to death when he made his debut as a substitute in the north London derby defeat to Arsenal.
Daily English lessons with his brother should help him to settle more quickly in a dressing room where Roberto Soldado is the only other native Spanish speaker - and Lamela has accepted that grasping the language is a matter of priority.
"I'll work hard in training and I want to improve my language, learn the English language, that's one of my main targets," he said. "It's essential to be able to communicate in English, to talk to my team-mates and then in my personal life outside the football."
Tottenham have been keen to help Lamela settle in London, and the improvement in both his mood and confidence has been noted since his family moved to the city at the end of October, with his girlfriend Sofia and brother Brian almost ever-present companions.
Lamela has genuine faith in his own ability. In an interview in October, he said he would "make the difference" for Spurs. The team could do with the former River Plate man making an impact now to improve an attack that has scored just nine goals in 11 league matches.
It has understandably taken him time to settle in and it's nothing new for Lamela when you consider he only scored four league goals in his first season with Roma before starring in the Italian capital in his second campaign.
With Tottenham badly missing Bale and lacking players with the guile to combine with Soldado, now is the time for Lamela to make himself at home in the team's starting XI.