EXCLUSIVE
By Liam Twomey
Arsenal
should forget about
Luis Suarez
and break the bank to sign
Christian Benteke
, according to former
Aston Villa
striker Tony Cascarino.
Following the Gunners' 3-0 Champions League qualifying win over Fenerbahce on Wednesday, Arsene Wenger admitted there is absolutely no chance of signing the unsettled Uruguayan.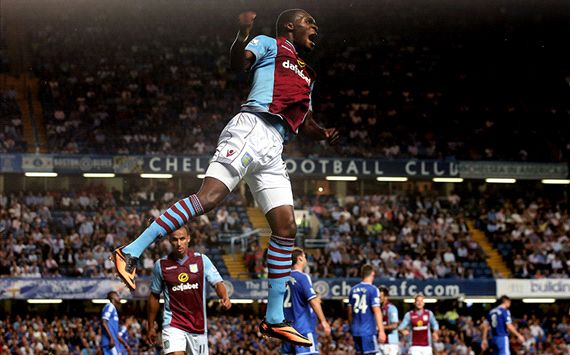 PLAYER RATING v CHELSEA






Took a long time to get into the game but what an impact when he did. His barnstorming, first-time finish on the cusp of half-time was unstoppable, taking his tally to three in two games this season and 17 league goals in all this calendar year. Created a great chance for Weimann to put Villa ahead and was unplayable at times.
PLAYER RATING v ARSENAL






Missed one penalty but converted the rebound and made no mistake with the second to get himself off the mark for the season. Agbonlahor was the biggest threat but he created space for the players behind him with his work up front.
The Frenchman also insisted "the transfer window starts now" for Arsenal after a summer so far devoid of a high-profile signing, despite public pursuits of Suarez and Gonzalo Higuain.
And Cascarino, who also led the line for Chelsea and Marseille during a distinguished playing career, believes Benteke should be at the top of Wenger's shopping list.
"How no one's bought him I don't know," he told
Goal
. "At the end of last season I thought he'd be the hottest-pursued player of the summer. I keep thinking 'Am I missing something?'
"Maybe people are worried because he's only had one year in the Premier League, but you only have to look at him. He drives past centre-backs with his pace.
"The goal he got at Stamford Bridge was fantastic: Great touch, great finish. Forget about his pace, his power, his heading ability, that's what he can do. He slaughtered Liverpool at Anfield last season.
"If I was Arsene Wenger I'd forget about £40 million for Luis Suarez – I'd bid £40m for Benteke, straight away."
Benteke signed a new contract which keeps him at Villa Park until 2017 in July, having earlier submitted a transfer request and stated his desire to leave the club.
The 22-year-old believed his stock was high after a debut season which saw him score 19 Premier League goals, but Villa received no offers which met their asking price.
Now three goals in two games against Arsenal and Chelsea have catapulted Benteke back into the spotlight, and Cascarino believes the Belgian could still become a transfer target.
"It's fantastic for Villa and their fans that he's still there, but I bet they can't wait until September 2," he added.
"His form says a lot about him. If a lad has had his head turned, we've seen bigger players than him going public about wanting to leave the club.
"And if it doesn't happen, nine times out of 10 you don't see them for the first three months of the season, because they don't turn up.
"You've got to give credit to the club and to Paul Lambert, but I think Benteke deserves a lot of praise. He's not turned up and thought 'I should be wearing a Chelsea, United or Arsenal shirt'.
"I'm gobsmacked no one's moved for him yet, and I still think that by the end of the window, someone will come in with a mad offer for him."
Tony Cascarino is a football columnist for The Times, which will bring digital subscribers every single Premier League goal this season on mobile and online. Visit www.TheTimes.co.uk/goals for more details
Follow Liam Twomey on