EXCLUSIVE
By Julian Bennetts
Yannick Bolasie
had never been to the Democratic Republic of Congo until he played for their national team in March. He had never met his paternal grandmother until that trip to Kinshasa where he found himself, for once in his life, lost for words.
He had never seen such acute levels of poverty, scenes which ensured the first thing he did on his return to London was telephone the charity War Child to ask how he could help – a conversation which has led to him becoming their first athletic ambassador.
But then again, it has been a season of firsts for this impressive 24-year-old. Back in August, a career that began in unconventional fashion at Maltese side Floriana was reinvigorated by a move to Crystal Palace and on Monday he will walk out at Wembley for football's richest game, the Championship play-off final against Watford.
"ZAHA CAN LEAVE FOR MAN UTD A HERO"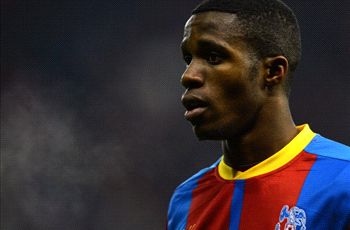 BOLASIE ON OLD TRAFFORD-BOUND ZAHA
"I think Wilf will do really well at United. Some players might suit the Premier League better than the Championship and, although I think he has done really well for Crystal Palace, I think that might be the case with him.

"Myself and Wilf always try to outdo each other. After games and training sessions we compare how many goals and assists we both have. It is always a battle – he has the talent and so do I.

"There are a lot of youngsters at Palace who look up to Wilf. Seeing him play for Manchester United will be good for them because it gives them hope.

"There's no better way to go out at Palace than by getting them into the Premier League. He'd be remembered as a hero if he did that."
Then there will be just one more thing for Bolasie to tick off his list; go to his first ever Premier League game.
That he could do so not as a fan but as a player draws a wide-eyed grin from Bolasie. His route to Palace has taken in spells at Plymouth, Bristol City, Rushden & Diamonds and Barnet, the latter two on loan, yet the benefit of that circuitous route around the lower leagues is that the winger is well aware of how fortunate he is to be in his present position.
If he did not know that before, he certainly did after his trip to DRC.
"My mum and dad are both Congolese and the trip really opened my eyes to a lot of things," Bolasie told
Goal
.
"It was my first time there and you see stuff that wouldn't be acceptable here at all. The things I saw are the sort of things that keep you grounded, as people over there seem to be really struggling. You'd drive around and see real poverty on every street corner.
"That was why I wanted to get involved in War Child as they do a lot over there. I have decided to go there in my free time and help in any way I can, even if it's just coaching some kids. I want to show those kids that people love them, that people care."
A laudable aim but there is a family link in Kinshasa, too. For a man who grew up a stone's throw from Wembley, meeting his grandmother for the first time was a surreal experience.
"That was a really emotional moment," Bolasie acknowledges. "I was just like: 'Ow, that's my grandma'. I didn't know what to say so I just went: 'Hello, you alright?'.
"She speaks to my dad all the time and he always sends over photos of me but that was the first time we had ever seen each other in the flesh.
"Then I made my international debut in front of 80,000 people in a goalless draw against Libya – the most I'd ever played in front of before that was 30,000 – and they were having a crazy party in the stands. I'm definitely going to go back and the aim is to qualify for World Cup 2014. It would be a funny year if I made it into the Premier League and then qualified for the World Cup."
Indeed it would. And, as we discuss what it would mean to visit Old Trafford, Anfield, Stamford Bridge and the other grand old grounds of the top flight, Bolasie lets slip a surprising admission. "I've always supported Arsenal but I've never been to a game."
An Arsenal game? "No, a Premier League game. I've always watched it but I've never actually been to one. I might go and watch one soon, when I get a chance."
Wouldn't you rather your first ever Premier League game was as a player, rather than a fan? "Oh, yeah. Man, that would be a dream come true. That would make it the best 12 months of my life, for sure."
It is also a dream that would have seemed inconceivable to a player who left Hillingdon Borough to join Floriana in the summer of 2007. Bolasie came back to England after one season battle-hardened, convinced that he had "the fighting spirit to do what it takes to get what I want".
Living alone in a foreign land certainly toughened him up. Bolasie is rarely seen without a smile on his face but he possesses a resolute streak that is necessary to survive in the football world and, with his first child due to arrive in August, things could hardly be any sweeter in his world.
Still, though, he is not quite satisfied. Wembley is, to him, the latest step in his progression towards the game's elite. "Everyone looks at me and says: 'Yannick has made it'," he adds. "That's not the case, as I've had to work really hard, and I'm still not where I want to be.
"You have to be hungry, too, and, when I get to the top, that hunger is going to carry me a long way."