COMMENT
By
George Ankers
Nearly one year previously,
Didier Drogba
scored the penalty that won
Chelsea
the
Champions League
before announcing that he would move on. A personal milestone and a possible
Europa League
trophy may not be quite the same thing but
Frank Lampard
would do well to follow his long-time team-mate's example and leave on a high.
When a friend and an enemy both tell you the same thing, it is worth listening. Drogba timed his exit perfectly and so, now, has Sir Alex Ferguson at Manchester United, bowing out gracefully on a milestone 20th league title. Everyone wants to see their heroes finish fittingly.
FRANKLY UNBELIEVABLE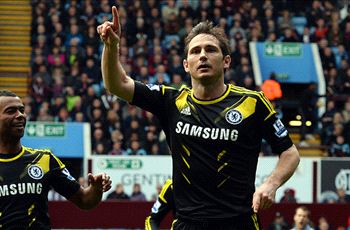 PLAYER RATING v ASTON VILLA






Tested Brad Guzan with a low free kick in the first half and put in more tackles than telling passes or shots until he drew the sides level with a left-footed strike to equal Bobby Tambling's Chelsea goalscoring record. He then beat the record from close range to all but wrap up Champions League football for the Blues.
FROM OUR LIVE! COMMENTARY


GOAL!!! Chelsea take the lead! Lovely move by the visitors as Eden Hazard plays a brilliant one-two with Ashley Cole and gets into the area before squaring across the face of goal for Lampard to tap in from three yards out. Not only does that give them the lead but Lampard also becomes the club's record goalscorer.
Lampard knows as much. "Didier handled himself absolutely fantastically all last season," he told reporters. "He didn't talk about it and no-one knew his plans. He only told us after the match. His football did the talking and he left an absolute legend."
The midfielder has been an incredible servant for the Blues – perhaps, after breaking Bobby Tambling's all-time goalscoring record, their best ever. To score (to date) 17 goals this season, even as the team shifts around him into a shape to which he is not suited, is another to add of his list of fine achievements there. A magnificent, committed professional, he deserves immense credit.
He could stay on for a reunion with Jose Mourinho, former manager and still a friend, but the Portuguese is set to inherit a newer, younger team than when he left. Juan Mata, Eden Hazard and Oscar are the Blues' beating heart now.
Across Chelsea's now-customary 4-2-3-1 formation, there are players better suited to each position than Lampard. The attacking midfield roles are unquestionably the domain of the sparkling young trio, with Victor Moses knocking on the door and Andre Schurrle seemingly on the way.
Sitting deeper, John Obi Mikel has come into his own this season, while David Luiz is making a serious case to spend more time alongside him. Soon, Nathaniel Chalobah will return from his loan at Watford and begin to demand exposure to top-level football.
Mourinho could alter the shape to his old 4-3-3 staple if he wanted to – but it would only be to accommodate Lampard out of sentimentality. There is too much promise elsewhere in the squad for that to make sense. For a manager at the start of his cycle – particularly one like Mourinho, who is not one to plan out smooth visions for the future – it would be counterintuitive to shoehorn in the 34-year-old.
"I look at Ryan Giggs and he's got an aura around him," says Lampard admiringly. "You can see all the players at the club are looking up to him. He's the mark, really." Yet, at United, the system has remained amenable to Giggs's reduced capacity in contrast to Chelsea's modern shape. The club are not set up for such a perennial.
Even against Aston Villa, for long periods Lampard struggled to make any mark on the game, the hosts' youthful midfielders brash and confident. It was characteristic determination that kicked in to put him in place for his goals but, at some point, Chelsea must trust their youngsters to show that iron will when things get tough.
If he does not go this year, the talk will turn from this season's "should he go in the summer?" to next season's "should he have gone last summer?".
"The easiest part, in terms of the speculation, has been playing games because when you're thinking about it at home it becomes more of a distraction," says Lampard of the constant contract talk - but there would be more time at home next season, more time to ponder if he should be out playing in Los Angeles rather than watching from the sidelines.
An ending colours everything that comes before; that is why the Matrix trilogy is recalled with a shudder and why countries who sing last in the Eurovision running order do better in the voting. That is why Fernando Torres will be remembered in this country more for his hapless misery at Stamford Bridge than his thrills at Liverpool.
Lampard could stay on for another year, should Chelsea ask him to, but why go out on an even more bit-part role and a decline that will only grow steeper? Next season, there will be no record to chase down and there may not be a trophy within his grasp.
In typical Frank Lampard fashion, he has forged an opportunity for glory in an even more turbulent Chelsea season than usual. A final payday in MLS or wherever else he should choose to go is a reward worth taking.
To say goodbye now would see him remembered as a titan to the end, exactly what a club icon such as he deserves. The Blues, thanks in large part to his efforts, will be perfectly fine without him.
Follow George Ankers on