'IT'S BEEN AN ANNHILATION'
How does it feel to be champions?
I'm both elated and relieved. The last few weeks had looked like we'd limp to the title with little fanfare but after City lost at the weekend the reality that we were just one win from the title brought on so many positive emotions.
I think many Reds will also feel proud – watching our youngsters respond to last season's disappointment has galvanised both the manager and the supporters. It's funny to think that we've never really been fancied by the masses since Ronaldo left and yet we haven't lost a title by more than a point for seven years – extraordinary!
Who or what has made the difference for you this season?
It's too obvious to say Robin so I'll say
De Gea
. The things that have been written about him in the past have been absurd and there's egg on numerous faces amongst the press.
The thing is, there's rarely been a game where he's not had to make some ridiculous save and yet that just gets glossed over because scoring goals naturally grabs headlines. Take that Fulham game, his save from Ruiz was extraordinary, and yet if his fingertips don't reach that ball, we may not have won that game. This boy's a seriously top goalkeeper already.
GAME, SET & MATCH

AS IT STANDS...

PD
W
D
L
GD
PTS
Man.Utd

34
27
3
4
43
84
Man.

City

33
20
8
5
29
68
The pivotal game in the title race was...
Tough one. There are so many typical comebacks you could point to but like it did in 2006-07, Fulham away at the start of February felt big. Rooney's late goal in what hadn't been an easy game, not helped by a power failure interruption, reaffirmed to me that this may just be a good season.
That game started a run of six league clean sheets – games in which we really didn't play that well but Fergie utilised the squad and we were forced to grind out results, like champions seem to so often do. That run was crucial.
Is this Fergie's finest title triumph?
Impossible to say. The ones that are closer or won right on the last day will always evoke stronger emotions because of the fear of not winning it – hence City were (rightly, to a point) lauded so much last year despite winning the league on nothing more than goal difference.
Simply because some of our football has been drab at times, I'd say no it isn't his finest. However, when you consider who we're up against and the number of youngsters who've played key roles, it has to be considered a mightily impressive feat. It's been an annihilation.
What's the aim for next season?
The same again. That's the way it's always worked. The title's the most important trophy for me and then I've always viewed anything else as a bonus. I'd love to win the FA Cup again soon and of course we need to be doing better in Europe but the ingredients are there – the youngsters have now tasted success and hopefully in Powell and a couple of others, some more may be blended in next season.
As has been the case for a while, if we can sign a top quality partner for Carrick and have some solid depth in central midfield, one starts to dream of big things.
Are you expecting a reaction from Manchester City and the rest?
Of course. City bought poorly last summer – they needed to strengthen their first XI as well as add depth so maybe they'll do that this summer. Chelsea have a very strong first XI but what they have in reserve is poor – maybe they'll bring through some of their own incredibly talented youngsters.
As for Arsenal and Spurs – both badly need the top four and if they get it they'll have to spend. I like the Spurs squad a lot and if they can keep some of their best players and add some quality, they're not to be taken lightly.
'THE NOISY NEIGHBOURS HAVE FALLEN'
How does it feel to be champions?
This really never gets boring. Perhaps no Premier League win will be quite as giddy as that of 1993, nor a European triumph quite so euphoric as Camp Nou in 1999. But this is the 13th United title I've witnessed and they've all been very good. This year is special because of Manchester City's last-gasp victory last year. Sir Alex Ferguson's side have responded with a season of consistent performances and genuine determination when it was required. The same cannot be said of City - there is a smug satisfaction in quite how far the 'noisy neighbours' have fallen.
Who or what has made the difference for you this season?
Three words:
Robin van Persie
. Ok, so the front four have shared around the goals this year much as they did last, but Van Persie's charisma and experience have added much to the team. There has been a calming influence in his presence; a belief that a goal will come when required, and it so often has. But there must also be a mention for Michael Carrick, who has once again held United's midfield together. His performances are a model of consistent excellence. To paraphrase a common expression among United's fans: 'those who don't rate Carrick, don't understand football'.
MAN UTD 3-0 ASTON VILLA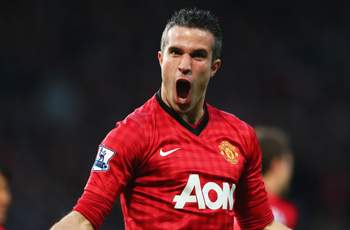 | | | |
| --- | --- | --- |
| | 2' | Van Persie opens the scoring |
| | 13' | Van Persie makes it two with a stunning volley from distance |
| | 33' | Van Persie completes hat-trick |
MAN OF THE MATCH
ROBIN VAN PERSIE







What a way to win your first title. The Dutchman scored a hat-trick that included a volley of the kind you will be telling your grandkids about. Has been the difference between United romping to their 20th crown and a nervous battle with City. Goals like his second make that £25m price tag look a bargain.
The pivotal game in the title race was...
There hasn't been a single pivotal game in this season's title race. Principally that's because City caved in to dressing room factions and complacency over the season. In truth there's been little doubt about the Premier League's destination since February. Looking at the data United haven't really improved on last season in most key areas – goals scored, points gained (yet), passing stats, attacking numbers and more. Meanwhile, Roberto Mancini's side have gone backwards. He might end the campaign with another FA Cup trophy, but there are some serious questions to be answered about his stewardship. Abu Dhabi can't be happy...
Is this Fergie's finest title triumph?
Certainly not. 1993 was huge, as was 1999. Each, in different ways, redefined the history of this club. This year's triumph is another fine performance, but there's a suspicion that the side is far from Ferguson's best, no matter what he says to the contrary. There's something missing – a certain stardust that is expected of United sides. Since Christmas Ferguson's side have been little better than functional, perhaps out of necessity. There's much to admire in that level of consistency of course, but will this side be revered in 20 years? Unlikely.
What's the aim for next season?
Retaining the league title; pre-eminence over City and Chelsea certainly won't be easy. It would be fantastic to see United give Europe another real go, but that will depend on how we strengthen over the summer. The state of the Reds' midfield is such that Ferguson will always have to compromise our tactics to do well in Europe. United might have been unlucky this year, but in truth this isn't a side good enough to win in Europe. Not yet at least.
Are you expecting a reaction from Manchester City and the rest?
Absolutely. Abu Dhabi's sovereign wealth will be unleashed once again. After all, it's not much good Sheikh bin Zayed Al Nahyan owning a vanity plaything if its beaten by such a distance. Clear blue water, you might call it. City's failure in Europe over the past two years only adds to the embarrassment.
Chelsea are a different beast. Roman Abramovich has spent not far off £200 million over the past two seasons. If he's still got the desire to win the Premier League he might have to spend the same again to challenge United and City next season.
'THE TITLE WAS ALWAYS COMING HOME'

How does it feel to be champions?
It feels great, I'm a bit concerned how so many Reds appear happier that City haven't won it rather than us winning it! The Berties mean nothing to me, I'm just ecstatic we've extended our title winning haul beyond that of our real rivals, Liverpool. 20-18 feels magnificent.
Who or what has made the difference for you this season?
We've broke records this season with 19 different players scoring but
Van Persie
's electric start to the campaign certainly stands him out from the others. Massive credit has to go to Hernandez, though, for some crucial goals at crucial stages of the season. De Gea has improved beyond recognition and seems to be adapting to the English game, the same definitely applies to Rafael who now looks a classy right-back despite the odd lapse in concentration at the far post. Michael Carrick has been ever present and deserves a mention and Patrice Evra thankfully raised his performance levels after an awful last season.
The pivotal game in the title race was...

There were two; one we played in and one we didn't. Southampton away was just our third game but coming back to win from two down set the tone for the rest of the season. Van Persie sent a message to the whole club and its fans that he knew what playing for United was all about, and it gave his team-mates confidence in him.

The other was played at the same ground but in February this year when Southampton beat City 3-1. City beat themselves that day, Mancini again openly criticised his players and the rest is history. The gap was becoming big but City's mental fortitude evaporated and their fate was sealed.

Is this Fergie's finest title triumph?

No. If he'd managed to win it against the odds last season with the squad and injury troubles he had then that would've been, but the acquisition of RvP in August meant the title was always going to head back home, no question about that.

What's the aim for next season?

Personally I'd like to see us add a bit of bite into the midfield and begin to compete and control the biggest games at the business end of the season. The aim of course will be to increase our title haul further away from those hungry Scousers who are a club in disarray while we sit merrily chirping away on our perch.

It's a nice place to be but it's hard not to look back on the most pivotal moment in the season which happened on the March 5 when a certain Turkish referee made an astonishingly poor decision to show Nani a red card. That instantly disrupted the momentum and we paid a heavy price in both cup competitions despite definitely having the opportunities to progress. It would be nice to go further next season but as usual the priority remains the title.

Are you expecting a reaction from Manchester City and the rest?

Who? Oh yes the Berties. Erm, yes I do, they'll react the only way they know how... by throwing lots of money at it, but unless they change the manager the same internal problems will exist and ruin another season. So fingers crossed they keep him! Swansea (thanks to Michael Laudrup's connections and the added TV revenue) could break up the top four.

If Chelsea replace Terry and Lampard with real quality and add some extra firepower in the summer I'd suggest they could be the team to challenge us next season. They've done well with a small squad this season but don't you worry about United not being up there, they will be.