By
Greg Stobart
at White Hart Lane
It was seven minutes in heaven for
Tottenham
, an extraordinary period of football in which their finishing place in the
Premier League
table could be shaped.
With 75 minutes played, Manchester City were cruising towards a 1-0 victory thanks to Samir Nasri's early strike, a result that would have left Spurs' hopes of a top four finish in tatters.
BREATHTAKING BALE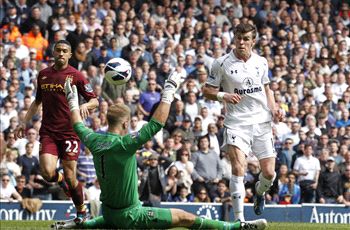 75'

Plays a beautiful ball across the face of goal to set up Clint Dempsey
82'
Darts through the middle and dinks over Joe Hart to seal victory

FROM OUR LIVE TEXT COMMENTARY

GOAL! What a turnaround! Bale delicately chips the ball over Hart to make it 3-1! The Welshman was played through by Huddlestone and kept his head to finish calmly there.
PLAYER RATING





Tottenham's star man returned to the side following an ankle injury and, despite looking far from fit, produced a glorious cross from Dempsey's equaliser before scoring his side's third with a delicate chip.
Yet in the space of 6 minutes and 22 seconds, everything changed. Gareth Bale, on his return from an ankle injury and clearly well below full fitness, came to life and so did the White Hart Lane crowd.
From predictable and apathetic, Tottenham became breathtaking as they blew City away with three beautifully worked goals to move fifth in the table, one point behind fourth-placed Chelsea and two behind Arsenal with a game in hand over their north London rivals.
In their desperation to restore their Champions League ambitions following a poor month, Tottenham rushed Bale back in to action and the Welshman appeared to lack his usual confidence and explosiveness for most of the game.
But with a flick of his left foot 15 minutes from time, the 23-year-old justified his inclusion in the side. As the ball rolled to him on the right side of the penalty area, Bale spun a wonderful low cross along the six-yard box with the outside of his left foot for Clint Dempsey to tap home an equaliser.
Four minutes later, Jermain Defoe blasted Spurs ahead and then, in the 82nd minute, Bale sealed the turnaround as he raced through and dinked a lovely chipped finish over City goalkeeper Joe Hart.
It was Bale's 23rd goal in 39 appearances this season as he has almost single-handedly driven Tottenham towards the Champions League spots. Even out of sorts, his contribution made the difference once again against last season's Premier League champions.
And with Luiz Suarez the subject of renewed controversy after he shockingly bit Branislav Ivanovic in the late kick-off between Liverpool and Chelsea, few could argue that Bale does not deserve his tag as favourite to win both the PFA and FWA player of the year awards this term.
The concern for Spurs is, of course, that Bale deserves to be playing at the highest level on a weekly basis and will have to strongly consider his future at the end of the season if the club fail to qualify for the Champions League.
The likes of Real Madrid, Manchester United, Manchester City and Bayern Munich have all identified Bale as a summer target but Spurs chairman Daniel Levy is ready to play hardball with a £70 million asking price for one of the hottest properties in Europe.
It would be a great loss if Bale were to leave English football, and that reason alone is enough to hope that Spurs can clinch a place in the top four.
And in Bale they have the type of match-winner that neither Arsenal or Chelsea can boast. With Bale in their ranks and on this form, maybe they won't blow it like they did last year.
In the big moments, he has continually produced for his side and Tottenham's trip to Stamford Bridge on May 8 is shaping up to be a Champions League play-off as Andre Villas-Boas heads back to his former club.
Out of nowhere, Spurs now have momentum thanks to this victory snatched from the jaws of defeat. All thanks to Bale and some intelligent second-half substitutions from Villas-Boas, particularly the introductions of Defoe and Tom Huddlestone.
It was seven minutes that will allow Manchester United to clinch the Premier League title on Monday night against Aston Villa, but it may well also prove decisive on the issue of qualification for next season's Champions League.
And don't be surprised if Bale has the final say.
Follow Greg Stobart on