By
George Ankers
Luis Suarez: Not shy

Oh, Luis. Believe it or not,
WWLTW
is not actually that keen to keep coming back to you – but what's a column to do? You can't just walk around punching people, for goodness' sake.
With his jab to the face of Chile's Gonzalo Jara during this week's World Cup qualifier, Suarez has once again brought upon himself a fresh wave of controversy. It is starting to look like the Liverpool forward is starring as Keanu Reeves in a PR version of 'Speed', in which our hero will explode if the number of articles written about him drops below 50 per hour.
Or perhaps the Uruguayan has his eye on developing an official Luis Suarez video game. He has certainly been revealing a repertoire of 'special moves' – press X to punch, press Y to bite your opponent's neck, press B to "trash talk".
A great player he may be but the Reds man is crying out for a lesson in anonymity. Perhaps he should ask Joe Allen for help.
GET THE HODGSON LOOK





HALF-TIME




FULL-TIME
The England mirage

These days,
WWLTW
does not often enjoy watching England. The past few years have mostly been a carnival of grinding quasi-adequacy, conjuring a feeling not of air-punching elation but knee-scraping carpet burns.
So imagine this column's surprise when the Three Lions came out of the blocks in Podgorica with vigour and excitement. Was it technically accomplished? No, not particularly, no matter how much Andy Townsend tried to claim that Wayne Rooney hitting the post somehow constituted "the perfect chip" – but it was entertaining.
Despite all the talk of a "hostile atmosphere" and the pressure of being behind in the standings, England were confident and attacking. It was how a mid-to-quite-good-level international side should approach a game. It was
fun
.
So, naturally, they packed it in at half-time. Where did they go? What happened to the go-getters of the first 45 minutes? Does the door to the Montenegrin stadium's dressing room lead to some sort of Narnia, where the squad spent years in what, for us, was the blink of an eye? It would explain their black hole of momentum.
Perhaps the whole first half was a mirage, a fever dream. Yes, it must have been. Because why would Roy Hodgson have proudly declared that England had "held on well" if they had in fact complacently thrown away good work?
Photo of the week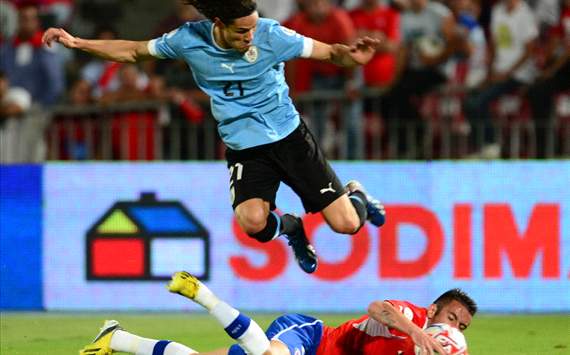 Spot the invisible skateboard!

Sunderland the latest victims of Wigan's black magic
It was fun when Wigan finished 10th in their first season in the Premier League. It was heartening when they scraped 17th in their second. It was impressive when they held on for a fifth consecutive year. It was astounding when they rallied in 2010-11. It was downright suspicious when they stunned Manchester United and Arsenal last term.
Joey Barton: Music critic


"Branislav Ivanovic is the Kylie Minogue of football - very good at what he does but destined to be best remembered for his backside.

"Alan Shearer is the Emeli Sande of football - constantly on the television but I have yet to meet a single person who actually likes his work.

"Joey Barton is the Smiths of football - not as good as Joey Barton thinks he is."
Now it is clear as day: These people aren't a team of footballers – they're a circle of wizards!
WWLTW
realised that something was up when Callum McManaman magically escaped punishment for Bruce Lee-ing Massadio Haidara and its suspicions were confirmed when Sunderland's captain and top scorer were both conveniently ruled out for the rest of the season.
The Latics have obviously been planning this for a long time, placing a latent curse on Lee Cattermole when they sold him to the Black Cats in 2009, just waiting for the right moment to strike.
WWLTW
would bet cash money that you can find a badly torn voodoo doll of Steven Fletcher in Roberto Martinez's bin.
To understand that Wigan are using spells to avoid relegation is a relief rather than a shock; at least it makes more sense than Connor Sammon used to. Magic, of course, is not in the Premier League's list of banned substances (though this column would have included it just to be safe), so it is perfectly legal.
At any rate, hexing Sunderland – very much the Crabbe and Goyle to Martinez's Harry Potter - into the Championship does us all a service.
Recommended Reading: A poem for Nigel Adkins
Hopefully he likes limericks too...
There was a new boss down at Reading,
All smiles despite where they're heading,
But as Brian will tell,
Even if he does well,
He should still mind the ground that he's treading
Follow George Ankers on