COMMENT

By Sam Lee
A waste of money. That's what I thought of Robin van Persie last August. "Get a midfielder instead," I cried. Sir Alex Ferguson had said for so long that there is no value in the market, and then he goes and spends a gazillion pounds on an unneeded striker who might get injured in five minutes, never mind over the course of a four-year deal.
"He's only had one good season," shouted Arsenal fans with more than a hint of bitterness. He had, though, to be fair to them.
Sir Alex was keen to point out that he did not want Manchester United to lose the title on goal difference again. "Make the midfield and defence more stable then," was an alternative, less sexy solution.
ROBIN VAN PERSIE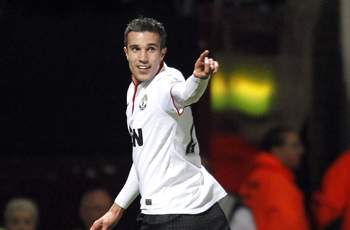 SEASON SO FAR

GAMES PLAYED
GOALS
ASSISTS
39
23
12

AVERAGE PLAYER RATING


3.27
WHAT THEY SAY


"We knew we were getting a top player who would make a difference to the team, that's why we went for him. Robin's a completely rounded footballer.


"He has international experience, he's played for Arsenal for seven years and he came to us at the very peak of his career."

- Sir Alex Ferguson

But did he listen? No. Was he right? Of course. United are
probably
going to win the league this season and that is thanks, almost entirely, to Van Persie.
He started life at Old Trafford in such staggering form that United swept through the early months of the season giving their opponents at least a one-goal head start. If Sir Alex's side were feeling extra generous, and they often were, they would concede another just to make things look fairer. Then Van Persie would win it somewhere near the end.
This scenario was played out perfectly in December's Manchester derby. United did that funny little thing where they threaten to completely blow it, and then the Dutch striker rode in and snatched victory late in the day.
"Robin van Persie is an important player for them," Roberto Mancini lamented. "It's clear that the difference is this. He has changed the situation.
"We wanted him in the summer because we knew he would be an important player. He is totally different from our other strikers."
Manchester City did not sign him, United did. United are going to win the league. It really is as simple as that.
He has scored the decisive goal in five matches - against Southampton, Liverpool, West Ham, Reading and Manchester City. That is 15 points. If you have not seen the table recently, United are currently 15 points clear of City.
If those basic stats are not enough to convert you (they should be), then have a look at these. Van Persie has a chance conversion rate of 23 per cent. Michu ranks at 22%, the much-vaunted Luis Suarez at 19%, Gareth Bale at 16%, and Demba Ba at 14%.
Van Persie scores a goal every 117 minutes. Suarez 118, Bale 143, Michu 162, Ba 241.
His shooting accuracy is 54%. Bale matches him, Suarez weighs in at 47%, Michu at 42%. Ba, to his credit, has a whopping 71%. If only he packed his scoring boots when he left Newcastle for Chelsea.
And Van Persie is by no means a flat-track bully. Of his 19 Premier League strikes, seven have been scored against top sides in big games: Liverpool (home and away), Tottenham, Manchester City, Everton, Arsenal and Chelsea.
Comparatively, Suarez has scored 14 of his 22 league goals against QPR, Wigan, Norwich and Sunderland.
The Dutchman's presence has revolutionised United's approach to title challenges. Traditionally slow starters that rely on blistering post-Christmas form, Sir Alex's side flew out of the traps this time around and pretty much have the title sewn up already.
He is, admittedly, going through a tough time in front of goal at the moment, but after playing such a major role at the start of the season, there are not too many at Old Trafford who hold it against him - and it surely will not last too much longer.
Robin van Persie has been the best player at the best team in England. His importance speaks for itself. He must be crowned Player of the Year.
Follow Sam Lee on

*Statistics from EPLIndex.com.