| | | | | |
| --- | --- | --- | --- | --- |
| ARSENAL | | V | | TOTTENHAM |
Tottenham clinched an important 2-1 victory over north London rivals Arsenal at White Hart Lane on Sunday courtesy of goals from Gareth Bale and Aaron Lennon, with Per Mertesacker in reply for the visitors.
With Andre Villas-Boas' side now commanding a seven-point lead over Arsene Wenger's outfit in the league and with just ten games left of the campaign still to play, the race for the top four looks set to go down to the wire.

Goal.com
invited Arsenal fan David Oudot of
Online Gooner
, and his Tottenham counterpart Alan Fisher, from
Tottenham On My Mind
, while our chief correspondent Wayne Veysey also chipped in with his thoughts, as we pick over the bones of what the result between the two sides means...


Did Tottenham's win on Sunday mark a power shift in north London?
David Oudot
: "Ask me again in May. Right now, Spurs are better than us, but at the end of the season the table will show you who is the best north London team. Spurs are currently miles away from us but we have to rely on the fact that they have a lot of tricky fixtures coming up. Not only do we need Spurs to drop points, we have to win 9 of our last 10 remaining games if we want to finish above them.
"Regardless of that, Spurs are a better club than us. The way they run as a football club is to be admired and I would swap Ivan the Terrible and Kroenke for Daniel Levy and ENIC in a heartbeat, as we are not a football club any more. We are an entertainment project whose aim is sell 60,000 tickets every fortnight to football tourists; not win any football trophies. Sad.

Alan Fisher:
"There is an inescapable feeling that the balance of power is about to shift and this game was the tipping point. More precisely, around 4.35 on March 3rd 2013 was the tipping point. A relatively young Tottenham team is one for the future, packed with skilful players desperate to better themselves and loyal to manager André Villas-Boas.
"Contrast this with Arsene Wenger, a decent man unfairly criticised by sections of the media and his own fans but whose ideas appear jaded, his hitherto masterful judgement in the transfer market having finally failed to bring in enough players of sufficient quality.
"This should not be seen as a statement of over-confidence. Spurs fans have seen far too many false dawns for that, and experienced a so-called transitional season that lasted two decades. Whatever happens, there is a feeling around that Villas-Boas is building something that could last for years."
Looking ahead to the summer, where would you like to see your side strengthen most?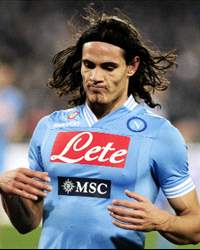 Alan Fisher:
"Think how good Spurs would be if we had a striker. The search for the big central striker is become the stuff of legend, a mythical quest destined to never end. Must be someone somewhere and chairman Levy has to pay the big bucks. Another creative midfielder would help, but not too much in the way of change because two of our best players, Kaboul and Sandro, have been injured for the whole and half a season respectively."
David Oudot
: "This will be a long-list! We need a new goalkeeper (Szczesny has an Almunia habit of always conceding the first shot on target in every game… including yesterday), a new right-back to replace the obviously-departing Sagna, a proper centre-back, a centre-forward or two, and a genuine defensive midfielder.
"For me, I would take John Ruddy from Norwich or any one of 3 German 'keepers (Adler, Zieler, Wiese), Hummels from Dortmund, Abate from Milan, Miguel Veloso from Kyiv, and pretty much any proper centre forward in the world. Falcao/Cavani etc. would be nice but Wenger will only shop at Primark and buy Gervinho's sister. We have £123.3m to spend so I'm not being over-ambitious. The most important signing would be a new manager but the sad and sheer fact of the matter is that Wenger will be at Arsenal until he is 70 at least – I can guarantee that."
Wayne Veysey:
"'Realistically' is the correct word. Both clubs will have assembled a list of playing targets whom they believe will either improve their squad or replace players they expect to leave. But the plans will be fluid due to the uncertainty over where Arsenal and Tottenham will finish in this season's league. One of Arsenal, Tottenham or Chelsea are likely to finish outside the top four, which will shave around £30 million from the budget they would have hoped to have available in the summer. This would be the difference between, say, Spurs hanging on to Gareth Bale or Arsenal buying Mario Gotze.
"In terms of personnel, Arsenal need a proven goalkeeper, at least two new defenders (depending which of Bacary Sagna or Thomas Vermaelen leaves), a midfield anchorman and a forward. When I say forward, it could be an attack spearhead or, more surprisingly, a blue-chip playmaker.
"Tottenham will try once more to buy an A-list centre-forward and are likely to bring in at least one central midfielder to replace outward-bound Tom Huddlestone. If Bale leaves, and it is still only an 'if' at this stage, they will move for a No10."
With Arsene Wenger's authority crumbling at the Emirates, and Andre Villas-Boas going from strength to strength, how are both managers viewed now?
David Oudot
: "The way he is lining the team up, his tactics, his ego, and the level of power he has at the club. He is persisting with our terrible, incredibly slow version of Barcelona's 4-2-3-1 tiki-taka which is clearly understood by everyone we play against as they hold us off, eight games out of 10. Either the players are terrible and don't follow his instructions, or his instructions and desires are inept and past it.
"He refuses input from any of the coaching staff, and is building everything around his own ideas and these clearly do NOT work. Every time he comes out and says that the club has loads of money yet says that there is nobody available good enough to make our squad in his opinion. If there is nobody available in the entire world better than the likes of Gervinho, Squillaci, Denilson, Bendtner, Arshavin etc. then God help us."

Wayne Veysey:
"Arsene Wenger is a dictator. A very charming one, but an all-powerful operator all the same. Armed with his whistle and wrist-watch, he runs every first-team training session, decides their length and content, and formulates the style of play. Arsenal have some highly-rated coaches with solid reputations in the game, such as Steve Bould and Neil Banfield, but, for the most part, their role is to execute Wenger's plans. If you watch Arsenal defend, particularly against top-level opponents, it is hard to spot any impact from Bould."
Alan Fisher:
"Our Andre is fast becoming a real favourite, although it helps if you win the north London derby. Yesterday was the first time his name, or rather his initials, rang out around the ground. People can see how committed he is to the club. He's not afraid of showing his emotion and the gifs of he and Freund dancing in celebration on the touchline are very popular.
"He clearly has the trust of the players. Remember those stories at the start of the season about player discord? I've never seen a bunch of Spurs players so focused and motivated. Also, he has his system but is prepared to make changes according the game is going. You can tell the best managers at any level by one thing - they are the ones who get the very best from the players, and this is Villas-Boas' greatest achievement. Almost every player has improved.
"It feels as if he's in for the long haul. We need that continuity - rather like Arsenal, in fact. All down to players in the end. If we keep this squad and there's investment in two or three top quality footballers, we could sustain a challenge at the top but we know we will never have the resources of other sides."
One player in the headlines recently is Gareth Bale, but just how good is he?
Wayne Veysey
: "I think Bale is thriving on being the main man. By nature he is very shy and does not seek the spotlight, but he is growing into the role of the team's outstanding player and the expectations that go with being one of the best in the Premier League. It has helped him that Rafael van der Vaart left last summer. For two reasons: it opened up the free role behind the attack spearhead and eliminated a very strong, outspoken character from the dressing room. Andre Villas-Boas is building this Spurs team around Bale and the player has responded with the most productive season from a Tottenham player since Paul Gascoigne in 1990-91.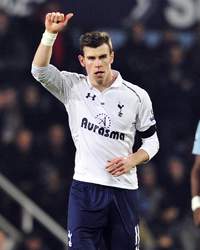 "Of course, he will not sustain this unreal run of form forever. Even Cristiano Ronaldo and Lionel Messi have quiet games. But Bale goes on to the pitch expecting to win matches from his own boot. That must be quite some feeling. You can tell from his celebrations that he is growing more confident and at ease with his high profile by the week."

David Oudot:
"I'm jealous of Spurs in a selection of different ways. Their owners are ENIC and their CEO is Daniel Levy – their aims are to establish the strongest club they can with the money and people at their disposal. As a result they got rid of cash-flashing Redknapp and got AVB in who is a very, very good coach and a smart guy. At Arsenal, we want to establish a UK sports franchise (if it wasn't the MK Dons thing, Kroenke would have tried to replicate the NFL and move us out to LA), and Arsene Wenger (a man with a reputation for finding very good, very cheap footballers) without spending any money.
"Anyway… as for AVB, I think he's great. He changes the formation and the players' positions as and when he has to, has them playing in a different way all the time, and is adaptable depending on the game his team are in. I like him very much and for him to have a backbone to drop the popular Friedel for Lloris and an eye for very good players like Dembele and Holtby, he is clearly better than Wenger is right now."
Where do you think your team will finish in the league this season?

Alan Fisher:
"In terms of the league position, Spurs can finish in the top four. Frankly, fourth is more likely than third. Many of these players have experienced the pressure of the run-in and the team is displaying a hitherto unheard of level of resilience and fitness. We haven't lost in the league for a while now but have not been playing at our very best, so there may be more to come. Pressure eats away at teams, however, but it will take a lot to dent the confidence of this side. There's a feeling the momentum is with us.
"I've been watching them for 45 years so I know all too well that the time to really worry is when everything is going smoothly. Spurs do have an uncanny knack of cocking it up just as they did yesterday - on top after half time, then conceded an unnecessary free-kick, lousy marking and Arsenal are right back in it.
"I would be happier if the mighty Sandro were still fit - he was doing the job of two players before his injury to the point where AVB need only play him as DM, now we have two and Parker is off the pace. Plus our strikers are hardly scoring at all. But what the hell, I might allow myself a shred of optimism. We have some top quality players. I must mention Lloris, quietly establishing himself as the Premier League's best keeper."
David Oudout
: "I really don't know. The fact is, we have to win eight of our remaining games, and need to overtake Spurs and/or Chelsea with them dropping points. Will that happen? I hope that Jimmy Greaves was right and that football is a funny old game, or that Wenger cooks Spurs' lasagne for the next two months! If Spurs remain unbeaten between now and the end, though, they will deservedly finish above us. And hopefully that, at last, initiates a change at Arsenal.
"
Are Levy and Villas-Boas the new Wenger and Dein?

Wayne Veysey:
"Not really. Daniel Levy is far more than the traditional figurehead type of chairman, like, say, Peter Hill-Wood at Arsenal. He is effectively a chief executive and director of football rolled into one, and is clearly a well-connected operator with an excellent track record as a negotiator. My opinion, and it might not be a popular one, is that he is a genius of the transfer market. He is respected and feared in equal measure by rival clubs.
"But, Levy also appreciates he cannot do everything. He has delegated some negotiating duties to director Darren Eales over the last year or so, but his medium-term plan is to recruit another sporting director to overhaul the club's recruitment model. From what I hear, he is still hopeful of hiring Andre Villas-Boas' ally Franco Baldini from Roma this summer to fill this role. If Baldini, or another sporting director, comes to White Hart Lane, he will take on the David Dein-type role of negotiating transfers and contracts, with Levy sealing the deal when it is advanced. Levy has punched above his weight for a long time, given the restrictions of Spurs' wage bill, but he needs experienced help to take the club to the next level."
Finally, If Arsenal miss out on the top four, where does that leave Wenger?

Wayne Veysey:
"Half of me thinks Wenger deserves the loyalty he gets from the board and should be given the funds this summer that are quite clearly available to build a title-challenging squad. The other half thinks he was one of the outstanding managers of his generation but has failed to adapt to the modern game (in areas such as tactics, preparation and sports science) and should fall on his sword. What is certain is that he needs help on the recruitment side, from someone like David Dein. It is beyond counter-productive to the club that the manager has the main say in the transfer fees spent on potential signings and the wages they are correspondingly given.
"In December, Wenger had every intention of spending the £50million that was available to him on three new players. That he ended up only signing a left-back in the final hours of the window, after Kieran Gibbs had picked up an injury the night before, is perverse beyond belief. How could such a big transfer kitty be largely untouched with the club's Champions League position under such threat? The only pressure on the Frenchman is external - from the supporters and the media. There is nothing internal, from the board or his staff at the training ground that has been built to his own specifications. So, my answer is this: If, and only if, Wenger adapts and accepts that his powerbase must be weakened, stick with him and give him the new contract that he wants. If he is unable or unwilling to change, it is time to say
au revoir
."