COMMENT
By Ewan Roberts at the Emirates Stadium
Throughout
Arsene Wenger
's reign at
Arsenal
,
Le Professeur
has been able to rely on his very own French Connection. The 63-year-old stormed the Bastille and initiated a French Revolution at the beginning of his tenure, but that once reliable Gallic core has dwindled to the point of extinction in recent seasons.
In his first year at the club, Wenger signed five Frenchmen. Patrick Vieira and Remi Garde were recruited on his say-so before his contract at Nagoya Grampus Eight had finished, while a 17-year-old Nicolas Anelka was also purchased from PSG. Within a year, Monaco duo Emmanuel Petit and Gilles Grimandi had also joined the club.
Wenger's Tricolore banner comprised of pace (Thierry Henry), power (Vieira) and, in no small measure, flair (Robert Pires). Those traits came to define key, necessary even, Premier League qualities. Athleticism, speed, strength, all of which was anchored by George Graham's all-English and uncompromising back five.
The French manager clung to familiarity early on, raiding a Ligue 1 market he knew well and plucking the best French talent from around Europe – Vieira from AC Milan, Henry from Juventus. But Wenger's transfer market success in his native country has all but evaporated now.
It's a market he no longer has to himself (with Newcastle notably active in Ligue 1 nowadays), and one that has born largely rotten, or at best unripe, fruit: the hit-and-miss monument to inconsistency Gervinho from Lille, the £5.7m forgotten man Park Chu-Young from Monaco, ex-Lorient centre-back Laurent Koscielny, who remains unable to hold down a first-team place, and a man who needs no introduction; Marouane Chamakh.
SANTI CLAWS IT BACK FOR ARSENAL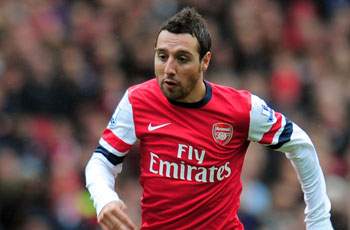 | | | |
| --- | --- | --- |
| | 6' | Opens the scoring for the Gunners |
| | 85' | Seals a crucial late win with his second |
PLAYER RATING





Took both his goals well; collecting his own blocked cross and then firing a shot past Guzan for the first, before calmly slotting the ball past the American for his second. A creative, adventurous presence throughout the match.
But top of that list is Olivier Giroud. The former Montpellier man was in miserable form against Aston Villa on Saturday afternoon, spurning every chance that fell his way and failing to exude even one iota of composure or swagger in front of goal. The 26-year-old hasn't scored in his last five matches in all competitions, and the decision to drop him against Bayern Munich intimates a loss of faith, or lack of patience, in the ailing striker.
Giroud has come to embody many of the shortcomings of the modern Arsenal, mentally brittle, unpredictable and not at all reliable, while countryman Abou Diaby, leaving the field with yet another injury – "he got kicked on the hip and also felt his calf," revealed his manager after the match – highlighted further the fragility of the French representation still lingering in the Arsenal squad.
Instead, it was left to the Gunners' blossoming contingent of Spanish imports to salvage victory against Paul Lambert's relegation-battling Villans. Where Giroud was profligate, Santi Cazorla, fortunately for Arsenal, was the epitome of calmness and composure.
The former Malaga playmaker struck twice to bring his league tally for the season to 11 – making him Arsenal's joint leading scorer alongside Theo Walcott. Not since Thierry Henry in 1999/2000 has an Arsenal player scored as many goals in his debut season as Cazorla.
With 11 league games still remaining, the 28-year-old has already posted the highest goals return of his career, an achievement which has surpassed Wenger's expectations for his summer signing. "I didn't expect him to score so many goals, no, because [there are] 11 games to go, so he could score a few more."
The Spaniard's first goal was a reward for dogged determination. After his initial cross was blocked, he pounced on the loose ball and powered a shot towards goal that evaded Brad Guzan and rifled into the back of the net.
His second saw him link up with fellow
Los Boquerones
alumni Nacho Monreal to caress the marauding defender's pull-back into the far corner. It was a slick, flowing move, with fellow Spaniard Mikel Arteta spraying the ball to Jack Wilshere, whose deft, dinked pass found Monreal, before Cazorla effortlessly glanced the ball past Guzan for a second time, displaying the nerveless, instinctive finishing that had escaped Giroud earlier in the match.
"[He] played very well and delivered in a game that was very important and of course he's a great player," gushed Wenger after match. The goals were the icing on a cake comprised of gutsy endeavour, relentless adventure and creative bravery.
But what will have pleased his manager most was Cazorla's desire to affect the match, and the display of hard work and heartiness that combined so effectively with his creativity and vision. More than just a fair-weather entertainer, he made a telling contribution to the match when Arsenal looked disheartened and dejected following Andreas Weimann's 68th minute equaliser.
"For me, he is the complete football player because he has as well spirit," added Wenger. "He did fight until the last minute, he was a bit tired in the end, but he did continue to fight. He's a good example to follow because every day he's happy to come and play and practice, and when he's on the football pitch he gives you absolutely everything."
Wenger's move away from his increasingly misfiring Gallic roots and towards in vogue Iberian shores represents a much-needed departure from his comfort zone. The more tiki-taka Arsenal become, however, the greater their need for a match-winner – see Lionel Messi at Barcelona, or David Silva and Andreas Iniesta for the Spanish national team.
But in Cazorla, as his goals against Villa and Sunderland would suggest at least, the Gunners have a decisive, game-defining talisman upon whom they can turn to, and in Spain/La Liga they have found a new nation and league of fiercely gifted players upon which they can lean and plunder.
Follow Ewan Roberts on