COMMENT
By
@Spooky23
The title of this article sums up the all-consuming identity crisis we find ourselves in, season after season. Perpetual rationalising on what constitutes success and progress. Prioritising whatever target your personal perception deems to be the most vital to Tottenham and our continued evolution from that almost forgotten about mid-table mediocrity. Then trying to validate it.
Top four > Silverware
Silverware > Top four
Patience a virtue lost in the maddening crowds. Confused? You should be. I am trying to conjure a narrative that does modern football justice. We are wrecks, emotionally and physically. Modern football is not to blame completely. We have to take responsibility too. It is not just all-seaters and
Sky Sports
. We over-complicate what is fundamentally, 11 men kicking a ball towards the opposition's goal.
TOTTENHAM'S TOP FOUR FAILURES

LASAGNE-GATE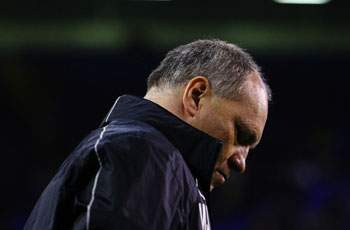 Going into the final day of the 2005-06 season, Tottenham led arch-rivals Arsenal by a point in the race for fourth place. Knowing they only had to equal the Gunners' result, the Spurs squad ate at the Marriott Hotel the night before facing West Ham at Upton Park, but here the troubles began. Some 10 members of the squad fell ill, with the club blaming the lasagne many of them had eaten, though the hotel was cleared of all wrong-doing. Whatever the cause, the Hammers took full advantage, triumphing 2-1 while Arsenal came back from a goal down to beat Wigan at home and clinch Champions League qualification. Boss Martin Jol was sacked just over a year later.
MANCINI'S REVENGE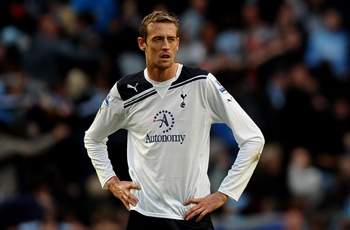 Harry Redknapp's resurgent Tottenham had pipped newly-enriched Manchester City in the race for fourth place on the penultimate day of the 2009-10 season, with Peter Crouch nodding home the only goal of the game. Ecstasy turned to agony for Spurs and their star striker the following season, when the two sides once again met at the Etihad Stadium with Champions League football on the line. Tottenham controlled long periods of the match, but were undone when Crouch bundled into his own net on the half-hour. City went on to book their place in Europe's premier club competition for the first time, and won the league the following year.
MIRACLE OF MUNICH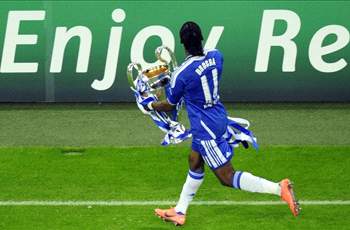 Tottenham endured their cruellest top-four failure of all at the climax of the 2011-12 season. Despite a finishing run of just four wins from 14 games which saw Arsenal leapfrog them into third place, Harry Redknapp's men comfortably secured fourth. But there was a problem. Against all the odds, Didier Drogba led Chelsea - who had finished five points behind Spurs in sixth - to Champions League glory against Bayern Munich, and the Blues took their London rivals' place in the competition for the following season, as well as becoming the first club from the capital to be crowned 'Kings of Europe'.
So what exactly do we fear?
Remember the birth of this fledgling journey? It started with midwife Martin Jol. There were complications. It took an unexpected turn of events that found foster-parent Harry
'he was only meant to be an interim appointment to save us from relegation and steady the ship'
Redknapp take yet another expensively-assembled misfiring Spurs squad and get them playing wonderful attacking football with new belief. We found ourselves a backbone after a decade or so of wondering around aimlessly. We grew up, matured. The promised land was finally ours.
That was the beauty of it. The sheer grit and determination and the digging so deep it was a miracle White Hart Lane's foundations did not collapse through to the centre of the earth. Daring to achieve against the odds. As the underdog. The pretender. But it was not just the bullish belief and a Danny Rose volley against Arsenal driving us forward. We were brilliant against City at Eastlands when it was all up for grabs. A Tottenham side that did not choke and followed through without the constraints of entitlement.
Expectations rocketed. We gate-crashed a traditionally boring group stage in the type of style that only Spurs could deliver. It was a grand debut. Iconic moments are vital to any club's history and traditions because it stamps a moment in time that will not be forgotten and strengthens everything that a supporter adores about the club they follow, the club they belong to.
We then struggled to capitalise on the momentum and step up a further level. However, we still finished fourth last season, but due to some obscure technicality we did not qualify for more Champions League high jinks. We blamed and criticised.
Not enough tactical astuteness and guile, not enough speculative transfer dealings...
mostly ignoring the quality, experience and money of our rivals.
As for today, we remain competitive even with the re-build and overhaul. We are a fixture up there, in the hedonistic heights of the top tier of the Premier League. Do not be shy of that fact. Silverware is important no matter what is subliminally preached from that
Sky Sports News
yellow ticker. But the harsh reality is to retain that spark of competitiveness you have to match what your competitors strive for.
The Champions League might be the embodiment of what football has become, but it is still a gauge to be measured by. Glory is bestowed on those who dare to embrace it, regardless of cup or league placement. Glory is that night at the Eastlands or any given cup final we have graced. Glory is defined from the heart. You cannot second-guess it or plan for it. It happens unexpectedly. I want silverware and I want Champions League football. More importantly I just want glory and glory is seeing Spurs stamp those iconic moments eternally into the passages of time, home and abroad.
So what exactly do we fear?
We fear missing out on Champions League football again because we are without the delusions that for so long masked the fact we were not good enough. We can achieve what we aim to achieve. We still have to fight for it; we still have to dig deep. And if we do not, then we simply did not want it enough or we were simply not good enough.
This,
this
feeling of anxiety and paranoia, it is the by-product of wanting success. Missing out will not stop that desire. What you fear is normality, what you fear is this club not being able to come within touching distance of yet another dream, a tangible one not a whimsical illusion. It makes you feel alive even if you are on tenterhooks for most of it.
We fear failure but we have redefined what failure is. Failure is qualifying for the Champions League but then not qualifying because another English club who failed to finish in the top four won it. Failure is fifth position. Failure is losing to Arsenal.
Failure is not missing out on eighth spot. Failure should be finishing in second spot. Aim high, then aim higher.
The only fear Tottenham should have is the fear that we will not be in a position to compete. Regardless of the debates around the politics of progression and our chairman, as long as we compete we are looking up and we are not looking back.
Fear is the fuel. So what exactly do we fear? What we fear is no longer being scared of failure.
Follow Spooky on