By
Alex Hess
MTW'S ROUND-UP OF ALL THE DEADLINE DAY HILARITY
So there you have it, boys and girls, it's all over. The time has come to finally abandon the distant hope that your club might just close a loan deal for Kaka or make a cheeky last-minute dash for that Brazilian kid you've seen on YouTube, and start re-directing your focus on the thoroughly dismal business of Actual Football.
That's right: the January transfer window has
closed
SLAMMED SHUT. It concluded, as transfer windows tend to, with Jim White's Sole Reason for Being, AKA transfer deadline day, and this January's edition was certainly
marginally underwhelming as is generally the case
no disappointment.
ASK ALEX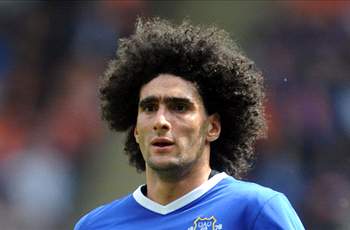 I'm starting to get worried. I was told that the boss had a deal for a lanky, oafish, aggressive central midfielder done and dusted, but apparently it didn't happen!

I was certain that signing would mean I'd finally be allowed out of this damn place and finally onward to greatness, but it looks like I'll be stuck playing alongside Tony Hibbert and Darron Gibson for the rest of the season.

I don't even like my team-mates much here – if that little runt Leighton has the cheek to tell me to get a haircut again, his nose will be getting a nasty introduction to my elbows.

Ahh well, I guess I can bear it for another six months. Then I'll definitely start answering Roman's calls.


- Marouane, 25, Merseyside
Granted, the day's unequivocal central narrative, Peter Odemwingie's whimsical decision – taken only minutes after warming down from his Thursday morning training session at West Brom – to clear his locker and promptly begin ploughing his way down the M40 towards the bright lights of west London was perhaps not a deadline day saga of Torresian or even Carrollian proportions.
It did, however, provide a grateful public with the requisite hilarity that has come to be expected from the one day of the year in which those working in professional football frantically forsake all logic in the pursuit of an exorbitantly-priced and ultimately superfluous marquee signing to present to those
tragic, soulless cretins
die-hard fans that are still lurking outside their club's training ground until the wee hours.
It is this complete abandonment of coherent thought which
MTW
finds most fascinating about deadline day. For instance, as evening broke and our hero Odemwingie zoomed ever-closer to the nation's capital, with Big Ben, the Tower of London and Nelson's Column looming seductively on the horizon, what sort of rational reasoning could possibly have convinced the striker that it was a bright idea to jump ship from the division's ninth-placed club – and a sensibly-run, well-managed, and aesthetically agreeable side at that – in order to dive headfirst into the mother of all relegation scraps alongside Robert Green, Clint Hill and Tal Ben Haim? MTW is truly stumped.
(On an entirely separate note, rumours that Odemwingie made a detour through Savile Row, was measured up for a suit made from pure gold leaf, and forwarded the bill to a Mr T. Fernandes, are as yet unconfirmed.)
Of course, having seen the expected transfer collapse in front of his disbelieving eyes, and forced to make the unforeseen return journey to the Midlands – the golden glow of Westminster Abbey growing ever-distant in his rearview mirror – Odemwingie, tail wedged firmly between his legs, has since claimed that his rogue escapade was in fact based on a 'gentleman's agreement' that he had nobly struck with his employers.
Of course, one cannot help but decipher this as a desperate (and wholly unsuccessful) attempt to claw back any remaining shreds of dignity, and indeed minimise the gruelling regime of unending laps round the training pitch, press-ups performed in muddy puddles, and lonely nights enduring Chinese water torture in Steve Clarke's basement that lie in store for him upon his return to the Hawthorns.
That said, perhaps
MTW
is being somewhat premature in ruing the chronic shortage of sensible, logical transfer business that occurs on deadline day. Indeed, Odemwingie's own unfulfilled love, Queens Park Rangers, did not – shock horror – arrive at midnight without reinforcements.
Given that QPR's past couple of seasons have been marred by a dreadfully short-termist transfer policy having infested the club's higher echelons – with the far-from-inexpensive employment of the likes of Djibril Cisse, Kieron Dyer, Esteban Granero and Robert Green being pointed to as a startling indication of their reckless and profligate navigation of the transfer market – the club, steered by the ever-stringent Harry Redknapp have at long last appeared to have seen sense.
Not only did January see the arrival of French hitman Loic Remy, who mysteriously shunned the advances of a bigger, better-placed club in Newcastle United en route to Loftus Road, but deadline day also saw the canny acquisition of Premier League veteran Christopher Samba.
Having now procured the 28-year-old prospect for the undeniably thrifty fee of £12.5 miilion, and reportedly snaring the defender on the entirely reasonable salary of £100,000-a-week (for four-and-a-half years), no-one can aim any accusations of rash, cavalier and blunderingly irresponsible behaviour in the market any longer.
No siree!
There can be no doubting it now: Premier League survival, here they come!
WHAT THEY REALLY MEANT



Mircea Lucescu
, on Willian's move to Anzhi Makhachkala: "This is personal decision, and we must respect it. There is a club willing to pay the release clause in his contract, and Willian agreed to move. There is nothing I can do."
Decoded: "Anzhi have offered Willian four hundred grand a week, a lifetime's supply of pink champagne, and a palace made entirely from unicorn tusk. There's little we can do to prevent the move."
Arsene Wenger
: "We were close to one more signature yesterday."
Decoded: "I tried desperately to get Martin Keown out of retirement, but he wasn't interested unless he got to play against Ruud van Nistelrooy again. I even gave Oleg Luzhny a ring, but he said he'd be too ashamed to be part of the current back four."
Follow Alex Hess on