COMMENT
By
Wayne Veysey
at Stamford Bridge
Fernando Torres' relationship with the Chelsea fans can be broken down into two distinct phases: pre-Rafa and post-Rafa.
Before Rafael Benitez marched through Chelsea's managerial revolving door in November, Torres had the overwhelming support of the matchday Stamford Bridge support.
Each misguided touch, wasted opportunity or feeble display tended to be overlooked in the hope that he would finally, somehow, become the striker Roman Abramovich thought he had signed.
With the second anniversary of his £50 million switch from Liverpool approaching, the possibility of regularly seeing a ruthless, composed and prolific Torres in a Chelsea shirt has never felt so far-fetched.
Chelsea might have completed a home-and-away double over Arsenal with a 2-1 win built on an effervescent first-half display but only the most one-eyed Torres supporter would claim it owed much to their No.9.
TIRED OF TORRES?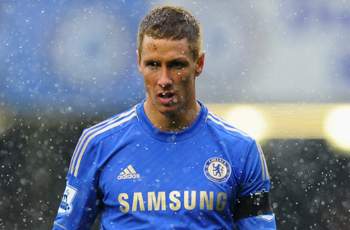 PLAYER RATING VS ARSENAL





Had the backing of Benitez by starting ahead of Ba, and looked threatening early on, but it was Chelsea's attacking midfield trio that caused Arsenal the most problems, while Torres wasted a decent chance, slicing an effort over the bar. Made a superb break with 20 minutes left, but overran the ball and looked hugely disappointed with himself.
FROM OUR LIVE! COMMENTARY


Lampard floats in a free kick from deep, which bounces kindly for Torres. Ten yards out and with time and space, the Spaniard skews his shot well wide. Awful finish. For all Chelsea's attacking verve, Torres has barely featured.
Not that the Spaniard was an anonymous figure. A dramatic change of hairstyle - swapping his familiar wavy locks for a military-style crop - had been a pre-match talking point and prompted cod psychologists to muse whether it was borne out of an identity crisis.
The biblical figure Samson was deprived of all his strength when he lost his hair. So rare have been Torres' heroic feats with a full and thick thatch in recent times that such comparisons are nebulous.
By default, or perhaps the unspoken decree of the billionaire owner watching from his executive box, Torres had been saved for the marquee match of the week and selected to spearhead the attack ahead of Demba Ba, scorer of Chelsea's first in the 2-2 midweek draw against Southampton.
It was telling that the reaction of many Chelsea fans was one of grudging acceptance. Many, it seemed, would have preferred their new signing, scorer of three in three starts for the club, to have led the line.
To his credit, Torres began nearly as brightly as some of his buccaneering colleagues but soon settled into true blue type.
An excellent first-half chance, from the right side of the penalty box, to put Chelsea three goals clear, was skied high over the bar.
At 2-1, the Spaniard wasted another golden opportunity to put some distance between his side and Arsenal. Having robbed Per Mertesacker of the ball on the halfway line and charged towards the penalty box with all the acceleration of his peak, an embarrassingly heavy touch allowed Wojciech Szczesny to gratefully take the ball.
Soon afterwards, Torres sprinted clear down the right channel in another zippy counterattack but his decision-making let him down on this occasion as he held on to the ball too long rather than whip in an early cross for the unmarked Juan Mata in the box.
It felt like a relief when Torres' number was finally held up with 10 minutes remaining. The Spaniard gave his manager what might be termed an old-fashioned look. Maybe he was simply disappointed that he had not been put out of his misery earlier.
Even more telling than the reaction of the Chelsea striker was that of the supporters. They wholeheartedly gave their backing to Ba while virtually ignoring the contribution of Torres.
The Chelsea fans appear to have concluded from two years of evidence that Torres will never again be the player they had watched settle Euro 2008 and cause such destruction for Liverpool.
There has been the occasional hint that a corner had been turned; the semi-final clincher at Barcelona that brought Gary Neville such pleasure; a splendid opener in the September victory at Arsenal; the seven goals in six matches that accompanied Benitez's arrival.
Yet, in truth, Chelsea fans have been fed scraps from a player they expected to provide a feast of defining moments.
The fans' disaffection with Benitez appears to have been accompanied by a growing mistrust in the striker he once cajoled into playing the best football of his career.
The Chelsea supporters used to offer Torres endless encouragement and support, willing the ball into the net for him and accepting that he needed to be given time to follow in the giant footsteps of Didier Drogba.
The reservoir of hope appears to have run dry. The bare statistics since Drogba's exit are not disastrous: 14 goals in 36 matches this season in all competitions.
Skim beneath the surface, though, and they are not so impressive. Only seven in 21 league starts, with the goal at Emirates Stadium his only strike against a team in the top half of the Premier League table.
Defenders can still be sent into a tailspin by his pace, the work-rate is reasonable enough and the vast goal-scoring range remains.
Yet Torres looks like a player who is past his best and does not want to be at Chelsea. Unhelpfully, his former colleague Steven Gerrard aired this view shortly before Sunday's match.
This feeling of detachment is increasingly being reciprocated by the fans. They can take or leave Torres, too.