SPECIAL REPORT
By Greg Stobart
Roberto Mancini
is well aware that his future as
Manchester City
manager hinges on how he establishes a working relationship with Txiki Begiristain after the Spaniard was appointed as the club's new director of football.
Yet rather than rail against the new man - who spent seven years occupying the same role at Barcelona - the Italian's initial reaction to the appointment has been positive, welcoming the addition of the man who brought the likes of Samuel Eto'o, Ronaldinho, Dani Alves and Gerard Pique to Camp Nou.
For Mancini, it is a victory of sorts, given that Begiristain's appointment relegates former football administrator Brian Marwood, with whom the City manager constantly clashed during the summer over transfer targets, to a role looking after the Academy.
The Italian knows, however, that his powerbase has been weakened despite guiding City to their first title in 44 years last term and the presence of Begiristain and Ferran Soriano, who became the club's chief executive in August, is likely to lead to continued links to former Barcelona coach Pep Guardiola.
But so far, so good. Mancini is understood to have responded positively to Begiristain's appointment as he respects the former winger and, with a contract until 2017, the City manager is able to plot for the future.
"I think the next three or four years will be very important for us," Mancini said on Friday. "Now, with Ferran and Begiristain, we can work very well and improve our team.
"He [Begiristain] has a lot of experience with a top club like Barcelona and this is another reason we can work together. Also, if we did well the last two years, we can do even better in the future.
"It's important he worked with Barcelona. He won everything with the club, he built a fantastic team so I think it will be very important."
The move towards Barcelona's model has been in the offing at the Etihad Stadium since January as the Premier League champions move to create a financial model to comply with Uefa's Financial Fair Play regulations, having spent more than £1 billion since the Abu Dhabi takeover of the club in 2008.
Begiristain was clearly ready for the job and has turned up at City with an enormous dossier on potential targets, mainly based in Spain, with comprehensive details on players' contractual statuses, salaries and openness to a transfer.
With his little black book and his network of spies, Begiristain has already identified leading targets for the January transfer window, including Malaga playmaker Isco and Real Betis midfielder Benat.
BENT ON BENAT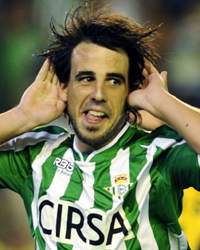 The Real Betis star has been identified by Begiristain as his first target, with his current deal set to expire in the summer of 2014


Simultaneously, City want to snap up the best young talents before they are worth enormous sums, with Soriano and Begiristain eyeing a number of Barcelona youngsters from the famous La Masia academy, including Cameroonian wonderkid Jean Marie Dongou.
Mancini is, naturally, still seeking some answers as to where exactly Begiristain's appointment leaves him and the shadow of Guardiola will pile the pressure on the 47-year-old to retain the Premier League crown this season and progress to the knockout stages of the Champions League.
The partnership of Soriano and Begiristain laid the foundation for an era of domination for Barcelona and City owner Sheikh Mansour wants to follow a similar model, maximising commercial potential while producing top-quality home-grown players and signing the best talents in the world.
Mancini will have to buy into this ethos rather than take a contrary stance to the club's hierarchy, which has often been the case since his appointment in December 2009.
The early signs are good and City are already taking a more structured, focused approach to the January transfer window after a chaotic summer in which they missed out on top targets like Robin van Persie and Eden Hazard.
Begiristain and Mancini are both winners and, as City target their own golden age, there is no better example to follow than that of Barcelona.
Follow Greg Stobart on