COMMENT
By Carlo Garganese
In the last four days, three games featuring Chelsea, Manchester United, Reading and Arsenal have produced a whopping 26 goals – 12 of them in one match alone at the Madejski Stadium.
The reaction from fans and pundits has largely been one of animation and excitement. Former Arsenal midfielder Ray Parlour tweeted: "What a game at Stamford Bridge, 5-4 to Chelsea. What a couple of blinding nights of football."
Ex-Manchester United goalkeeper Edwin van der Sar exclaimed: "That second cup competition [Capital One Cup] is just getting better and better! Two great games with teams going for it!"
Very few in the 'twitter-sphere', however, were critical of the outrageous number of strikes being shipped, although chairman of the PFA and York City defender Clark Carlisle hinted he was less than impressed: "Has the League Cup been taken over by Championship Manager #RidiculousScorelines."
Ridiculous is an understatement.
There is nothing blinding or exciting about watching a game of football where virtually every offensive move produces a chance or a goal, where five minutes does not pass without a defender committing a horrendous mistake, where marking is non-existent, and where there is more free space than the car park at a video rental store.
Granted, the presence of a few second-string fledglings such as Michael Keane, Scott Wootton and Ignasi Miquel has contributed to the flood of goals, but do not let this cloud the fact that we are living in the worst defensive age for decades.
You can count on one hand the number of genuinely world-class defenders today. You require no hands to tally the number of world-class club defences.
Ten to 15 years ago, we were blessed with an abundance of defensive legends; Paolo Maldini, Fabio Cannavaro, Alessandro Nesta, Jaap Stam, Lilian Thuram, Marcel Desailly, Javier Zanetti, Cafu, Roberto Carlos and many more stars. A generation earlier, and there were greats such as Franco Baresi (and the entire Milan back four), Frank Rijkaard, Klaus Augenthaler and Jurgen Kohler. In 2012, we are feeding off scraps – the likes of Gerard Pique, John Terry and Mats Hummels up there with the best the game can now offer in defence.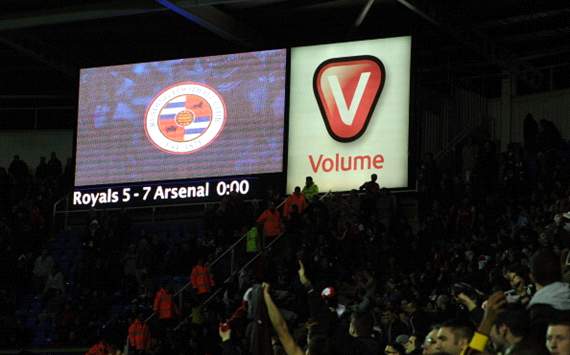 Death Knell | The Reading-Arsenal scoreline knocked 12 nails into the coffin of defending
There is a reason why football no longer breeds great defenders, and it is not – as most blindly argue – because the game has evolved. The cause is the footballs themselves.
Since the World Cup's first ever fully synthetic football, the Adidas Azteca, was introduced at Mexico '86, every single passing year has seen footballs become more and more plastic. The impact this has had on the game, and defending in particular, has been devastating.
As was illustrated with the much-maligned Jabulani model at the 2010 World Cup in South Africa, today's plastic balls travel too fast, move mid-flight and are too bouncy. This has caused the game to become unbearably quick. The ball pings around the field at 100mph, making defending purely reactive rather than proactive.
The most important aspect of defending is the ability to read the game. This is the reason why from the 1960s onwards Italy and Serie A became so famed for their defensive success – tactically and mentally they were smarter than other nations and leagues. It is no coincidence that not even the Italian peninsula produces great defenders anymore – the conditions due to the plastic balls do not allow it. Stoppers are no longer able to use their brains like they once were. Defending is purely physical now.
"You can count on one hand the number of genuinely world-class defenders today. You require no hands to tally the number of world-class defences
"
Tactics and formations have been altered as a result of synthetic balls. The sweeper has disappeared from the game, as has man-marking, because the ball moves around the field too quickly, and this in turn has made defending harder too.
There are other factors, of course, that have not helped. The abolition of the pass-back in the early 1990s benefited attackers, as did the passive offside rule which has made stepping up the pitch to catch a forward offside extremely dangerous.
But all in all, football is too chaotic. It is like the school playground; 30 children charging around chasing a petrol station ball with no order. No brains, just brawn. The more athletic and physical kids will excel on a crowded playground, and the final score will often be a ridiculous 7-5 too. Just like the recent Ajax-Real Madrid clash, the plastic ball will probably pop a couple of times during the game after being kicked into a thorn bush.
Do we want playground football? Do we want Championship Manager taking over our beautiful game? Or do we want football to remain an art, where there is an equal appreciation of attack and defence? As every year passes, we move more and more towards the former.
We need governing bodies to recognise how their plastic revolution is killing some of the game's finer crafts, before it is too late and defending becomes extinct.
Follow Carlo Garganese on