After
England
's
2014 World Cup
qualifier with
Poland
was postponed due to authorities forgetting to shut the stadium roof before predicted heavy rainfall,
Twitter
was predictably full of jokes from players and fans alike.
Rio Ferdinand and Gary Lineker were both on hand to offer their thoughts, whilst Ashley Cole was happy to turn to the TV instead of the playing field.
A number of other qualifiers did go ahead as planned, however, with Johan Djourou, Asmir Begovic and Vincent Kompany all delighted with their respective results.
Find all this and more in
Goal.com
's latest offering of
Word on the Tweet
...
"Can't believe game was off, ‪#eng‬ 2morrows a different day thou, now time to watch ‪#thevallys‬ good times"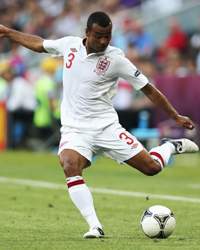 Chelsea
and
England
left-back
Ashley
Cole
viewed the postponed match as an opportunity to catch up on some telly watching.
"Just heard the stadium has a rooooooooooooof!! Hahahahhahaha it gets worse!!"

Rio
Ferdinand
was left to watch the farce from his sofa, and could barely hold back his emotions when he found out the National Stadium in Warsaw did actually have a roof.
"No England manager will ever carry a brolly again!"
Is former Three Lions forward
Gary
Lineker
hinting here that
Steve
McClaren
would have had everything under control in Poland last night?
"Bizarre evening. Roy assures me he's got clean pants for tomorrow. No idea why KO time is early tomorrow - NOT to do with Emmerdale! Lots of England fans here struggling with flights, hotels etc not good"

ITV
pundit
Gareth
Southgate
, who was part of the team which struggled to entertain a nation expecting to watch a football match yesterday, reveals a little too much information about the
England
manager.
"Disgraceful what happened in Serbia last night-manager/captain should just take team off the field and refuse to play c what UEFA do then"

Everton
captain
Phil
Neville
condemns the scenes at the end of
England Under-21
's match in
Serbia
, while suggesting a way of sending a strong signal to Uefa.
"

I think for the last part of the ‪#debates‬ they should let them put boxing gloves on and slug it out! *Ding ding ding*

"

Bolton
and
USA
midfielder
Stuart
Holden
provides an interesting alternative to the standard Presidential debates.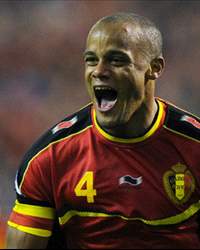 "A tackle is a tackle. A competitive tackle is a competitive tackle. A fight is a fight. I should know i've had a few!"

WOTT
regular
Joey
Barton
states the obvious.
"What a great result in Iceland 2-0, 10 points, 1st in the group.......thanks for your support."

Switzerland
defender
Johan
Djourou
is delighted with their cool 2-0 win in Iceland.
No, not the supermarket.
"Proud of my team, proud of our fans, proud of our country. Together we can achieve anything. ‪#Belgium‬"

Manchester
City
and
Belgium
captain
Vincent
Kompany
is a proud man - well, we think - following a comfortable win against
Scotland
in Brussels in which he scored an absolute screamer.
"Great result for us tonight. Great goals scored tonight. Some great finishes. Great atmosphere as always in Zenica. ‪#BeastMode‬"

Asmir
Begovic
sums up a really great night for
Bosnia
, after their 3-0 victory over
Lithuania
.
Great.