Though the centre-back scored Spurs' only goal against Panathinaikos, there was little to suggest that he could usurp the defenders that stand between him and a starting spot
COMMENT
By Ewan Roberts
As Michael Dawson lay spread-eagled on the Grecian turf revelling in the hubris of having scored his first goal in nearly 20 months, his team-mates congratulating him, there was cause to suggest that, whether by accident or design, Tottenham had made the right decision in retaining the centre-back.
Making just his second start under Andre Villas-Boas (the first came against Carlisle in the League Cup), Dawson opened the scoring against Panathinaikos, stealing a yard on Loukas Vyntra before glancing Tom Huddlestone's free-kick into the far corner of Orestis Karnezis' goal.
However, Dawson's goal painted over an otherwise abject performance that hinted at why his manager was so content to offload the centre-back over the summer.
DAWSON STRIKES BUT STRUGGLES IN GREECE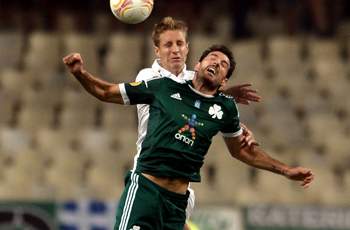 PLAYER RATING VS PANATHINAIKOS





Didn't always look especially comfortable on the ball, conceding possession with several loose long balls. Took his goal well, glancing Huddlestone's cross into the far corner. Poor positioning and a lack of pace allowed Toche to get on the end of Seitaridis' through-ball.
FROM OUR LIVE! COMMENTARY

'35
GOAL!!! Spurs have the lead! A free kick comes in, and Michael Dawson is there at the near post to head home! 1-0 to the away side!
As undoubtedly talented as Dawson is, he remains far from suited to the style of football Villas-Boas promotes. The Portuguese manager asks his defenders to carry the ball out of defence, to pass the ball and retain possession, a philosophy that has become of even greater importance after the sale of Luka Modric.
But that is not how Dawson plays. He is a throwback to the rugged, old-fashioned centre-half that is crawling towards extinction in the modern game. More Terry Butcher than Alessandro Nesta, Dawson is concerned only with stopping attacks, not starting them.
Against Panathinaikos, Dawson showed just how far removed he is from the libero-type role that Villas-Boas favours. Cumbersome and awkward on the ball, he never displayed any confidence or authority when tasked with carrying the ball out of defence, which was in stark contrast to his central defensive partner Steven Caulker.
And that hampered Tottenham considerably, especially in the second half, where they struggled to keep the ball with any degree of control. That lethargy and unintelligence in possession was not solely caused by Dawson, but the Yorkshireman was clearly uncomfortable in the capacity of initiating and building moves from the back.
At one point a nervy Dawson, despite initially having time, space and options, dithered on the ball before he eventually conceded a throw-in deep in his own half, creating unnecessary pressure and encapsulating his failings. Dawson's reliance on the long ball in particular, a crutch which has existed throughout his time at Spurs, highlighted how ill at ease he is within a side that plays a short passing game.
Dawson attempted 31 passes, but only 23 were short balls meaning that 25.8% of all passes he attempted were long balls (a figure in-keeping with the 28.3% long-ball rate he posted in the 2010-11 season). In the same game, long balls accounted for just 5.9% of Caulker's 51 total passes.
For comparison, only 14.1% of William Gallas' passes in the league this season have been long balls (and with better accuracy than Dawson at 78.8% success rate). Similarly, against Lazio, Jan Vertonghen, playing in his regular spot at centre-back, played an astonishing 61 short passes – over twice as many as Dawson's tally against the Greeks.
The directness of Dawson's passing was particularly unhelpful for Jermain Defoe. Tottenham's leading scorer has defied the notion that he needs to play off a big target man so far this season, but as Dawson bypassed the midfield, thumping long, hopeful (aimless perhaps) long balls in the direction of Defoe, the diminutive forward became isolated and frustrated.
It was not just on the ball that Dawson suffered, but off it too. Throughout the match he showed a lack of spatial awareness, poor positioning and a troubling lack of compatibility with AVB's high(er) line.
Dawson played as crucial a role in Panathinaikos's equaliser as he did for Spurs' opener. He failed to cover Caulker, allowing a gap to develop between the pair, and showed a worrying lack of pace and acceleration as Toche sprinted past him with ease to stroke Giourkas Seitaridis' cross past Hugo Lloris.
Undoubtedly very effective in a deep defence under aerial bombardment, Dawson is less assured when there is space in behind him. And while Dawson's willingness to put his body on the line is commendable (and perhaps his greatest asset), smarter defenders would snuff out the danger before such heroism becomes necessary.
The battle-scarred, walking wounded Gallas has highlighted that typically old-fashioned centre-back qualities - such as bravery, tenacity and commitment - and more modern assets - such as passing ability and technique - are not mutually exclusively. To have a player only capable of one aspect is to have only half a player.
There is a caveat to note though, which is that Dawson has played very little football prior to his outing against Panathinaikos. The match was just his second start for the new manager, while a catalogue of injuries has limited his playing time to around 900 minutes in the whole of 2012.
A fan favourite, Dawson's goal was no doubt greeted with delight by the Spurs faithful. Eminently likeable, there will be calls for the grounded centre-back to return to the Tottenham first team. But, aside from his well-taken goal, Dawson highlighted exactly why Villas-Boas sees him as the fifth best central defender in his squad, and rightly so.