Eyes red from crying, Roberto Mancini shakes hands with Lennart Johansson, the Uefa president, as he receives his consolation medal. Gianluca Vialli does not even turn up for the awards ceremony. It is Johan Cruyff's Barcelona who lift the European Cup. Sampdoria have surrendered, in the 111th minute of the game – well into extra-time – to a powerful shot by Ronald Koeman.
Only a year and a day have passed since that historic first Blucerchiati championship victory. And from that great happiness in Marassi, it is a short step to great disappointment at Wembley, on 20 May 1992. Mancio is the living image of anger and sorrow. After the referee, Mr Aron Schmidhuber, blows the full-time whistle, the Sampdoria captain tries to chase him, while Domenico Arnuzzo holds him back.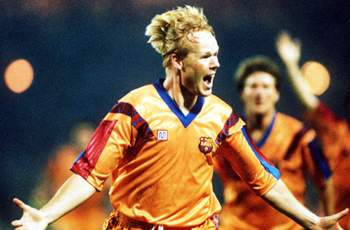 "It was the worst evening of my life at Samp" - Mancini
Mancini shouts something after the black-clothed German, who in turn writes something down in his notebook; then Roberto sits down in the middle of the pitch and bursts into tears.
Neither he nor Vujadin Boskov will attend the post-match press conference – an unprecedented development for a European final.
"It was the worst evening of my life at Samp," Mancini would later say. "The next day it was even worse though: you realise clearly what a chance you wasted.
"I wanted to win so badly. That cup had always been nailed in my head, and I only managed to brush past it."
The London bookmakers had made Barça the favourites, and Cruyff, the Catalans' manager, was forthright about this assessment.
"Sure, the odds are for us, and I believe that's right, too," he said. "Being favourites means that our opponents respect us, and I can't see why being favourites would put any extra pressure on us."
Pep Guardiola, then the deep-lying playmaker for the Blaugrana, asserted: "They have Vialli and Mancini, so what? We have Nando, Ronald and Hristo. What's the big deal? We must enter the field with determination and boldness, and without fear."
There were no great surprises in the line-ups named by Vujadin and Cruyff. Barça began with Zubizarreta, Nando, Ferrer, Koeman, Juan Carlos, Bakero, Eusebio, Guardiola, Salinas, Laudrup, Stoichkov. Samp
named Pagliuca, Mannini, Bonetti, Vierchowod, Lanna, Pari, Cerezo, Katanec, Lombardo, Mancini, Vialli.
After 90 minutes, the score was still 0–0 at Wembley Stadium.
Extra-time began. In the 111th minute of the game, Laudrup crossed the ball in to Stoichkov, just outside the box, who passed it to Eusebio. Invernizzi, on for Samp as a substitute, challenged for the ball, and both players went down.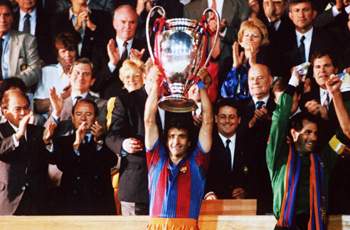 "Sooner or later I will get another chance in the European Cup" - Mancini

Referee Schmidhuber blew for a foul and awarded a free-kick to Barcelona. Knowing that this represented a golden chance for their blond-haired Dutchman, who had already tried to inflict some damage from a similar position in the first few minutes of the match, the Catalans rejoiced.
Sampdoria's players, meanwhile, protested fiercely, but to no avail: the shot was taken and the ball went straight through the wall and into the net, beyond the reach of the diving Pagliuca.
So it is all over, and there is nothing that can be done about it. In the heat of the moment, Mancini (and not only him) takes it out on the referee – the same man, as it happens, who refereed Samp's game against Anderlecht two months previously, in which Mancio had a goal disallowed.
Invernizzi cannot believe the decision made by Mr Schmidhuber for the crucial free-kick. Vialli, replaced because of cramp, admits that: "life goes on, no one died, but the free-kick their goal originated from was dubious, to say the least."
Sampdoria's goalkeeper, Pagliuca, offers his perspective: "I'll tell you what is really sad: the goal we conceded came right at the end, when the match was almost over and in my mind I was already preparing for a penalty shoot-out.
"I had worked it all out; I knew everything about their penalty takers. And then came that free-kick from Koeman: beautiful, but a one-off."
"Sooner or later" - says Mancini the day after - "I'll get another chance in the European Cup."
Extracted from Roberto Mancini - A Footballing Life: The Full Story by Luca Caioli (Corinthian Books, £16.99 HBK, £7.99 ebook) Available to buy at Amazon.co.uk.

Goal.com are giving readers the chance to win a free copy of Roberto Mancini - A Footballing Life. To be in with a chance, simply answer the following the question: Which English club did Roberto Mancini play for in 2001?A. ChelseaB. Manchester CityC. Leicester CitySend us your answer, name, address and telephone number to competitions@goal.com
Follow Luca Caioli on