The Uruguayan ignored the chants of the home supporters and shook off the denial of a clear penalty to lead the Reds to their first victory of the season in stunning style
COMMENT
By Oliver Platt at Carrow Road
Not very much has been seen of Elliott Ward in a Norwich City shirt since April 28, when Luis Suarez tormented him with a display of pace and quality that concluded with the No.7 from Uruguay beating goalkeeper John Ruddy with a 45-yard chip to complete his hat-trick.
That effort took the breath away of even those who had used theirs to hurl abuse in his direction for the previous 82 minutes and confirmed that Liverpool have on their hands a player of limitless potential. There was a sense of déjà vu at Carrow Road for Suarez's latest visit; the words arrowed at him by Norwich fans, the vocal adoration of their Liverpool counterparts offered in response, the embarrassment of the Canaries' defenders - this time Michael Turner Leon Barnett - and a sublime hat-trick. But there was more, too.
FIVE STAR SUAREZ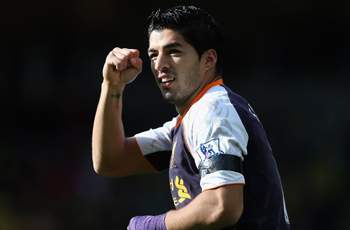 HOW SUAREZ RATED VS NORWICH






Sublime. His second hat-trick in as many seasons at Carrow Road but his contribution was not limited to goals. The pass that created a chance that Gerrard headed at the goalkeeper, for instance, was exquisite. Abuse was hurled in his direction all afternoon and he was denied a penalty but responded in the perfect way.
There was the exquisite chipped pass that dropped perfectly on to the head of Steven Gerrard, and there was the persistent run that ended in Nuri Sahin scoring his first goal for Liverpool. 'Luis Suarez, you know what you are' has been the vicious chant aimed in his direction by opposition supporters since his ban for racial abuse; on Saturday, the fans in red were singing it.
The conundrum facing Brendan Rodgers is similar to the one that faced Sir Alex Ferguson with Wayne Rooney; having scored the opening goal inside two minutes, Suarez gained confidence, relaxed and went on to demolish the Norwich defence.
He was not put off by the crowd, or by the referee when he failed to award a stonewall penalty after Suarez had been fouled by Barnett. He was not even distracted when he passed up a glorious chance to score his second, shooting wide after being played through on goal. A matter of seconds later, he had robbed Turner of possession, nutmegged him and shot with the outside of his foot past Ruddy.
If he could manage his own volatility more regularly, we may soon be talking about world-class ability rather than world-class potential. But on the other hand, would Suarez be the same player without the fire and the determination?
"It was a master class in finishing - except when he was one-on-one," Rodgers smiled after the game.
"The team first and foremost is the star. We were very good. Individually, of course, to score another hat-trick here, and wonderful goals as well. His first one was a terrific finish. His second pays a lot to his mentality because he'd missed probably his easiest chance 10 seconds earlier but didn't let it affect him – he got the ball back very quickly and it's a great piece of skill on the edge of the box to get his finish. And his third one, he's chopped back inside and finished it into the corner.
"He's a wonderful talent and I'm fortunate today because he should've had a penalty but he doesn't get anything in games. It's unfortunate because he's a real good guy. Overall the team was very good but I'm not surprised because they've been playing well but just not getting the results."
One game does not change the need for the Northern Irishman to add more goalscorers to his team in order to take the burden off his best striker's shoulders. Suarez has kick-started Liverpool's campaign, but the Reds will need more yet from him if this match is to prove more significant than one day in the sun.
Follow Oliver Platt on