Liverpool manager Brendan Rodgers has questioned whether referees assume Luis Suarez is diving when he goes down inside the area.

The Uruguay international has made a reputation for himself as being a "diver" after a number of acts of simulation in the past, but his boss says the striker is being wrongly punished for his actions.

Rodgers is referring to the last two games against Sunderland and Manchester United which saw Suarez have two "legitimate" penalty appeals waved away - a move which angered the Ulsterman into contacting referees' chief Mike Riley to express his frustration at officials' performances this season.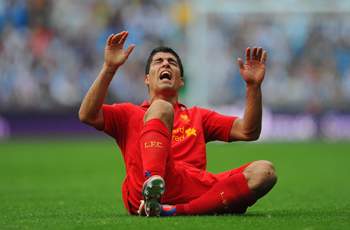 "He certainly doesn't ever look like he is going to get a decision and that is something which would bother me going forward" - Brendan Rodgers

"The likes of Suarez have had a couple of good penalty appeals, he hasn't dived they have been legitimate, and he's actually got booked," Rodgers told reporters.
"There are times when the referee gets it right and others when he doesn't, but that's all part and parcel of the game.

"It's happened in the last few games, like against Manchester United when the penalty shout on me wasn't given and then the one on Valencia was, but talking about it doesn't solve anything - the referee has a split second to see an incident. Let's just hope that it doesn't happen again in the future.

"I'm not sure [Suarez's reputation is influencing officials] you'd need to ask the referees but he is a wonderful talent and irrespective of whether he goes down if it's a penalty, it's a penalty."

Rodgers is worried that if his side continue to be ignored in certain situations by the officials, it will have a negative impact on this team in the future.
"What I have seen, he certainly doesn't ever look like he is going to get a decision and that is something which would bother me going forward," he added.

"It would be a shame if players who respect the rules and managers who are asking players to stay on their feet and not dive are not getting the decisions because of it.

"I think it is important that referees understand that.
"It has been a criticism of the last few years of players going down too easy - it is not something we want to encourage but if you're not going to get decisions because of it players may do that."

Rodgers insists he always sends out his teams to be truthful on the pitch, but believes playing fairly so far has not done Liverpool any favours.

"I always send my teams out to be sporting and try to respect everything about the game and ask players not to dive and stay on their feet," he said.

"It is how I ask the players to play: we want to win the game but we want to win it by fair means.

"But by doing that we need to make sure the players don't get punished because that is certainly what is happening from my own eyes.

"To me, in this opening period of the season, it hasn't worked for us."