Arsenal
manager
Arsene Wenger
has reiterated that he believes
Theo Walcott
will develop into a striker.
The Dossier: Walcott can be false nine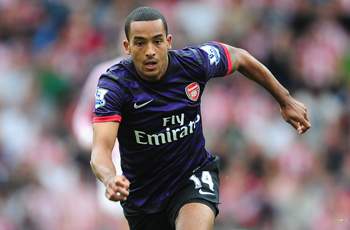 The Frenchman stated when he signed Walcott from Southampton in 2006 that he saw him moving to a more central role in the future, and even suggested in 2010 that the England international was "very close" to making the switch.
However, while the 23-year-old has become a key player for the Gunners in a wide position, he is yet to be given a consistent run by Wenger in the centre.
Comparing Walcott to fellow Southampton academy graduate Alex Oxlade-Chamberlain, the Arsenal boss told the club's official website: "They are a different style. I believe that Walcott is more of a striker-type and Oxlade-Chamberlain is a more midfielder-type.
"You could see Oxlade-Chamberlain developing into a central midfielder but you could never with Walcott. I see Walcott developing through the middle as a striker and Chamberlain maybe as a central midfielder."
Ahead of Saturday's meeting with Southampton, Wenger also praised the work their opponents have done to help progress youngsters through the ranks.
"First of all it is [down to] fantastic scouting and they have a good development and coaching programme with young players," he said.
"They started that earlier than anyone else. They have a good reputation with their youth."
As well as Walcott and Oxlade-Chamberlain, Tottenham star Gareth Bale and current Saints skipper Adam Lallana began their careers at St Mary's.