TACTICAL ANALYSIS
By
Wayne Veysey
If
Manchester City
's frenzied deadline day activity has done anything, it has provided an insight into where
Roberto Mancini
felt his team needed strengthening and what we can expect as they defend their league title.
City defeated QPR 3-1, not without a few alarms, the day after the window closed without any input from the five new arrivals.
Saturday's trip to Stoke City should provide some understanding of the tactical tweaks that Mancini has made this season and whether he intends to persist with the three-man defence showcased in the Community Shield against Chelsea and the 2-2 league draw at Liverpool.
In essence, there have been two City systems this season. The 'home' formation, a basic 4-2-3-1, and Mancini's plan B, a 3-4-2-1 that has been used in their two matches on the road.
BACK TO BASICS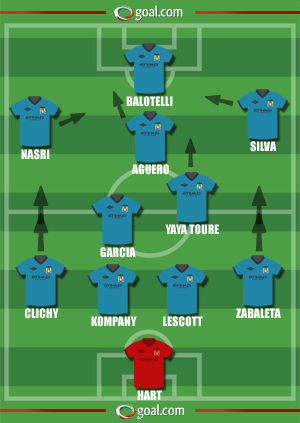 4-2-3-1: Mancini has relied heavily on a system rotating full-backs, wide players and forwards

City return from the international break with seven points out of nine in the bank, but still searching for the fluency of last season, particularly in the opening months of 2011-12 when they were irresistible at times.
Of the five last-minute signings, the two that can expect regular first-team football are versatile midfielder Javi Garcia and rampaging right-back Maicon.
Both add something extra to a team that won the league in the most dramatic circumstances in the final seconds of last season.
Garcia is the authoritative, mobile ball-winner in central midfield that Mancini has been crying out for, while Maicon's lung-busting runs down the right should add an extra dimension to City's attacks.
Mancini likes his teams to be flexible and his squad to be deep. The shape tends to depend on which players he chooses, and which substitutions he makes, but his title-winning side was built around a very modern 4-2-3-1, with occasional variants of 4-4-2 and 4-2-2-2.
The Italian frequently rotated his full-backs, wide players and forwards last season, but put his faith in a central core of Joe Hart, Vincent Kompany, Joleon Lescott, Gareth Barry, Yaya Toure, David Silva and Sergio Aguero.
Another consistency was his distrust of classic wingers, as Adam Johnson found to his cost, and which does not bode well for new boy Scott Sinclair.
In a desire to perhaps make City less predictable, there has been a shift in emphasis this season that has its roots in Serie A, the competition where Mancini won three titles.
Central to this has been the use of versatile full-back Pablo Zabaleta, who lined up alongside Kompany and Lescott against Chelsea, and then Kompany and Kolo Toure at Anfield. With Micah Richards absent with a long-term ankle injury, Zabaleta was also selected in the two home fixtures in his regular right-back role.
Mancini likes his full-backs to provide width and adventure, most notably in the contrasting home and away league wins over Manchester United last season. A feature of the 6-1 demolition at Old Trafford was a storming performance from Richards, while Zabaleta was one of City's key attackers in the 1-0 win at Etihad Stadium.
HOW CITY COULD LOOK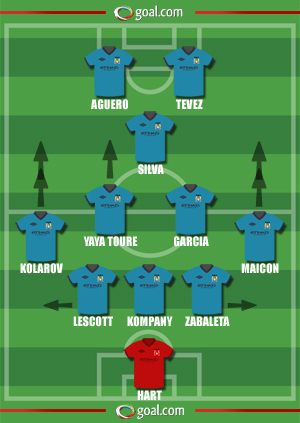 3-4-1-2: The new system would allow for greater expression from the full-back

Maicon provides greater attacking threat than either Richards or Zabaleta, even if he is more suspect defensively than those two.
It is easy to see him being an adventurous full-back in a 4-2-3-1 with City dominant in possession at home and, even more so, as a flyer on the right flank should Mancini return to 3-4-2-1.
Assuming he adjusts to his new environment, Garcia should slot into central midfield as one of two holding midfielders, which, depending on availability and the circumstances of the occasion, is likely to be one of Barry, Yaya Toure or Jack Rodwell.
In Mancini's 4-2-3-1, there is room for four attacking players, of whom two are usually orthodox forwards who play quite close to one another and the other two attacking midfielders.
Aguero is top of the pecking order and is equally effective as a spearhead or a withdrawn striker, Carlos Tevez also has the quick feet and low centre of gravity to be effective in both positions while Mario Balotelli and Edin Dzeko are more natural No 9s.
Yaya Toure was often used as an attacking central midfielder last season, sometimes interchanging positions with the more technical Silva, whose artistry and eye for a pass dovetailed well with the Ivorian's power and ability to batter through opponents.
Should Toure be played in a deeper role, that opens up a position for a ball-carrier like Samir Nasri or Sinclair, or a jack-of-all-trades like James Milner.
The advantage of 3-4-2-1 is that it allows greater expression from the full-backs, which plays to the strengths of Maicon and Aleksandar Kolarov, and can provide greater control of the midfield battleground.
But the disadvantage with this system is it can be outnumbered when the opposition target the flanks and there are only three purely offensive players in the team.
In the 3-2-4-1 systems that City have used this season, the playmaker was Nasri on both occasions, although that perhaps owed as much to Silva's minor ankle problems and slow start to the season as any idea that the Frenchman is now the chief creator in Mancini's team.
The City boss will have noted how Juventus won the Serie A title last season by frequently using a three-man defence, while Napoli have also used wing-backs with great success in recent years.
With the personnel the league champions used against Chelsea and Liverpool, there was no sign they were strengthened by the introduction of a new system.
Should Mancini persist with it on City's travels – and if Maicon is given the opportunity to bomb forward at will – it could add a considerable string to the bow of the champions.

Follow Wayne Veysey on