COMMENT
By Josh Clarke
In the aftermath of Manchester United's last gasp win at Southampton both Sir Alex Ferguson and Robin van Persie were quick to praise the influence of late substitute Paul Scholes.
While it is undeniable that Scholes' introduction helped swing the game back in United's favour, it is clearly Van Persie's contribution that will be remembered as a pivotal moment in United's attempts to reclaim the Premier League crown.
VAN PERSIE'S KEY MATCH EVENTS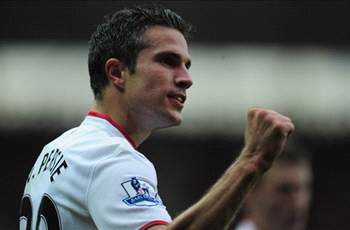 | | | |
| --- | --- | --- |
| | 23' | GOAL! Grabs first-half equaliser |
| | 69' | Misses penalty after trying chip |
| | 87' | GOAL! Levels scores again at 2-2 |
| | 90'(+2) | GOAL! Completes hat-trick to win it |
PLAYER RATING






Turned from villain to hero in around 20 minutes after it looked as if his overly-confident penalty had robbed his side of their chance to get back into the game. However, a match-winning hat-trick proved that the striker is the world class finisher that United need.
After all, it was the £24 million striker who sunk a match-winning hat-trick to rescue three arguably undeserved points and take his tally for his new employers to four goals in two starts.
Van Persie answered Rickie Lambert's unlikely opener with the kind of sweet left-footed finish that has become synonymous with his name down the years, before showing clinical reactions to cancel out Morgan Schneiderlin's lead-restoring goal in the 87th minute.
And, almost animated by a desire to fit into the typical Manchester United framework, the Dutchman saved the third until late on, glancing home the winner from a Nani corner in stoppage time.
Yet, it could have been all-so-different for Van Persie after his arrogant, hairdryer-warranting penalty was comfortably palmed away by Kelvin Davis, with the visitors desperately seeking a response to Southampton's deserved 2-1 lead.
Lesser characters than Van Persie would have crumbled under the pressure brought about by such misjudged decision making and the hat-trick was not only evidence of predatory instincts in front of goal, but of temperament, dependability and leadership.
Of course, all of this should come as no surprise.
This is a player who has now scored 52 goals in his last 58 Premier League outings and who gave a performance that should finally put to bed any lingering doubts about the hefty price-tag of a previously injury-prone 29-year-old in the last year of his contract.
As Van Persie becomes more and more accustomed to his new surroundings and team-mates, his influence should only increase - as Sir Alex was quick to point out after the game.
Van Persie thrived off the service of Theo Walcott and Gervinho out wide and Alex Song from deep in an inflexible 4-3-3 at the Emirates for the last couple of seasons.
In terms of personnel, the striker now has width provided by Antonio Valencia, Nani and Ashley Young, has Paul Scholes, Shinji Kagawa and Tom Cleverley through the middle and counts Wayne Rooney, Danny Welbeck and Javier Hernandez as healthy competition for places up top.
In terms of shape, United have considerably more tactical flexibility than the Gunners, a point aptly demonstrated by the Red Devils' proficiency after switching from a 4-2-3-1 to a 4-4-2 late on at St Mary's on Sunday.
The myriad of attacking options afforded by United's depth of numbers and willingness to experiment with approach looks primed for getting the best out of Van Persie as a lone, or partnered, frontman. They have an array of alternatives going forward that Chelsea or Manchester City, their closest competitors, fall short of matching - even considering Rooney's future is the subject of speculative discussion.
Van Persie's blistering start bodes very well for a United side that has started the season in an uncharacteristically uncomfortable manner.
The stability that was supposed to be brought about by the central defensive pairing of Rio Ferdinand and Nemanja Vidic against Southampton was non-existent, with the duo's inability to deal with the physical approach of Lambert mirrored by the defensive inadequacies of both full-backs Patrice Evra and Rafael.
Similarly, Michael Carrick, Kagawa and Cleverley were off-song, out-fought and out-thought in the middle of the park by the home side.
Manchester United – as with Arsenal on so many occasions last season - were dependent upon Van Persie to prove the difference.
Yet, history suggests that, given time, Sir Alex will quickly get to grips with the resources at his disposal and have them playing more than the mere supporting role that Arsene Wenger's charges managed. Particularly if Van Persie can illuminate his new colleagues in the way he succeeded to do so last term.
The most interesting issue at hand for United is how Rooney fits back into the picture, especially given the likelihood of Van Persie further establishing himself as the club's go-to man for goals - which certainly is not the most uncomfortable issue the United manager has had to ponder in his 1000 games at the helm of the club.