By George Ankers
Well, that was interesting.
A constantly changing, often frenetic transfer deadline day saw a number of surprises pop up as well as some more expected results.
Goal.com
was there through it all to document the whole day from start to finish LIVE! – here's how August 31 panned out as it happened...
Matt Scott
was the first man on the blogging scene, bright and early, to declare at
08.00
: "TRANSFER WINDOW-GEDDON HAS ARRIVED!"
Correspondent
Greg Stobart
also got stuck in early with the
08.13
state of play at White Hart Lane: "I'm told that Lyon goalkeeper Hugo Lloris has agreed personal terms with Tottenham and it is now down to the two clubs to agree a fee.
"Spurs sources insist they have not 'moved the goalposts' despite the French club's strongly worded statement last night and believe a deal will be completed today for around £12 million."
Manchester City started the day pursuing the signatures of four men to join the previous day's surprise acquisition of third-choice goalkeeper Richard Wright.
Javi Garcia, Scott Sinclair, Maicon and Matija Nastasic were all on the menu, as Goal.com revealed. Roberto Mancini confirmed publicly later in the morning that he was chasing all four - all of whom Goal.com had exclusively disclosed well before the dawning of deadline day to be on their way to the Etihad Stadium.
STRANGE BEDFELLOWS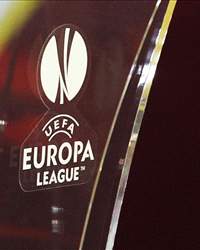 English sides also found out who they would face in the Europa League group-stage draw, with Liverpool, Tottenham and Newcastle all in the pot


"Arsenal," wrote Matt at
08.37
. "They've been linked with a few ins and a few outs recently and, while Nicklas Bendtner is heading to Juventus,
the French schemer, Arsene Wenger, is not anticipating any arrivals at the Emirates Stadium 'just for the sake of it'
. So expect four players to be brought in at about 22.30 tonight then..."
Goal.com's commenters and Twitter followers seemed to be in agreement. Wenger was bluffing, right? We all waited expectantly... and kept on waiting.
The morning rumbled on with the occasional small deal going through and Rafael van der Vaart's agent confirming that his client was heading to Hamburg for a medical.
One of the most anticipated transfers of the day took its expected path at
10.44
, when Goal.com correspondent
Wayne Veysey
exclusively revealed that Liverpool had made a counter-offer for Fulham wantaway Clint Dempsey
. So far, so predictable...
By
12.15
, though Dimitar Berbatov was among those having a medical at Fulham, Goal.com
was able to confirm that Tottenham had made a late attempt to hijack the Bulgarian's transfer from Manchester United
. No luck for Spurs there – but their later dealings with the Cottagers fared rather better. "This one's going to go on for a while, methinks," Matt opined sagely.
Three minutes later, having already sold Nigel de Jong to AC Milan in the morning, City captured the first of their intended targets, Sinclair, from Swansea City.
After a brief interlude for the Europa League draw, a period which saw Liverpool draw the likes of Udinese and sell Charlie Adam to Stoke City, another of the day's massive stories broke. Greg Stobart exclusively detailed for Goal.com at
13.02
that Tottenham had had a record £22 million bid accepted by Porto for midfielder Joao Moutinho
.
With Spurs fans buzzing,
George Ankers
stepped into the LIVE! Chair at
14.00
ready to face the afternoon's news mountain.
"It's a badly kept secret at Goal Towers (i.e. I'll tell anyone who'll listen) that Michael Owen is this blogger's favourite footballer of all time," he wrote by way of introduction. "So I'm going to be keeping a particularly beady eye on
OWENWATCH
today in the hopes of the great man finding a new team."
That didn't work out so well.
At
14.14
, though, Greg Stobart was back to confirm even more good news for Tottenham supporters:
that the club had finally (finally!) agreed a £12m fee for Lyon goalkeeper Hugo Lloris
.
Just a few minutes later, Goal.com analyst
Peter Staunton
got in front of the cameras for the first of many deadline-day videos profiling the day's leading figures.
Nigel de Jong was his first subject as he expressed concern over what the move to San Siro actually does for the Dutchman.
The exclusives just kept rolling in and, at
14.43
,
the agent of Lyon winger/full-back Michel Bastos confirmed to Goal.com that the Brazilian was in talks with Fulham over a switch to the Premier League
. The discussions later broke down close to the deadline but the Cottagers got busy enough anyhow, with Berbatov sauntering into the club's books at
15.22
.
Deal after deal got the seal of approval. Van der Vaart confirmed his switch back to former club Hamburg and Manchester City bagged their second signing of the day in Inter full-back Maicon.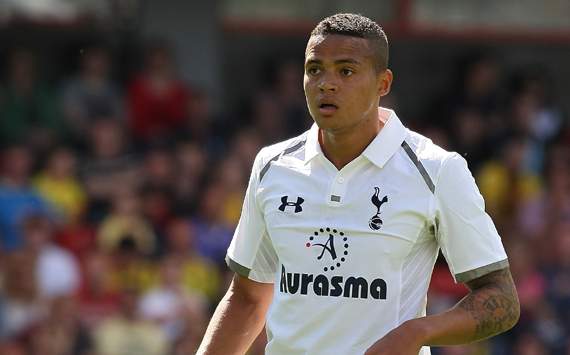 The day's biggest surprise? Maybe Jermaine Jenas being offered to Manchester City...

At
15.46
, George suddenly declared: "I GUARANTEE THAT YOU DID NOT SEE THIS COMING!" as
Wayne Veysey broke the news that Tottenham outcast Jermaine Jenas had been offered to City
. With the Premier League champions still sweating on bringing in Javi Garcia and having been publicly burned by Daniele De Rossi earlier in the month, the unwanted midfielder was ready to provide a cut-price alternative following the collapse of a loan to Sunderland. It arguably didn't get any stranger than this all day – but deadline day always brings some surprises.
Only 15 minutes later, however, Wayne was back to confirm some big news that dashed Jenas' hopes:
City had agreed an £18m fee with Benfica for Garcia
.
With Lloris arriving in north London to hammer out a move to Tottenham, Lyon president Jean-Michel Aulas surprised precisely nobody by declaring his negotiations with Daniel Levy "my hardest in 25 years". "That's what you get when you mess with DARTH LEVY, MASTER NEGOTIATOR," George pointed out.
The afternoon became the early evening as the likes of Nicklas Bendtner left Arsenal for Juventus on loan and Swansea City picked up winger Pablo Hernandez from Valencia.
Wayne Veysey returned at teatime to explain where things stood in the grindingly slow Dempsey-to-Liverpool negotiations. "It is a game of who blinks first," he noted. "Fulham won't lower their asking price and Liverpool won't meet their valuation.
"As of now, chances are veering towards Dempsey staying at Fulham. Mohammed Al-Fayed has taken his behaviour personally and will not grant him an easy exit."
Just moments later, Southampton finally clinched one of the window's most surprising and outlandish transfers, smashing their club record fee to sign Gaston Ramirez from Bologna.
MEANWHILE, IN MONACO...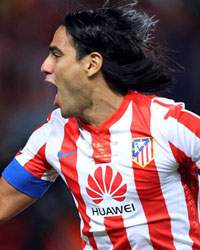 Chelsea, all their incoming transfer business wrapped up, were busy being thrashed 4-1 by a Radamel Falcao-inspired Atletico Madrid in the European Super Cup.


"Politely, you can shove your Jim White on
Sky Sports News
," George remarked at
20.04
, "because it's not Deadline Day until
Danny Hart
shows up on the Goal.com LIVE!" And so the bloggers' relay continued into the final straight.
While Chelsea were being decimated in the Super Cup
thanks to a Radamel Falcao hat-trick that the Goal.com Betting team had cleverly tipped at an incredible 80/1 before the game
, Danny set about picking through the evening's events.
West Ham were busy bees, trying to follow up the previous day's capture of Andy Carroll on loan, and Goal.com
revealed at 20.52 that they had returned to Liverpool in the hopes of picking up Joe Cole as well – but the former Hammer turned his old team down
.
Wayne Veysey, meanwhile, picked up on the developments that led to
Chelsea sending midfielder Michael Essien on loan to Real Madrid in an unexpected reunion with former manager Jose Mourinho
.
Then came a shocking development in the Dempsey saga – as Tottenham muscled into the frosty negotiations with an audacious late swoop. Goal.com was on it quick as a flash with all the details as
the American was soon swept out from under Liverpool's noses and pictured grinning with a Spurs shirt
.
With Tottenham also tieing up the Lloris deal by
21.51
–
Peter Staunton hailing the Frenchman as one of Europe's best goalkeepers in another video profile
– things were reaching boiling point. West Ham thought that they had missed out on Yossi Benayoun as well but
Wayne was on hand to reveal that Chelsea had reconsidered their decision not to subsidise some of the Israeli's wages – the Hammers finally got their man
, possibly thanks to Essien's salary being diverted to Madrid.
"Sounds like Moutinho is a no-go," Greg Stobart reported at
22.13
on the biggest deal still yet to be confirmed. "No idea what's happened - personal terms, goalposts moved? Everything can change in a minute on the last day."
With the clock ominously counting down, at
22.51
QPR slipped in the signing of Marseille's versatile Stephane M'Bia and departure on loan of Joey Barton in the opposite direction before, nine minutes later, Danny exclaimed: "
SLAM!
I can now declare the 2012 English summer transfer window closed. That was fun, wasn't it?"
There was plenty still left to hammer out, though. "Javi Garcia, where art thou?" Danny wondered at
23.28
as the other big elephant in the room failed to wave its trunk.
"I think today has told us which of Spurs and Liverpool can expect to be fighting Arsenal for fourth place this season," Wayne Veysey wrote at
23.35
, with the Reds having conspicuously failed to bring in a replacement for Carroll up front.
With Javi Garcia signed, sealed and delivered for Manchester City soon afterward, one big question still remained. What on earth was happening with Joao Moutinho?
"Spurs' attempts to sign Moutinho may not be dead," revealed Goal.com UK chief editor Sam Lyon on Twitter at the distinctly past-bedtime
00.11
. "The Premier League's 'deal sheet' allows time past the 23.00 deadline to submit paperwork. Midnight for international deals!"
Loopholes though there may have been, Greg Stobart confirmed at
00.28
that the Portuguese's move to White Hart Lane was definitively off, with Spurs having failed to hammer out a deal with the midfielder's representatives
despite that £22m agreed fee.
"You know what that means? We can all go to sleep now," Danny bright-sided after a long and action-packed evening. "Woohoo! But, sadly, it means deadline day is officially over."
And that was that. Only 123 days until we can do it all again!
Follow Matt Scott on

Follow George Ankers on

Follow Danny Hart on