By
George Ankers
Walking on a dream

Santi Cazorla (Arsenal)
Santi Cazorla dreamed of goals. How nice it would be, he wondered while being punched vigorously in the thigh by Glenn Whelan, to flick the ball up into the air before lazily volleying it into the top corner.
The pint-sized playconjurer idled wistfully on the floating thought of gliding balletically into the path of an idyllic through-ball, weighted with the deft, deliberate precision of an artist's brushstroke, to thread it to bed with a lullaby finish. Such a pleasant scene, he mused, while Geoff Cameron set about his elbow with a hammer.
"O," exclaimed the tickling trickster with detached joy, already composing the opening lines of a sonnet on the quasi-sexual elegance of a whispering dribble, feet barely touching the turf on a ghosted dash into the box, ready to persuade the ball into its nest of netting with his educated right foot...
Right foot. 'Where's my right foot?' Cazorla pondered. Then he looked down and saw Andy Wilkinson enthusiastically hacking it off from the knee with a chainsaw. Then he looked up, spied Robert Huth in an open-doored helicopter, lining up the best angle from which to drop an anvil on his head.
GOOD WEEKEND


Joey Barton
Either the QPR outcast has bagged himself an outrageous loan to Marseille or he's had tremendous fun trolling everyone on Twitter about it from his sofa. Fair play.

Aston Villa
So far, so bad. No points from two games. But at least the myth that simply removing Alex McLeish would instantly cure all their ills is disproved. Under Paul Lambert, the Villans can now get on with the quiet, underestimated improvement that will inevitably occur.

Raheem Sterling
The 17-year-old put in one cross against Manchester City that was better than the sum total of Stewart Downing's career contributions to the Liverpool cause. First choice.
Around him, the Stoke City faithful gleefully booed a young man for having had his leg broken once upon a time. The score was 0-0. He had been here, on a Sunday afternoon, for 81 minutes.
"Can I go home?" the midfielder asked nobody in particular.
Beating a dead horse
Manchester United versus midfielders
One week ago, Marouane Fellaini and his hair ran riot at Goodison Park, the be-afro'd battering ram laughing heartily at the red-shirted Lilliputians of Manchester United as he pulled them this way and that.
The 24-year-old's performance, somehow simultaneously completely bossing both the midfield and final third, made a mockery of those insisting that the Red Devils don't need to add a quality presence to their ranks.
Then, just five days later, Sir Alex Ferguson was dealt another subtle-like-a-baseball-bat-to-a-gong hint that he could really do with an extra body as, even in defeat, Fulham's Moussa Dembele stole the show in the second half with a display that showcased strength, tackling, fluid passing, clever runs and pinpoint crossing in a seamless blend.
That United should come across two shining examples of exactly the kind of influence for which their midfield has been crying out for years in two consecutive matches is somewhat creepy. That Dembele, Fellaini and Fellaini's hair are all Belgian makes it downright paranormal.
Is this going to continue now every week until Sir Alex relents and buys one of these people? Southampton are up next for his side, so presumably expect Morgan Schneiderlin (who's from France – basically just Belgium but with more Facebook 'likes') to announce himself with a show of visionary passing and industry from the base of midfield.
The world is conspiring to tell you something, Sir Al. Though, of course,
MTW
suspects that you're probably too stubborn to listen to it at this point.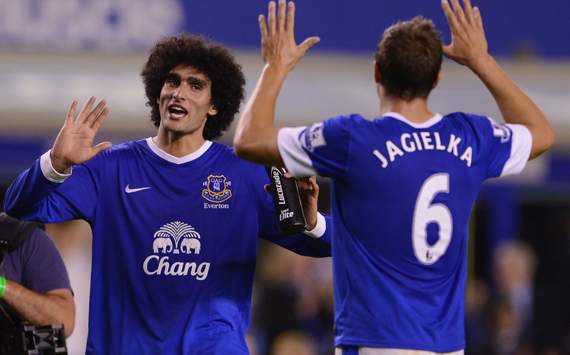 'Fro he's a jolly good fellow | Fellaini accepts his role as a cosmic sign to Sir Alex Ferguson
Quote of the weekend

"I couldn't give a s***"
– Tony Pulis on what others might think of him. Probably for the best, that.

BAD WEEKEND


Swansea City
Nothing says 'building up dangerously excessive expectations' like thrashing an abject QPR and West Ham. The Swans have set themselves up for an uncomfortable bump.

St Mary's Stadium
Now, Hampshire's country cricket team might well have been off in Cardiff winning the Twenty20 Cup and Saints might only have been playing Wigan - but not to fill your ground for your first home match back in the Premier League, after all the club has been through? Not very impressive, Southampton fans.

Arsenal
Will they ever score a goal again?
MTW Meets...

@Agent_Man77_ITK
MTW
is as excited as anyone about the last week of the transfer window but it's far too impatient to just sit and wait to see who'll be going where. So this column has made use of its journalistic connections to arrange this
EXCLUSIVE
interview with a football agent.
@Agent_Man77_ITK, or 'Agent MTW', as he wishes to be known in order to protect his anonymity, kindly agreed to speak to
MTW
to help lift the lid on all the deals that will be brokered between now and Friday night.
MTW:
First of all, just tell the readers a bit about your credentials so they know that you can be trusted.
Agent MTW:
Certainly. I've been #itk in the beautiful game for several years, working on several high-profile #transfers including the likes of Eden #Hazard to Chelsea, Eden #Hazard to Manchester United, Eden #Hazard to Manchester City... you get the idea.
MTW:
You don't need to use hashtags. This is for
Goal.com
, not Twitter.
Agent MTW:
Those of us who are #itk just speak this way – which you would know if you were #itk like I am.
MTW:
I'll just edit those bits out, then. What can you tell us about the big moves yet to happen this summer?
Agent MTW
: Everyone asks me about Tottenham and whether they will lose Luka Modric before the window closes. I can confirm that he WILL be joining Real Madrid, but Daniel Levy won't get his full asking price. He'll settle for £25 million plus Kaka, but it will go through quite late on deadline day.
MTW:
Any other big news?
Agent MTW:
A trusted source tells me that Real Madrid star Kaka's move to Manchester United is back on. He's going to sign for a cut-price £5m but United will be paying £250,000-a-week in wages. Dimitar Berbatov will go the other way. And then look out for Chelsea making a late move for Kaka on Thursday or Friday. Roberto Di Matteo doesn't think they need him but Roman Abramovich is just waiting until the Italian won't have enough time to complain about it.
MTW:
You realise that you've just promised me that Kaka will be moving to three different clubs.
Agent MTW:
Guaranteed. He's not very happy about it but his PR team are desperate to rebuild his flagging commercial profile. The Brazilian is just going to have to stick it out and play three games every weekend, but he'll be getting a cool £1m-a-week total for his troubles. The whole market depends on him accepting the arrangement – if not, every big deal tumbles like a house of cards.
You heard it here first.
Follow George Ankers on

Follow Agent MTW on