ANALYSIS
By Jay Jaffa & Andrew Sixsmith
Two games, two points, no goals scored, no goals conceded. No, we are not masochistically looking back at 1980s
Arsenal
, but the beginning of
Arsene Wenger
's 16th season in charge of the Gunners.
While goals flowed at both ends last year, it has been quite the opposite story following goalless draws with Sunderland and Stoke.
Of course, it is natural that selling the top goalscorer in the Premier League will impact your effectiveness in front of goal, but in stark contrast to the flimsy resistance often displayed by Wenger's side one year ago, the introduction of Steve Bould to the backroom staff has already had a telling impact.
Goal.com
takes a look at the five things we learned from the stalemate at the Britannia Stadium.
GIROUD AND PODOLSKI WILL NEED TIME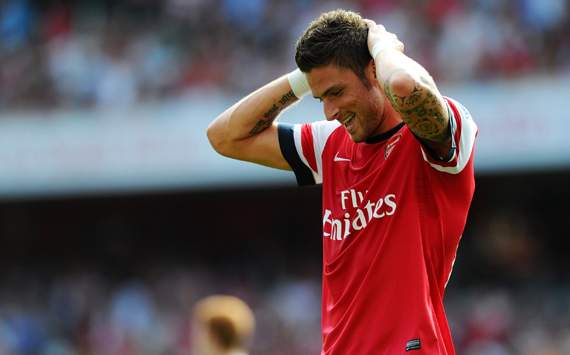 Arsenal monopolised possession against the Potters but for large periods of the game could not break down the well-organised two banks of four that Tony Pulis set up.
This has come despite the arrivals of Lukas Podolski and Olivier Giroud who epitomised their team's performance on Sunday, looking busy and vibrant, but with ultimately little potency.
The Premier League is indeed a step up in class for both players, such are the rigours and demands of playing in one of the fastest leagues in world football, but there are signs however, that the duo have the necessary abilities to play key roles for Arsenal once they eventually adapt.
Podolski has looked full of energy in the first two matches this season and needs no second invitation to make late runs into the opposition box, despite perhaps lacking a degree of composure in his finishing.
Similarly, Giroud looked strong and resolute against seasoned Premier League campaigners in Ryan Shawcross and Robert Huth at the Britannia, while also showing a penchant for the unexpected, when his audacious 35-yard chip almost gave the Gunners all three points. The Frenchman's touch and ability on the ball will come with constant game-time.
OXLADE-CHAMBERLAIN SHOULD START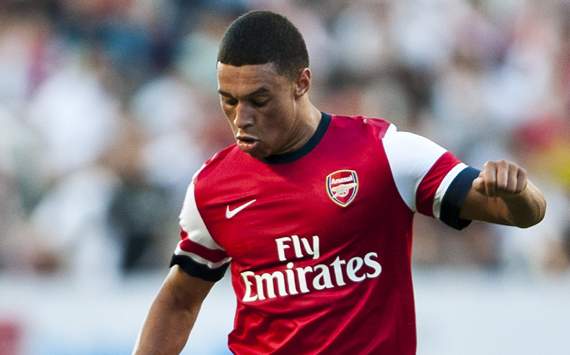 The rapid emergence of Alex Oxlade-Chamberlain does provide a more positive angle for the Gunners. The 19-year-old broke into the Arsenal squad last season and has not looked back since, earning plaudits for displays mature beyond his years.
As Podolski and Giroud bed themselves into the maelstrom that is the Premier League, this could be the perfect time for Oxlade-Chamberlain to continue his astonishing progression and stake a claim for a starting berth and kick-start the Gunners' faltering opening to the campaign.
Pacy, energetic and perhaps most importantly, clinical and direct, this could prove to be a defining season for the England international but after being given only 20 minutes to prove himself in Staffordshire on Sunday, Wenger must put his trust in the youngster to see him properly progress.
A POINT AT STOKE IS A GOOD RESULT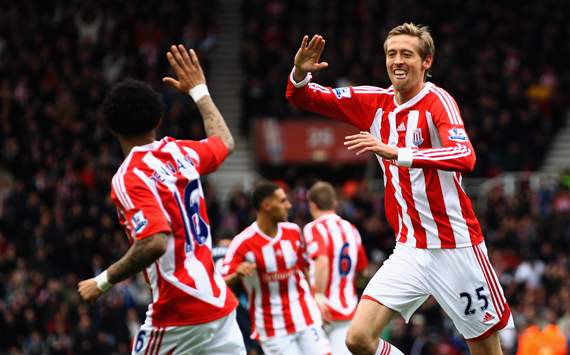 Since Stoke gained promotion to the Premier League in 2007-08, they have forged a formidable reputation at the Britannia Stadium. 'An away day at Stoke' has become synonymous with hardship and a tongue-in-cheek test of the world's best players.
And that theory works for the top-flight clubs as well. If you can go to Stoke and emerge with a result, you have done well and Wenger should feel content to head back to north London with a point. Over the last four years, the Gunners have only won once in six competitive fixtures, losing three times.
Though Stoke's home form came into question last season – they picked up eight draws, despite losing just four times – in 77 Premier League games at the Britannia, Tony Pulis has only presided over 19 defeats – an almighty statistic for a club that was plying its trade in the Championship in 2007-08.
In short, any of the top six teams would be pleased to leave Stoke with a point, let alone the others. Arsenal should be too.
NEED FOR A DEFENSIVE MIDFIELDER IS OVERSTATED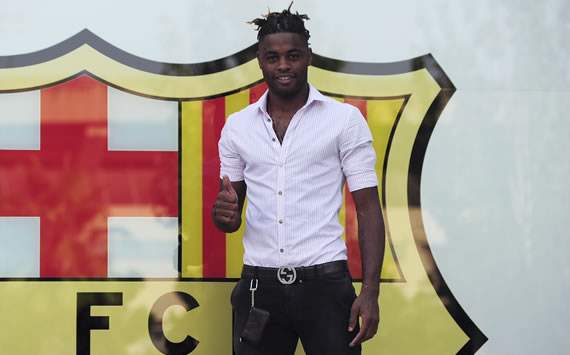 Alex Song's transfer to Barcelona was overshadowed by Van Persie's move to Manchester United but while Wenger reinforced his attacking options with the addition of Podolski and Giroud, he has yet to find a replacement for the Cameroon international.
There does appear a general feeling of apathy around Song's departure though – largely due to the belief that he unbalanced the midfield through his desire to get forward. Though that resulted in a good haul of assists last season, Arsenal shipped a whopping 49 league goals, a portion of which were blamed on the lack of cover the backline received.
Abou Diaby, Mikel Arteta and Santi Cazorla have started the first two games and there seems to be a more solid base from which to work on. Add the Bould-effect on the defence and it looks impossible for Arsenal to ship more goals than last year.
Young full-backs Carl Jenkinson and Kieran Gibbs looked resolute and confident enough to move forward and support the attack, while centre-backs Thomas Vermaelen and Per Mertesacker dealt with Stoke's considerable aerial prowess with relative ease.
RAMSEY RECEPTION MUST BE CONDEMNED

The story goes that Stoke fans boo Aaron Ramsey because he showed the audacity to refuse Ryan Shawcross' apology. While that may be the case – and it better be, because booing a player who suffered a double leg break is nothing short of a disgrace – it seems immature, unsavoury and downright thuggish to do so.
Stoke's fans may take great pride in their style of play, adopting 'Swing Lo, Sweet Chariot' – a traditional rugby song – among others, and they have every right to revel in the high-brow criticism they receive, but this display of contempt for an innocent player who almost saw his career ended in February 2010 does not sit well.
The Stoke and Arsenal, Pulis and Wenger rivalry has become one of the most anticipated clashes of styles and philosophies in the Premier League but it would be a pity if the malevolent undercurrent that undermined earlier exchanges returned.
It was an episode that hopefully will not be repeated, but do not count on it.