By George Ankers
August 25
–
Arsenal
captain
Thomas Vermaelen
signs for
Manchester City
.
August 31
-
Arsenal
captain
Mikel Arteta
signs for
Chelsea
.
August 31
- Meanwhile on transfer deadline day, a Range Rover pulls up outside a Drive-Thru near Sandbanks.
"Welcome to McDonald's. Can I take your order, please?"
"Luka's a top, top lad, I've never had any trouble off him. You'll have to ask the chairman about whether we're keeping him, but of course I'd love him to stay..."
"Sir, we've warned you about this before."
September 16
-
Blackburn
global advisor
Shebby Singh
labels midfielder
David Dunn
"an oaf", describing his pace as "reminiscent of a tranquilised sloth pondering which colour M&M to pick out of the bag" and branding his narrow miss the day before against
Bristol City
"an affront to the very principles of humanity".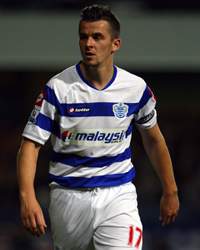 September 29
- Unable to cope with the anonymity of being ignored during his 12-match suspension,
QPR
midfielder
Joey Barton
strips off and streaks onto the pitch during his side's home match against
West Ham
before opposition defender
James Collins
decks him with a well-aimed shoulder charge. Once the controversial ex-captain is dragged kicking and screaming off the pitch, the grateful Rs allow Collins to walk through their defence and score, to widespread cheers across the stadium.
September 29
-
James Collins
scores two own goals and
QPR
win 2-1.
October 12
-
Fulham
owner Mohamed Al-Fayed attempts to placate fans, unhappy at the lack of replacements brought in for
Clint Dempsey
after he signed for
Liverpool
in late August, by announcing that he is reinvesting the transfer fee into a statue of Jedward outside Craven Cottage.
November 3
-
Robin van Persie
scores a tap-in and legs it to the other end of Old Trafford to celebrate in front of the visiting
Arsenal
supporters. Whilst doing so, he reveals a T-shirt reading: "Hahahaha Piers Morgan! Hahahaha!". The Gunners fans forgive him.
December 1
- After loudly expressing his anger at a dodgy offside call during his
Tottenham
side's 1-0 defeat away at
Fulham
,
Andre Villas-Boas
' voice becomes so hoarse that it is now audible only to dogs. On the plus side, the Portuguese finally finds a use for unwanted winger
David Bentley
, who translates when his manager starts responding to press questions through the medium of interpretative dance as a result.
January 29
-
Arsenal
starlet
Jack Wilshere
plays his first game of the season, finally returning from injury as a late substitute against Liverpool, taking the armband off
Johan Djourou
as he comes on.
January 30
-
Arsenal
captain
Jack Wilshere
signs for
Tottenham
.
February 15
- With
Chelsea
10 points clear at the top of the Premier League table, scoring an average of five goals a game while playing the most scintillating football ever seen on British shores,
Roman Abramovich
fires
Roberto Di Matteo
.
February 16
-
Pep Guardiola
accepts the vacant managerial position at
Paris Saint-Germain
. People from all corners of the globe report hearing a squeaky, Russian-accented voice scream "NOOOOOOOO!".
March 2
- After 15 minutes of eye-shredding route-one football,
Stoke City v West Ham
becomes the first ever Premier League match to spontaneously cease to exist through sheer apathy. Twenty-seven-thousand fans suddenly find themselves standing outside the Britannia Stadium, free to enjoy the rest of their day.
Sam Allardyce
insists "I'm calling that a win".
April
10
-
Manchester City
forward
Carlos Tevez
suffers a mysterious hamstring injury.
April 14
- In Augusta, Georgia,
Carlos Tevez
wins the US Masters.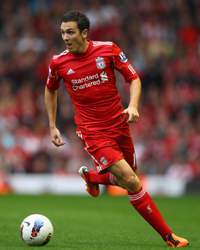 April 22
-
Van Persie
is late for training with
Manchester United
. A search party is dispatched and eventually finds him in his room at home putting the finishing touches on a massive fort made out of Lego, complete with invading army scaling the walls and a medieval dragon defending the castle. "The little boy inside me was screaming to do it, boss," the Dutchman protests.
April 23
-
Liverpool
winger
Stewart Downing
is named the PFA Player of the Year after notching up 15 goals and 35 assists so far in the Reds' unlikely title challenge. "ARE YOU HAPPY NOW?" he shouts incoherently as he picks up the award, before bursting into tears and having to be led away from the podium with
Pepe Reina
's arm around his shoulder.
May 19 – Chelsea, now under the management of Alex McLeish, are relegated on the last day of the season. Arsenal's skeleton crew of assorted 16-year-olds, captained by Carl Jenkinson, still beat Tottenham to fourth place.
May 27 - Police investigating an unrelated incident find a haggard, bearded Frenchman locked in a cupboard in a London basement. "Thank goodness you've found me," the man croaks. "My name's Arsene Wenger. I was kidnapped and left in this cupboard in July 2005. What year is it?"
May 28 - Officers arriving at the manager's office at the Emirates Stadium find that it has been mysteriously emptied overnight. The only things left on the desk are a Scooby-Doo-style Wenger mask and a note, reading: "Stick it up yer b******s. -Keano"
Follow George Ankers on