EVERTON


FAN:

Ray Hughes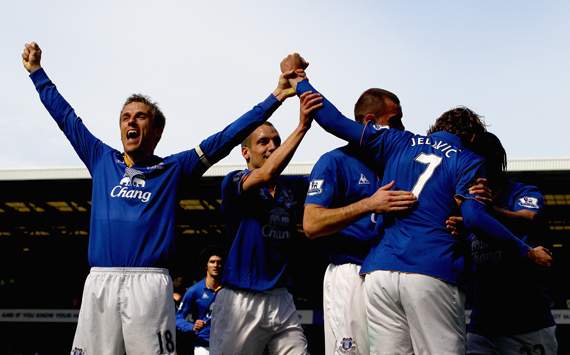 The target: Top four and the FA Cup
I would love Everton to win the FA Cup this season. In recent times we have started to improve our cup form, with an FA cup final appearance in 2009 and semi-final showing last season, but I really think that now is the time for us to win some silverware.
David Moyes has put together a good squad of players who can beat anybody on their day and I think that day, and in turn silverware, will come this season.
The second target of season would be Champions League qualification. Everton's form in the second half of the season would have seen us finish third in Premier League table over a whole campaign, so if we can get off to a good start then the top four will be within our grasp.
My thoughts on the gaffer...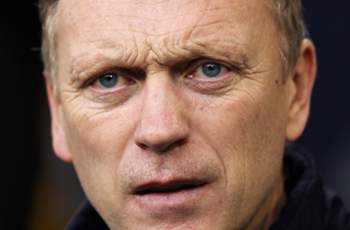 David Moyes has been brilliant for Everton. When he took over, we had an ageing squad that was well past its sell-by date and David proceeded to get rid of the dead wood and bring in younger players.
Everton's youth academy was also starting to deliver quality footballers to help the first team squad, players such as Tony Hibbert, Leon Osman and a certain Wayne Rooney proving a real bonus for David, and with the addition of astute signings such as Tim Cahill (£1.5 million), Mikel Arteta (£2m) and Joseph Yobo (£2m), a youthful Everton side was emerging.
Under Moyes we have finished in the top eight of the Premier league in eight of the last 10 seasons, which is a remarkable statistic given the lack of financial resources at his disposal, and a highlight of David's tenure was finishing fourth and securing Champions League football for the first time.
If there was a criticism of DM, it would be that in certain games we can be a bit too defensive, instead of going for the jugular, such as in the FA Cup semi-final last season against Liverpool
After that game, there was a lot of talk amongst Evertonians about Moyes' negativity which may have filtered through, but suddenly the shackles came off and the team started to really express themselves against teams sitting above us in league, scoring four against Man Utd and three against Newcastle. That gives us hope that a new attacking focus will be the order of the day.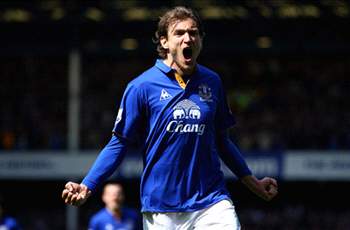 There is only one candidate for this spot - Nikica Jelavic.
When Jelavic joined Everton in January 2012 for £5.5m, one of the questions asked at his press conference was "what will you bring to Everton?" Jelavic's answer was "goals, goals and more goals" and boy, oh boy did he deliver. Nine goals in 10 Premier League starts, two goals in three FA Cup games - what a start to his Everton career. By the end of the season he had 11 in 13 at an average of 0.85 goals per game.
From the moment Nikica slotted in his first goal against Spurs you could see he was a top quality goalscorer.
Jelavic makes such a difference to Everton, he doesn't need a lot of space to score a goal, he hits everything so early that defenders don't have time to react. After scoring two at Old Trafford, Jelavic had scored with his first touch for 41 of his last 44 goals - that is why he is key to a successful Everton season.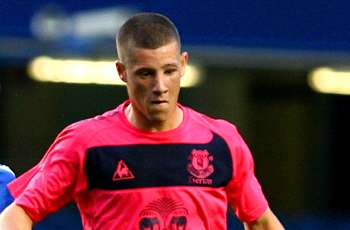 Everton's academy is superb, and has always brought through quality footballers. We won the Premier Academy League in 2011 and England Under-19s recently had four Everton youngsters in the team in Ross Barkley, Jake Bidwell, Luke Garbutt and John Lundstram. Add Conor McAleny and Hallum Hope and the future for these youngsters and Everton is very bright.
My youngster to watch is Barkley. Ross is 18 and made his debut for Everton in the first game of last season, and he has all the attributes to be a brilliant midfielder for club and country. He is quick, strong, very skilful and an eye for goal.
A double leg break sustained in 2010 has curtailed Ross's development, but I expect him to be in the first team squad this season and be pushing for a first team place, especially as Tim Cahill has moved on.
A player who must deliver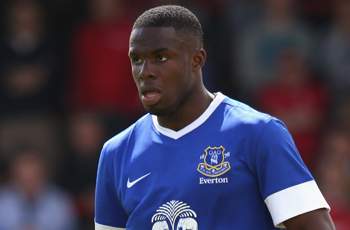 Victor Anichebe
is the player I would like to see deliver this season. Victor is another graduate of the Everton academy and has been around the first team squad since January 2006.
Victor for me has all the qualities to be a top class striker, he has strength, pace and can score a goal. Unfortunately we have never had a consistent run of games to judge if he can fulfil that potential. Two knee operations and a hamstring strain have limited Victor's appearances, but I'm sure a fully fit Anichebe would be a handful for any Premier League defence.
Victor has ability, as a run of games and goals showed during our 2008 Europa League campaign. All Everton fans will remember the goal he scored away at Nuremberg in a 2-0 win, where he used his strength and pace to shoulder barge away the centre-back before racing through and slotting the ball home. This is the kind of goal we should be seeing from Anichebe on a regular basis, he needs to use that strength and pace to his advantage, but sometimes Victor spends more time on the floor than on his feet. If he was to channel his aggression into upsetting defenders, no one would relish an encounter with him. Victor is a full international with Nigeria and won an Olympic silver medal in 2008.
Victor has himself stated that he needs to be starting games and become a first team regular. It's always good for our fans to have the local lads in the team and a fully fit Victor could save David Moyes some money.
Everton's Achilles' heel in recent times has always been our poor start to seasons - nobody seems to know why we start so badly, but it always happens.
In the transfer window there is always somebody sniffing around our players, which can lead to an unsettled squad. Once the window shuts and Moyes can start to work with the squad, we will gradually start to improve and just after Christmas we charge up the Premier League.
The second half of last season showed what a good footballing team Everton are - Manchester City, Spurs, Chelsea and Newcastle all tasted defeat at the hands of a resurgent side and we finished seventh in the table (higher than a certain team that had spent £100m, and who subsequently went backwards).
My message to David Moyes and the players would be: 'Please hold your Christmas party a week before the season starts'.
Fixture I am looking forward to the most...
Has to be August 20, and the opening game of the season versus
Manchester United
. I was disappointed when the game was moved to the Monday night for television, but as the weeks have gone by, I'm warming to the idea of a game under lights at the old lady. Goodison Park is a very intimidating place to play for any opposition, but especially the night games, as Manchester City and Spurs can testify from last season.
Man Utd will not fancy facing Everton as they are well aware of our quality, especially after the 4-4 game at Old Trafford which dented their title challenge in the previous campaign.
Everton - Manchester United games are always a good watch, with good football being played by both sides, and I think this game will be no different - with an Everton win which will see our old stadium bouncing.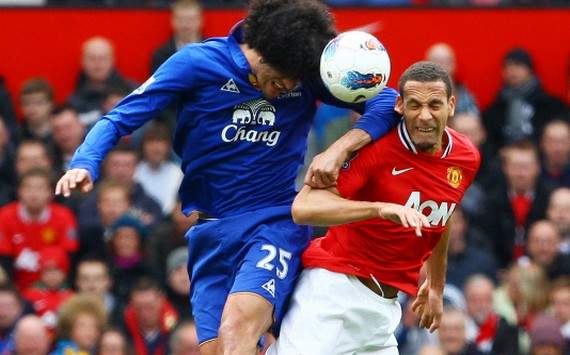 Our toughest opponents will be...
Our toughest opponents are
Arsenal
. Since Arsene Wenger took over they have had a strong hold over Everton. At home in recent seasons they have scored plenty against us, and away from home we tend to struggle.
Last season at home we dominated the game and still managed to lose, so for me this year I would like us to do the double over Arsenal, as they are always are toughest opponents to get a result against.
Wayne Rooney is an undoubted talent, I remember watching him for the first time when he was 16 years old and remarking later that I had never seen a footballer as good as that, at such a young age.
Rooney, in the short time he was at Everton, was superb, from that goal against Arsenal to a brilliant strike away at Leeds, we all took one of our own to our hearts instantly.
I understand why he left Everton, but nevertheless we didn't like it, especially as he had declared himself 'once a blue, always a blue'. Wayne has a rough ride at Goodison when he returns with Man United, and didn't help himself when kissing the badge after scoring against his boyhood club. This is why Rooney has become a bit of a hate figure for Evertonians but I do think he has tried to build bridges in recent times.
His son is being brought up as an Evertonian, he has now been seen back at Goodison watching games, and I just wonder that once Wayne has all the medals he craves whether will see him come back to play for the club he loves.
Rival player from the Premier League you'd have in your team?
For me
Robin van Persie
was the best striker in the Premier League last season, he broke a deadlock of a game at the Emirates against Everton with one piece of magic, but his overall play and movement is top class. He is another striker, just like Jelavic, who takes the ball so early that it is very difficult to defend against.
Van Persie has had his problems with injuries over many years, but last season he went through the campaign injury free, and it showed in all of the goals he scored, so it is no wonder teams are now lining up to sign him. I would love to partner him up front for Everton with Jelavic and just sit back and watch the goals fly in.
HOWARD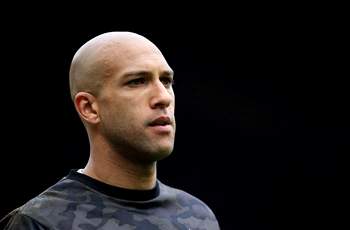 | | | | |
| --- | --- | --- | --- |
| HIBBERT | JAGIELKA | DISTIN | BAINES |
| | | | |
| | | | |
| --- | --- | --- | --- |
| NAISMITH | GIBSON | FELLAINI | PIENAAR |
| | | | |
OSMAN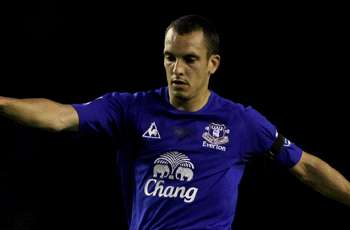 JELAVIC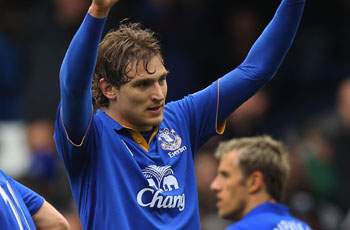 I really think this is a pivotal season for Everton in so many different ways. As I write this our manager has one year left on his contract, and questions over his future remain. One thing David hasn't done yet is win us a trophy - I know he's working hard to do it, and hopefully with the squad he has now, we will achieve it this year.
This season will also be big one for a couple of players, Marouane Felliani and Leighton Baines in particular.
Both of these footballers are top class and have all the attributes any top team would look for in a player. Rumoured interest from Manchester United in Baines is understandable but I hope we can keep hold of Leighton for at least another season, while Fellaini has proven to be a clever player who is also destined to move on in the future.
Yet if we can keep hold of these two, and start the season with the addition of a right winger and another striker, we would have a team of very good footballers. I would be very happy, and really think we could be at the top end of the table, and be lifting silverware come the end of the season.