EXCLUSIVE

By
Wayne Veysey
| Chief Correspondent
Frank Arnesen
could be in line for a shock return to the
Premier League
after being approached by
Manchester City
to become the club's director of football.
The English champions have targeted the former Chelsea backroom man as they seek to rebuild the club's recruitment and scouting operation.
Arnesen, who is currently the sporting director at Hamburg, is believed to be interested in the role, which could
have repercussions for Brian Marwood, the most senior football administrator currently at the club.
Goal.com
understands that an appointment is not imminent but there have been discussions between Arnesen and City about him joining the club next year.
The 55-year-old Dane is said to be frustrated at the budget available to him at the Bundesliga side, where he has recruited mainly emerging players, including four from former side Chelsea and another on loan.
City appear to be paving the way for Arnesen's arrival. His son, Sebastian, left Hamburg's scouting team last month to take up a similar role at Etihad Stadium, where he was joined by Jan Ricka, who he had worked with at the Bundesliga club.
The Premier League holders' pursuit of Arnesen may explain why manager Roberto Mancini has spoken about Marwood with barely concealed contempt in recent weeks.
Mancini has been agitated by the lack of top signings this summer and has a strained working relationship with Marwood, with the pair frequently at odds over how to refurbish the playing squad while satisfying the requirements of Uefa's financial fair play regulations.
"I am not the sporting director, it is his [Marwood's] job, not my job," said the Italian boss, speaking last Friday before the £15 million capture of Jack Rodwell from Everton. "They ask me about the market but I don't know anything, it is better they talk to him."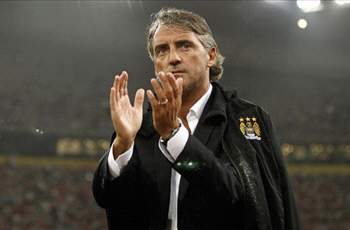 The pursuit of Arnesen may explain Roberto Mancini's recent conflict with Brian Marwood

Marwood, who carries the exotic title director of football administration but is effectively the director of football, has been vulnerable at Etihad Stadium since the departure of Garry Cook as chief executive last September, his close ally from their Nike days.
His role is mainly centred on opening dialogue with other clubs over potential targets rather than cherry-picking players or finalising deals.
Arnesen left Stamford Bridge at the end of 2010-11 season following six years at Chelsea, where he had several roles in that period, including controlling player recruitment and the development of young players in the academy.
Chelsea paid Tottenham £5m for Arnesen to join them in June 2005 after a 12-month spell at White Hart Lane.
The former midfielder made his name in the specialist role during 10 years as director of football at PSV Eindhoven beginning in 1994 after abandoning aspirations to become a manager.
Follow Wayne Veysey on