COMMENT
By Oliver Platt
Roberto Mancini
's public frustration has, it seems, finally provoked
Manchester City
into taking action in the transfer market but this is not what most were expecting.
Unless Sheikh Mansour elects to sacrifice another significant chunk of his fortune before the end of the window, it will not be Daniele De Rossi that patrols the City midfield alongside Yaya Toure next season but Jack Rodwell, a player who has so far failed to make a place in the Everton team his own.
That, of course, does not tell the full story – Rodwell has been dogged by injury problems, appearing in just 14 league matches last season, and is generally regarded as a future England midfielder as promising as most of a similar age.
Nevertheless, this is a considerable step up. Nigel de Jong is a useful deputy in a defensive capacity, or when Mancini wishes to release Toure further up the pitch, but Rodwell is a much more suitable as a direct replacement, with more ability to distribute the ball and support the attack. The question mark comes over his credentials in that role at a Champions League club.
CITY'S RODWELL BID ACCEPTED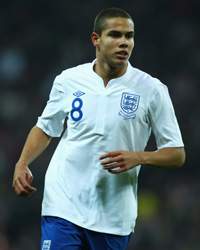 The 21-year-old Toffees star is set to have a medical with the Premier League champions on Sunday after the clubs agreed an undisclosed fee for his transfer
Rodwell is an imposing physical presence, skilled on the ball and also astute when out of possession. That his future was once considered to be a centre-back is testament to his ability to play in his own half. That it now appears that his career will almost certainly be spent in midfield is an equal tribute to his technical ability.
What the 21-year-old is yet to do is to put all of his gifts together. It is still unclear where he is best deployed, whether it be in front of the back four, as more of a box-to-box player or, admittedly less likely, further forward still.
Answering that question is not just the job of Rodwell but of his coach, and that Mancini has sanctioned a move for the Southport-born player indicates that he might have a good idea. Most obviously, Rodwell will play as one of two central midfielders charged with protecting the back four but also supplying and supporting the side's attacking quartet, and he has the quality to do that provided he is able to assert himself among and against world class players.
There is also a possibility, however, given Mancini's experimentation with a back three during pre-season, that Rodwell could be deployed as something of a libero, just as De Rossi was during Euro 2012.
It should be noted that very few players in the engine room of the team establish themselves to their full potential at such a young age. Tom Cleverley is a year-and-a-half older than Rodwell, has similarly been held back by injuries and is still regarded as an exciting part of Manchester United's future. Jordan Henderson is around a year older and Michael Carrick, perhaps something of a comparable, did not earn a move to Tottenham until he was 23.
From Everton's perspective, the deal makes sense. It can be presumed that they will receive a considerable fee for the young star's services and they will much prefer to cash in on a player from a position of strength rather than, to give one example, left-back Leighton Baines.
The Premier League's new rules concerning homegrown players have, to some extent, made gambles such as this one necessary for the league's top clubs. City are investing not in the 21-year-old Rodwell, but the unrealised potential that they hope they might be able to unlock.
Follow Oliver Platt on