ANALYSIS
By George Ankers and Matt Scott
The news that
Luis Suarez
has sealed a new "long-term" contract with
Liverpool
bookends what has been a rollercoaster few months for the Reds forward.
Earning rave reviews for his performances upon arriving in England in January 2011, the Uruguay star came to define the 2011-12 season off the pitch perhaps more enduringly than he did on it, and some had thought that we might have seen the last of him on British shores.
With Suarez set to remain at Anfield for a long time to come, however,
Goal.com
takes the opportunity to look back at a stunning 13 months in the career of one of world football's most exciting players, charting the highs and lows of 2011-12.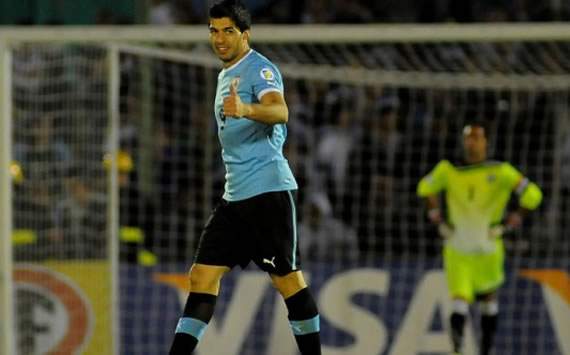 After joining Liverpool in January 2011, Suarez's first few months had promised much and expectations are high for his first full season at Anfield. First up, though, is a summer jaunt with Uruguay to the Copa America – and it provides the perfect start to his year.
The Reds man nets four goals, three of which come in the final two games
, firing Oscar Tabarez's men to glory in the competition for a record 15th time and earning himself the Player of the Tournament prize –
as well as Goal.com's World Player of the Week award
.
When he arrives back at his club for the new season, Suarez brings that form into the start of domestic proceedings with three goals in as many games. It all culminates in him being named at
No.12 in the 2010-11 Goal.com 50
. It looks set to be a year in which the striker would dominate the back-page headlines; that much, at least, we saw coming.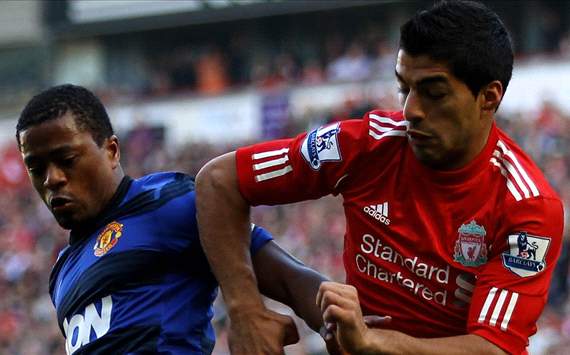 Things continue in a strong vein for Suarez as team-mates and opponents line up to sing his praises,
Steven Gerrard noting that he could go on to become a Liverpool great
while Everton defender
Sylvain Distin holds him up alongside Sergio Aguero in the striking stakes
.
However, his season takes a shocking turn when the initial allegation is made by Manchester United left-back Patrice Evra that the Uruguayan had used racially abusive language towards him on the field of play during a game on October 15,
which the Football Association quickly moves to investigate
.
It is an accusation
that the Reds attacker immediately denies
but the Football Association takes its time in evaluating the situation, causing some frustration within the club and leading to then-manager
Kenny Dalglish urging the organisation to settle the matter
.
And, while all of this goes on, Suarez faces mutterings from spectators and contemporaries for a perceived propensity for diving. West Brom's Paul Scharner is among those to react negatively when the Liverpool star wins a penalty against his side late in October,
labelling him "one of the best on the planet" in the art of earning spot-kicks
.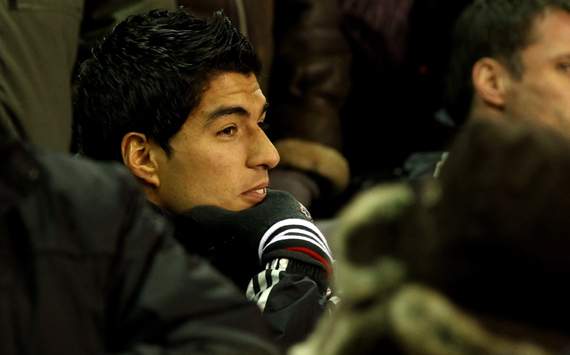 With the verdict on the allegations of racial abuse still incoming, Suarez continues to represent the Reds although, despite bagging all four goals in a 4-0 hammering of Chile while on international duty, he only scores one more club goal before the New Year. Nevertheless, after keeping the Anfield side out in a 0-0 draw, Swansea City goalkeeper
Michel Vorm indicates that Dalglish's men rely too heavily on the Uruguayan
.
His boss backs him to continue scoring goals despite the ongoing off-pitch controversy
but things get a lot harder when the FA comes to its decision.
Suarez is found guilty of misconduct for using insulting words while referencing Evra's colour and is hit with an eight-match ban and £40,000 fine
.
While
44.1 per cent of Goal.com readers disagree with the decision
, the suspension gets one game lengthier and the fine £20,000 heftier as a result of
the attacker making an obscene gesture towards Fulham fans
after Liverpool's 1-0 loss on December 5.
Suarez's club back him fiercely, with
each player as well as Dalglish sporting white T-shirts bearing the striker's face and number
before their 0-0 draw with Wigan,
in a move that draws criticism from many, including Olivier Bernard, a former Newcastle player turned anti-racism campaigner
.
As the independent regulatory commission investigating the matter declares in its report, published just before the turn of the year, that the forward had given "unreliable" and "inconsistent" evidence about the incident, it is clear that the situation is to rumble on into 2012.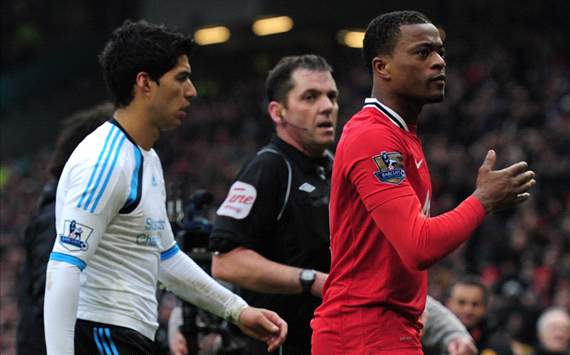 As Suarez begins his nine-match absence, and in the face of pressure from several anti-racism groups,
the Reds confirm that they will not fight the Uruguayan's suspension
.
The forward also makes a general apology for his behaviour
but maintains that he only used the term 'negro' once, contradicting a 116-page report on the incident compiled by the FA. On the back of Suarez's case and the similar furore surrounding Chelsea captain John Terry,
the Professional Footballers' Association announces that it will begin introducing cultural awareness sessions for senior professionals
, a service already given to youth players.
As Suarez returns to action, a perfect opportunity to put the issue to bed arises. A clash with Manchester United at Old Trafford, in just the second game that Suarez has played in since being banned.
However, the Uruguayan refuses to shake Patrice Evra's hand before the game
, predictably overshadowing his goalscoring contribution to the encounter. Sir Alex Ferguson reacts furiously,
claiming that Suarez should never be allowed to play for Liverpool again
.
In the face of more staunch defence from Dalglish,
Suarez issues another apology for his actions
but things appear to be strained at Anfield with Reds chief
Ian Ayre revealing that the 25-year-old had promised to shake Evra's hand
before the Old Trafford game and that the club have been let down and misled by Suarez's actions.
Despite all the negative press surrounding the Uruguayan,
it is reported that Paris Saint-Germain are looking to acquire him
as they fight Montpellier and Lille at the top of Ligue 1.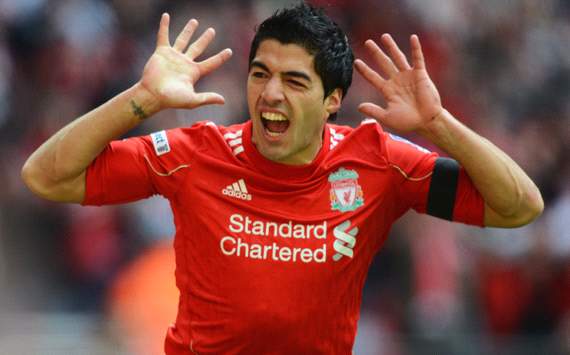 Despite dropping form and struggling for goals (Suarez fails to find the net for six weeks in the Premier League after notching at Old Trafford)
PSG's president confirms the cash-rich club's interest in Suarez
and with controversy swirling around him and the Reds stuttering for form, the Uruguayan does little to dampen the rumours,
admitting he would be open to a move to the French capital
and would love the chance to link up with compatriot Diego Lugano at the Parc De Princes.
Soon afterwards though, he seems to back-track and insists that
he is happy at the club, also revealing that Reds' chiefs have approached him about extending his Anfield contract
that still has over four years to run on it. Despite these proclomations, Suarez is linked to more clubs, Roma supremo
Walter Sabatini is forced to issue a statement denying any interest in the striker
after a move to the Stadio Olimpico is reported as a possibility, meanwhile in Paris the rumours continue to gather momentum as
PSG boss Carlo Ancelotti confirms les Parisiens made enquiries for Suarez in January
and claims he expects "a different solution" in the summer.
On the pitch, Suarez finally looks to get back in the groove, netting in Liverpool's FA Cup semi-final victory over Everton and scoring an incredible treble against Norwich at Carrow Road including an awe-inspiring 60-yard chip past Canaries keeper John Ruddy.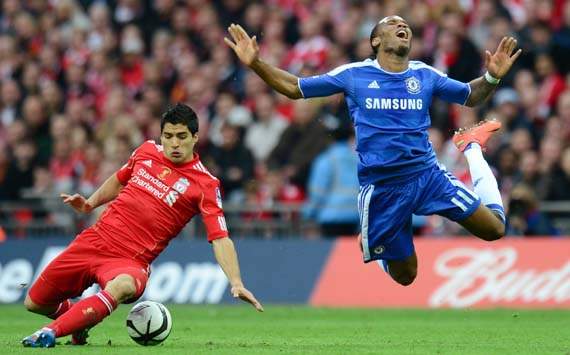 Liverpool round off the season by being beaten in the FA Cup final by Chelsea and finishing in their worst league position for decades. Dalglish is sacked and
Sir Alex Ferguson claims that backing the Uruguayan through his race row may have cost the Kop legend his job
.
Suarez then appears to
re-open the issue by labelling his suspension "strange"
and claims that he was punished despite there being no evidence for exactly what he did wrong.
The 25-year-old is still persistently linked with a move from Anfield. Real Madrid and Barcelona are fleetingly mentioned as holding an interest in Suarez and
he admits that it would be a dream to one day play in La Liga
.
He also starts being mentioned as a target for recently-crowned Serie A champions Juventus, with the Bianconeri's Uruguayan defender
Martin Caceres claiming that his international colleague has asked him about life in Turin
, sparking rumours that a switch to Antonio Conte's unbeaten side could be close.
There is change at Anfield, however. Brendan Rodgers is hired as the man to replace Dalglish and is quick to reveal that
the Uruguayan is in fact close to signing a new deal with the Reds
, as Suarez himself had hinted at in previous months.
Before a deal can be thrashed out, though, the striker is selected in Uruguay's squad for the Olympic games as captain.
La Celeste
struggle to overcome UAE on their opening group game and Suarez is roundly jeered by an Old Trafford crowd.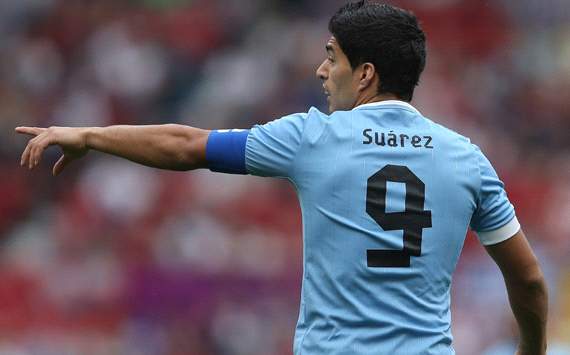 Suarez refuses to let the boos get to him as they continue at Uruguay's next game, against Senegal at Wembley Stadium, insisting that
he is only being targeted as fans are afraid of the damage he can do on the pitch
, while the senior skipper, Diego Lugano, claims that the boos are in fact a sign of respect for Suarez's talents.
The striker, along with the rest of the team falters at the Games as they fall to defeat against Senegal and Team GB, resulting in a first-round elimination.
The striker also misses out on a place in the Goal.com 50
after his difficult campaign and upon Suarez's return to training with Liverpool, Rodgers urges the striker to
move on from all of the controversy and negativity stemming from his row with Patrice Evra
, and focus on football, admitting that the 25-year-old is likely to maintain a "sense of injustice" over the affair.
Mere days later and Suarez now has something else to think about as he
officially pens a new, and reportedly drastically improved, long-term contract
to finally end all speculation linking him with an Anfield departure this summer.
Follow George Ankers on

Follow Matt Scott on