PROFILE
By Hocine Harzoune | Goal.com France
In
Thorgan Hazard
Chelsea
have signed a gifted player.
He has played deeper in midfield at Lens but is most comfortable further forward as a winger or attacking midfielder. His former coaches, Johan Boskamp and Eric Assadourian, laud him, while even his brother Eden reckons that the 19-year-old is the more talented of the two.
Named after a Belgian comic strip character, Thorgan defines himself as a creative No.10 and is known for his control, touch and dribbling, in a similar mould to his older brother. He is also able to excel in the hole behind a striker.
Thorgan started his career at Stade Brainois in Belgium (the club's office is next to Hazard's house) before heading to Tubize, just like his brother Eden, whom he always saw as a role model.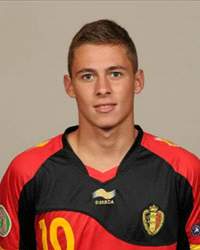 "He can single-handedly change a game's destiny... Thorgan has great technique but lacks power"

Lens scouts discovered him in a friendly game at the age of 14 and he was charmed by the French club's academy, one of the country's best (having recently produced Real Madrid's Raphael Varane), even though Lille, with whom Eden previously played, were bitter rivals. Thorgan told reporters at the time that he would love to play against his brother someday.
He made his debut with Lens seniors under Jean-Guy Wallemme when he was only 17, scoring an equaliser against Roulers. That season was his breakthrough campaign in Ligue 2 but he still only made 14 appearances (only six from the start) and showed some raw talent but also fragility.
The youngster put in a star turn helping his team to a precious 2-0 victory against Le Havre as the season drew to a close with a decisive free kick for team-mate Alexandre Coeff to score, but lacked consistency throughout the term. 2011-12 saw him promoted to senior team for the first time, wearing the No.22 shirt.
Hazard junior started the campaign well but suffered a personal setback when Belgium were eliminated from the Under-19 European Championship.
He prefers to play in behind the striker as a No.10 but insists that he doesn't mind the formation in which he plays, as well as enjoying playing directly as much as building attacks.
"When I have two strikers in front of me, I have fewer possibilities on the sides to widen the play," stated the younger Hazard. "But it's easiest to find me and to play deeply. It's a matter of movement and animation in front of me.
"But in fact, I don't care. I like to play direct football as much as to build an attack on the sides. When you like to play in support of the striker, you have to adapt."
Assadourian, a former striker and youth coach at Lens, says that Hazard is a player with superb individual class.
"He can single-handedly change a game's destiny," his mentor remarked. "Thorgan has great technique, but from an athletic point of view, he lacks power.
"He has to find a way to repeating those good things of which he is capable. He has to gain volume in a game and to let himself go more often. He is the creator, he is capable of guiding the other players and making the play."



"I hope one day to be able to play with Thorgan for the national team - that would be a dream. Of course we talk about football a lot - it's hard to avoid - but not all the time"





- Eden Hazard

Thorgan clearly has great potential but appears to have difficulty expressing it. He can have sparks of brilliance all of sudden but is not yet capable of converting this into consistent high-level performances. In that regard, the Premier League could make or break him.
His promise is incredible, but it is hard to see why Chelsea have signed him so soon. He does have the ability to emulate Eden, but was only able to play 90 minutes in just two matches last season.
EDEN HAZARD ROLE UNCLEAR Di Matteo yet to settle on best place to deploy former Lille star

How the younger Hazard develops alongside his brother will be key, but it is hard see him troubling the first-team any time soon. A loan move has been mooted and that could be an option before returning to Stamford Bridge.
"I hope one day to play with him for the national team - that would be a dream," says Eden, the more established brother at this time.
"Of course, for my parents it must be quite tiring to follow us both, but as they themselves are good at football, it makes their task easier. Sure, we talk a lot about football during family meals, it's hard to miss, but that is not the only thing we talk about."
Their mother, Carine, played as a striker in the Belgian Women's First Division, while their father, Thierry, spent most of his career playing semi-professional football in the Belgian Second Division for RAA Louivieroise.
As well as Eden and Thorgan, there could still be more to come. Kylian Hazard (16) is in the Lillle youth academy, although the fourth brother, Ethan (seven years old) does not, apparently, yet show the same passion for the game.