David James
hailed
Joe Hart
as the best goalkeeper in the world after a season in which he won his first league title with
Manchester City
.
The City keeper was named in the Premier League team of the season after keeping the most clean sheets in the division for the second season in the row, and played every minute of England's Euro 2012 campaign.
James explained that he has great respect for Hart despite his young age and told
Fifa.com
: "Joe is 25 and has already earned more than 20 caps. He's in a very good position.
"The fans love him and regard him as the best goalkeeper in England by far.
"For years, Gianluigi Buffon was my favourite, but now it's Joe Hart.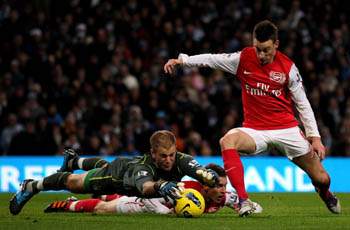 "I watch a lot of European football and I can't think of a keeper who's impressed me more"
-David James

"It's difficult to set the criteria by which you decide who the world's best keeper currently is, but I watch a lot of European football, and I can't think of a keeper who's impressed me more.
"I think that Gianluigi is still an extraordinary goalie, but he's had a lot of injuries and that has caused his level to drop somewhat ... Buffon is excellent at stopping mid-range shots and at positioning himself, but his kicking game is not what it should be.
"[Iker] Casillas has amazing reflexes, but he has trouble with crosses and he's average with the ball at his feet.
"Joe, meanwhile, is good at all these things, which makes him the most complete keeper playing at present."
The former Liverpool and Portsmouth keeper had been joined by Hart in England's squad for World Cup 2010 in South Africa and added: "At the last World Cup, having seen him at close quarters in training and during friendly matches, I was sure that he had the quality to play at that level.
"When I was told that I wasn't going to start the first game [of the World Cup], my first thought was that it was Joe who would be picked."
James went on to raise concerns that there are no goalkeepers challenging for Hart's international place, but suggested that Jack Butland, the third choice at Euro 2012, could push the City star in the coming years.
"As I see it, the fact that Joe lacks competition is a bit of an issue," he noted.
"Goalkeeper is a unique position in that, if you're not injured or experience a huge drop in form, it's unusual for you to be replaced. Because of that, you need someone to keep pushing you so that you can maintain your fitness and your mindset.
"At the moment, clearly he's the best, but within three or four years, if a new keeper doesn't emerge to challenge him, it could become a bit of a problem. I have confidence in Jack Butland, though. I don't think it'll be long before he starts to knock on the door of the national side."