Depatures from Old Trafford are not always warmly received - just ask Roy Keane - but the glowing appreciateion for
Park Ji-Sung
upon his move to QPR was almost tangible.
The former South Korea captain completed his move to Loftus Road on Monday, and Twitter came to life with well-wishes and warm welcomes for the 31-year-old, with Rio Ferdinand, Tom Cleverley and Joey Barton among those praising the four-time Premier League winner.
In other news, there was something of an unwanted visitor to the pool during Gary Lineker's Italy trip, whilst Emmanuel Frimpong put his critics to shame with top marks in a recent spelling test.
Here we go ...
"Welcome to the club Park Ji Sung. Great signing for us... #QPR"
Former club captain Joey Barton welcomes new signing Park Ji-Sung to Loftus Road.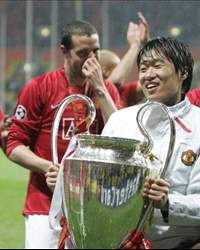 "Wishing Park ji Sung good luck at QPR. Great player for man utd, selfless + real team player. Funny guy too. Pat will be lost!!"
Meanwhile, former team-mate Rio Ferdinand bids him a fond farewell, and concedes that Patrice Evra could feel the loss more keenly than most.
"All the best ji! #greatmidfielder"
Youngster Tom Cleverley keeps it short and sweet, as the man with four Premier League titles and one Champions League winner's medal leaves Old Trafford after seven years with the club.
"Film of the day: New Jack City starring Wesley Snipes + Ice T....very deeeeecent!"
Away from football, Rio Ferdinand shares his love of a pair of maverick police detectives.
"Glad to say I did exams for my Spelling today and I got A in all my categories. Thanks to you Followers my spelling is Absolutely perfect :)"
Emmanuel Frimpong celebrates his perfectly-spelled success. (Next stop: grammar)
"Things not going well. Large floater in pool has led to closure. With my past history i fear being made prime suspect"
Gary Lineker feels his ears begin to burn as an unwanted visitor gate-crashes his holiday in Italy.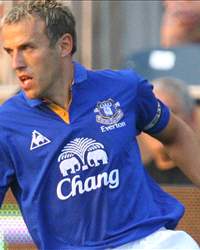 "Training in Austria finished played 11vs11 today and I scored good omen for season!!!"
Everton skipper Phil Neville cites encouraging signs ahead of the new season as he scores his first goal in just over 137 years.
"Wow unbelievable response to the Swansea soccer camp yesterday nearly all places gone in one day. But there are a few more left so hurry!"
Finally, Swansea City defender Ashley Williams is bowled over by interest in the club's football skills camp, as the Swans keep an ear to the ground for Britain's brightest prospects.
"That's it I am now the new Birmingham city Number 11! Really looking forward to get started!"
Ex-Newcastle man Peter Lovenkrands celebrates as Lee Clark hands him the No.11 shirt for the coming season ...
"Good luck for @lovenkrands11 a fantastic player and a fantastic man."
... News which is well-received by former team-mate Jonas Gutierrez, who has nothing but kind words for the Dane.