COMMENT

By Oliver Platt
Just as
Arsene Wenger
's plans seemed to be coming together,
Robin van Persie
's decision to leave
Arsenal
has thrown them back into disarray.
WHERE DID IT ALL GO WRONG?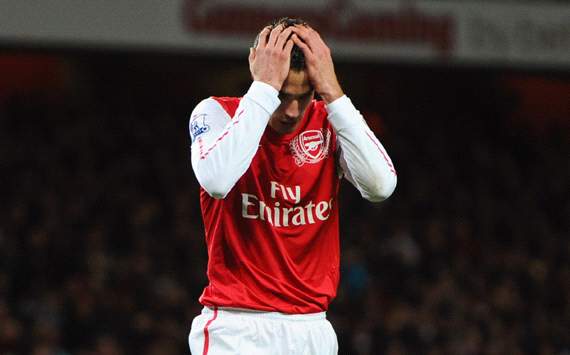 September 2011
Van Persie refuses to enter talks over a new deal: "I still have almost two years left, so for the moment that's fine. I'm happy with my contract. I can't look into the future. I can't see us talking now because we are so busy."
December 31, 2011
Scored his 35th goal of the calendar year in a 1-0 victory over QPR.
May 04, 2012
Wenger hopeful that Van Persie will sign a new deal: "Who would want to lose his best player? My desire and my wish is to find an agreement with Robin van Persie, extend the contract and stay with us for a longer time. Hopefully we can reach that."
May 13, 2012
Finishes the 2011-12 campaign as the Premier League's top goalscorer with 30 goals

.
July 4, 2012
Reveals on his personal website that he will not sign a new deal with Arsenal as his hopes for the club are not matched by Wenger.
If there are any positives to be taken out of the Dutchman's revelation, it is that the Gunners have already secured the signatures of Lukas Podolski and Olivier Giroud. Wenger will have been hoping, of course, to field his new attacking stars alongside Van Persie, but now the duo face the pressure of having to immediately fill the void.
The two signings make the statement released by Van Persie, in which he announced his decision, all the more puzzling; Wenger and Ivan Gazidis, he claims, do not share the same ambitions regarding the direction in which the club is headed, despite the new arrivals.
Yann M'Vila, in addition, has been linked to the club all summer. Short of a Manchester City-style spending spree, which was never a realistic expectation, it is difficult to see what else the Gunners could have done to persuade their captain to stay.
Arsenal, with Van Persie, looked a stronger proposition than they had done in a long time. Wojciech Szczesny finally seemed to have provided a solution in goal, while Laurent Koscielny and Thomas Vermaelen have formed an impressive partnership in front of him.
The return of Jack Wilshere was to be looked forward to, although that now is also in doubt.
Most would not have begrudged Van Persie's wish to leave Arsenal in pursuit of trophies – at the age of 28, his time is running out and he carried the Gunners on his back last season.
But to announce in early July - just as clubs return for pre-season training - that Wenger is not moving the club forward quickly enough despite his concerted efforts to strengthen the squad does no favours to himself or to the club he professes to love.
Now, once again, Arsenal's summer has been thrown into disarray. Failure to reinvest the money made from Van Persie's probable sale – and the wise decision for Arsenal would be to cash in on him while they can – will only result in a backlash similar to the one suffered after the departure of Cesc Fabregas and Samir Nasri last summer.
Wenger needs to spend to appease not only supporters but the rest of his squad, but when he has departed from his prudent approach to the transfer market, the results have not always been successful. Per Mertesacker, Andre Santos, Park Chu-Young and Mikel Arteta were last-minute additions ahead of the 2011-12 campaign; only one worked out.
Fabregas, Nasri and now Van Persie – who next? For the second consecutive summer, just as Arsenal seemed to be getting back on the right track, their fortunes have suffered another devastating blow.