ANALYSIS
By
Chris Myson
Montpellier
and
Arsenal
have finally confirmed what we have all known for over a week -
Olivier Giroud
is leaving the French champions and will join the Gunners this summer.
The 25-year-old striker scored 21 times in Ligue 1 last season and was part of the France squad which reached the quarter-finals of Euro 2012.
A tall and powerful frontman with an eye for goal, Giroud will bolster an attacking core that is likely to lose the services of Marouane Chamakh, Nicklas Bendtner and possibly Park Chu-Young before the new Premier League season begins.
Goal.com has revealed that talisman Robin van Persie looks increasingly likely to stay at the Emirates
, although his definitive future remains unconfirmed. Germany international forward Lukas Podolski has already been signed from Koln and will join on July 1.
So how will Giroud fit into Arsene Wenger's plans? Is he a replacement for Van Persie or will he play alongside the Dutchman? Will he slot seamlessly into their system or just provide backup to more established players in north London?
We look at how Arsenal could line up in attack next season and how Giroud's arrival could affect the Gunners' setup over the course of the 2012-13 campaign.
Even though Arsenal are spending around £12 million on Giroud, it is not inconceivable that he will initially be used as a backup player at the Emirates, particularly if Van Persie stays.
That approach would be the least disruptive to the Gunners, continuing their tactics from last season as they slowly bed their new striker into Premier League life.
HOW THE TEAM WOULD LOOK

(4-3-3)
Szczesny
Sagna, Koscielny, Vermaelen, Gibbs

Song

Arteta, Wilshere
Walcott, Van Persie, Podolski
Podolski is a flagship signing who will almost certainly take his place out on the left, while Theo Walcott, Alex Oxlade-Chamberlain and Gervinho would battle it out for the other wing position to support Van Persie.
While Giroud, an established international, will be determined to get straight into the starting XI, Wenger may choose to ease him in early on, deploying a rotation system.
This approach would see the France international start lower-profile Premier League games, or matches in the Champions League group stages and domestic cups, as he tries to force his way into the first team for the club's biggest fixtures.
French columnist
Julien Laurens
believes Giroud could well be used initially as a backup option and feels the player could represent a long-term replacement to Van Persie in attack.
He said: "Giroud's lack of high-level experience could pose an issue in what he hopes will be a smooth transition to the English game. In addition, there's no telling how he will react at a big club, with increased pressure and stern competition for places.
"At the moment, Robin van Persie remains a Gunner. They could play together or, if the captain stays, the Frenchman could shadow him as his understudy and prepare to succeed him in future."
Having signed a cheque that is reasonably large by his standards, Wenger may not want to keep his new signing on the substitutes' bench for too long, but it certainly looks like a real possibility in the early months.
Likelihood rating:




VAN PERSIE PLAYING AS A NO.10

Finding a way to fit Giroud, Podolski and Van Persie in the same team along with an out-and-out winger like Gervinho or Theo Walcott is a difficult task without altering the system.
HOW THE TEAM WOULD LOOK

(4-2-3-1)
Szczesny
Sagna, Koscielny, Vermaelen, Gibbs

Song
, Wilshere
Walcott, Van Persie, Podolski
Giroud
One possible method for Arsenal could be to change the role of their captain, Van Persie, and deploy him in a deeper No.10 position behind a main central striker like Giroud.
This is a role which he has filled earlier in his career at club level and continues to play on occasion for the Netherlands, particularly when Klaas-Jan Huntelaar has played in the same side.
Dutch expert
Stefan Coerts
says a more withdrawn position is one he has enjoyed success in.
"Van Persie's only goal of Euro 2012 came when he did not play as a striker, but as Holland's attacking midfielder against Germany," he said.
"National team coach Bert van Marwijk even called him one of the best No.10s in the world after the game, and Van Persie indeed seems to have what it takes to play in such a role.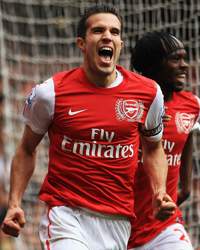 "The Arsenal captain combines an abundance of creativity and superb passing skills, potentially making him one of the best creators in the game."
Van Persie certainly has the technical ability and vision to succeed playing deeper, but Wenger will be wary of having him too far away from the penalty box.
Last season, Van Persie's predatory instincts saw him score 37 goals in all competitions and he is unlikely to come close to that tally next year if he is playing further back.
There would be pressure on the central target man, Giroud, to step up and immediately get amongst the goals in his debut season by leading the line in a 4-2-3-1, while Walcott and Podolski would also have to chip in with their fair share in support.
Bundesliga expert
Clark Whitney
believes it is a system that would suit Podolski well as he starts life at his new club after the summer.
He said: "Podolski is by nature a left-footed centre-forward. At Koln, it was there where he made a name for himself, sometimes playing just behind a second forward, but always in the middle.
"On the international stage, however, he has played as a left-winger for several years. This position suits him in games in which Germany can counter-attack, but Podolski's greatest asset - his thunderous shot - goes to waste in a possession-based game as his left foot can only be used to cross.
"Given that Giroud can only play as a traditional No.9, and that Van Persie is a better playmaker than Podolski, I think it would be best for him to play on the left wing for Arsenal next season."
Likelihood rating:




While Manchester City's interest in Van Persie appears to be cooling, the future of the club captain will remain up in the air until he puts pen to paper on a contract extension.
HOW THE TEAM WOULD LOOK

(4-3-3)
Szczesny
Sagna, Koscielny, Vermaelen, Gibbs

Song

Arteta, Wilshere
Walcott, Giroud, Podolski
When the speculation linking Giroud with the Gunners first began and after Podolski's signing from the Bundesliga was confirmed, many analysts suggested Wenger was making plans for his star striker's impending exit.
Fans are increasingly hopeful that their talisman will stay with the club despite having just a year left on his deal amid continued rumours linking him with clubs like City and Juventus. If the worst were to happen, Giroud's arrival should mean that they are covered, at least numerically.
Arsenal could continue their tactics from last season, with Giroud coming in directly to replace Van Persie as the central striker, being joined by Podolski out wide in a front line which has a fresh look to it.
French football editor
Robin Bairner
feels he could be capable of making the step up to life in the Premier League, which will provide some encouragement to fans in north London if their current star forward was to depart.
He said: "Giroud is considered to have been the most complete striker in Ligue 1 last season. This is reflected not only by his healthy return of goals but also the assists he proved - in total he played nine decisive passes.
"Wenger has therefore signed a centre forward who may not be versatile in terms of his position – he can only play through the middle, after all – but who can be used in a myriad of ways from this position.
"He's excellent at retaining possession with his back to goal, but he's equally capable of winning the ball in the air. In terms of his instincts as a goalscorer, these are strong. Giroud is primarily left footed, but that's not to say that he's helpless on his right, while his movement around the box was too good for France's defenders last season.
"With a cool head on his shoulders and a determination to succeed having played much of his career in France's second flight, he is the kind of rough diamond Wenger has specialised in polishing over his time with the Gunners and you wouldn't bet against Giroud making the step up."
The lack of quality back-up would be an issue, though, so a Van Persie exit could well lead to Wenger dipping into his chequebook again to snap up some more competition for places up front.
Likelihood rating:



The three above options are the most likely attacking systems for when Arsenal kick off another campaign in August, but Wenger also has the option to organise his front line in an even more adventurous style.
HOW THE TEAM WOULD LOOK

(4-3-3)
Szczesny
Sagna, Koscielny, Vermaelen, Gibbs

Arteta, Song, Wilshere

Van Persie, Giroud, Podolski
Admittedly, the lack of defensive security caused by lining up with three out-and-out strikers when in possession means that the Frenchman could only look to deploy this setup when he is chasing the game, or facing weaker opposition.
Van Persie and Podolski are unlikely to track back even if they are drifting from wider roles, placing significant pressure on the narrow midfielders and exposed full-backs, which would often result in Arsenal get picked off by quality opponents.
Dutch Editor
Stefan Coerts
feels having the Netherlands international playing from a wide role could be a possibility, based on what he has seen from the player before, despite the success he has enjoyed centrally.
"It might sound like a ridiculous claim after Van Persie's two stellar seasons as Arsenal's No.9, but the Netherlands international is by no means a traditional striker," he said.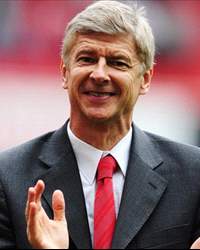 "The 28-year-old is not a natural finisher like Villa, Gomez and Di Natale, but he has plenty of other qualities that make him one of Europe's most dangerous attackers.
"When first breaking into the first team at Feyenoord, the versatile Premier League top-scorer mainly featured in a free role from the left, and it was in this position that he earned himself a move to Arsenal.
"Van Persie's best games for Netherlands came when he featured in a free role from the right, resulting in goals at the 2006 World Cup and Euro 2008."
But having the option of Giroud, Podolski and Van Persie all playing as strikers in the same team is certainly an attractive proposition and one which we may well see at certain stages of matches as the year progresses.
A powerful player like Giroud alongside a technician like Van Persie and a direct forward in Podolski who complements them both is a strike trio that looks good on paper, but Arsenal may not have the personnel behind them to make such a system work week in, week out.
Likelihood rating:



HAVE YOUR SAY


How do you think Arsenal should line up with Giroud next season? Which of the above tactics is the most likely approach that Wenger will opt to deploy? Should fans of the Gunners be optimistic of a Premier League title challenge? Let us know your views on the debate by posting a comment below or by engaging with us on
Facebook
and
Twitter
.