EXCLUSIVE
By
Rob Stewart
Wigan Athletic supremo Dave Whelan is certain Victor Moses will remain at the DW Stadium beyond this summer but still expects the Nigeria international to establish himself as a "top star".
The Latics owner is adamant the former Crystal Palace forward will commit himself to the Lancashire club despite being linked with moves to Chelsea, Queens Park Rangers, Newcastle United and Liverpool.

Moses only has a year left to run on his current contract but Whelan is bullish about the prospect of the club's prize asset committing himself to the club by signing a new contract now that manager Roberto Martinez is staying put having snubbed Liverpool's advances.
"Victor Moses will be staying with us and I don't think there is any doubt about that," Whelan told Goal.com.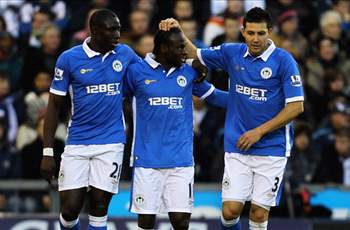 "I am sure that he will stay and that he will want to work with Roberto. So Victor will not be going anywhere" - Dave Whelan
"He is not where he should be yet. He is still improving and he is still a young lad. He respects Roberto [Martinez] enormously and I am sure that he will stay and that he will want to work with Roberto. So Victor will not be going anywhere.
"We have offered him a deal that which think is a super deal for him and we are hoping that he will take it. We have brought him along from the age of 18/19 and Roberto has worked hard with him and we are hopeful that he will accept the new deal.
"Victor is working under one of the best young managers in the league with Roberto and now that he knows Roberto is staying put I am sure that his attitude will be that he wants to stay at Wigan.
"He is on the learning curve with Roberto. He is improving every match and you can see him coming on. I have no doubt that we will lose him in the end because he will be a top star. In another 12 to 18 months he will be there.
"Victor has got Willie [McKay] there as his agent. We always get on very well with Willie to be perfectly honest. He is a shrewd agent and he always wants to fight for his clients. He is one of the shrewdest ones. I get on well with him quite well."
Sports retail tycoon Whelan is relishing the prospect of the new season after Wigan produced a storming end to the last campaign that saw relegation avoided by a seven-point margin.
"It will be a difficult season again for us but we accept that will be the case and we are looking forward to the challenge," Whelan added.
"It is going to be a tough season next season because it always is. That is the nature of the Premier League, which is the toughest league in the world. Three new clubs will come up and they will be encouraged by how well Norwich and Swansea did last season and for us it is really disappointing to have lost Blackburn and Bolton because they are two of our closest rivals."
And even though he is in his mid-70s and has spoken previously about stepping down, Whelan envisages remaining at the helm for two more seasons.
"Old age slows you down somewhat when you get into your 70s – and I am 75 years old now – I just have to see what the state of my health is like and luckily my health is fantastic," he said.
"I am very lucky in that respect and while my health is good I will stay and enjoy football and I am still there with Wigan Athletic and hopefully I can do another couple of years and still enjoy it."