ANALYSIS
By
Andrew Kennedy
On Monday evening, thousands of football fans up and down the country found themselves glued to their mobile phones and computer screens. Yet some enthralling pre-Euro 2012 action was not the source of such furore. No, it was the Twitter page of Lille starlet Eden Hazard that had us all so engrossed.
Flirting with the majority of Europe's elite clubs since the turn of the year, the Belgium international looked set to plump for a move to Manchester. However, a change of heart in the last few days following Chelsea's Champions League victory, saw the 21-year-old opt for a switch to Stamford Bridge.
With Hazard himself confirming he will ply his trade in west London next season, Goal.com takes a look at 11 months of the most fascinating, and at times the most tedious transfer saga in recent memory.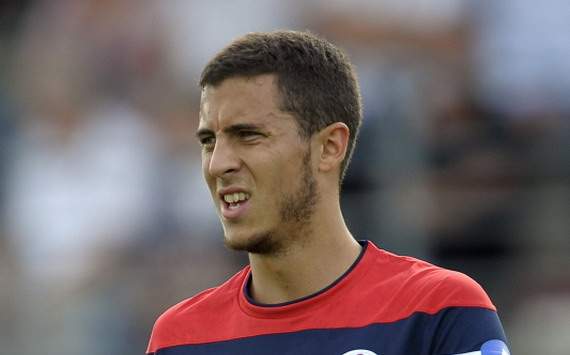 July 10 2011
17.25 After winning the Ligue 1 player of the year following Lille's title-winning season, Hazard insists he wants to remain in northern France despite reported interest from Arsenal and Serie A giants Inter.
August 23 2011
13.23 Lille director Frederic Paquet insists Hazard "will not be leaving this season", and will remain at the club for "at least another year" after securing Champions League football, in turn prompting months of speculation over the Belgian's next destination.
September 1 2011
09.48 Following Joe Cole's loan move to the French club, reports suggest Liverpool have secured first refusal on the 21-year-old – something which Paquet is quick to dismiss, insisting "there is no link between Joe Cole and Eden."
September 30 2011
14.48 Reports emerge of Real Madrid's interest in the winger, with Hazard believed to be a big admirer of Los Blancos official Zinedine Zidane.
October 7 2011
13.24 On-loan Liverpool man Cole hails the Belgian as a "special player with all the qualities of a great footballer", stating he seen enough of the attacker in his short spell at Lille to be certain he will "become one of the best players in the world."
October 11 2011
10.21 John Bico, Hazard's agent, confirms reports from the previous month that La Liga giants Real Madrid are monitoring his client.
October 21 2011
07.25 Inter captain Javier Zanetti reveals the San Siro outfit are still hopeful of luring Hazard to Italy.
"Chelsea has been following him the closest"

09.55 Lille academy director Jean-Michel Vandamme discloses that Chelsea have been monitoring Hazard's situation the most out of all his suitors, but admits that he expects further interest from Spain.
"Chelsea has been following him the closest. The Spaniards have not manifested themselves yet, but I think they are playing it smart and will call when they know they have to - I'm talking about Real Madrid, but also about Barcelona."
October 31 2011
10.59 Having been the source of much speculation over the past year and a half, Hazard confirms his intention to "make the next step in my career" and leave France for "a bigger club."



"It will be Manchester City, Manchester United or Chelsea"





- Eden Hazard

November 1 2011
13.28 The 21-year-old also reveals a day later that both Inter and AC Milan made offers for him during the summer transfer window, with the Rossoneri proposing he "stayed at Lille and open serious talks at the end of the season."
November 9 2011
15.17 Reports again surface linking the player to Santiago Bernabeu, suggesting the Belgium international has informed Lille of his desire to move to Real Madrid, with the presence of Zidane again being touted as a factor.
November 14 2011
17.18 Despite the continued speculation linking him with Madrid, Hazard says that "neither Jose Mourinho, nor Zidane, have called me."
November 24 2011
09.08 With Hazard's desire to leave Stade Lille-Metropole already public knowledge, club president Michel Seydoux reveals his services will cost any suitor "€50 million (£43m) and this is clear in advance."
Mancini insists Eden is not for City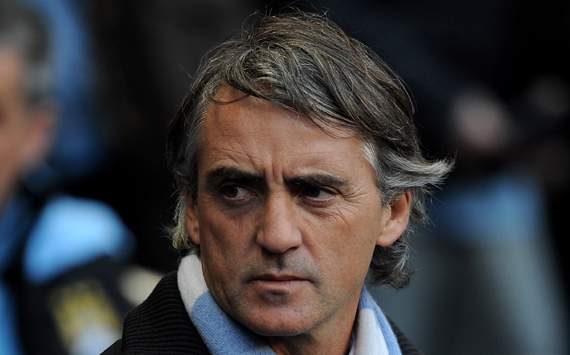 December 30 2011
13.29 After reports surface two days earlier linking Manchester City with a £25m bid for the sought-after winger, manager Roberto Mancini is quick to dismiss the speculation as "not true".
January 14 2012
10.13 Hazard's representative John Bico continues to stir up interest in the Lille player, with Chelsea and now Manchester United claimed to be possible destinations.
"He would view Manchester United as a great opportunity. If Roman Abramovich really is providing funds to take Chelsea back to the top again, then they would be interesting, as well."
AVB rules out winter switch to the Bridge

January 21 2012
16.40 However, now ex-Chelsea manager Andre Villas-Boas appears to rule out a January move for the 21-year-old when stating he does not think the Blues should look to sign players "who cannot be involved in all competitions", with Hazard cup-tied for the Champions League.
January 29 2012
12.13 Despite Hazard already revealing his intention to exit Lille at the end of the campaign, club director Frederic Paquet also confirms the Ligue 1 outfit will allow their starlet to "leave at the end of the season", describing his departure as "almost a certainty".
19.39 Following on from the club official's comments, the Belgian discloses that he will move "to England" although it would be "impossible" to leave Lille in January with the club still defending their Ligue 1 title.
February 3 2012
09.05 Chelsea's interest in Hazard continues to grow after club scout Guy Hillion reveals the west Londoners have watched the attacker over 20 times, and that he has given the player a glowing report every time.
Hazard is "great" but will not join Man City

11.02 Manchester City boss Mancini hails Hazard as a "great player with great potential" but once again distances himself from a move for the player.
"Despite what [people] have been saying for many weeks, we don't envisage recruiting him".
February 8 2012
07.46 Goal.com exclusively reveals that Chelsea are leading Tottenham and Arsenal in the race for Hazard's signature, with the Blues having already met with his representatives in January.
February 13 2012
23.05 Hazard fuels speculation further by claiming then title-chasing Spurs are a great club even if there is nothing more concrete then rumoured interest at the moment.
"[Spurs] is a rumour. It is a club that interests me, of course, because they have great players and a great coach. I have not signed anything yet - it is too early."
February 16 2012
09.49 However, just three days after showing his interest in a possible move to White Hart Lane, Hazard then admits he would be open to a move to north London rivals Arsenal, insisting the club's French links and the presence of fellow Belgian Thomas Vermaelen at the Emirates make the Gunners an interesting prospect.
10.46 Hazard's father then confirms that there has been concrete interest from Tottenham in his son's services.
February 17 2012
07.26 Goal.com reveal that Chelsea have temporarily pulled out of the battle to sign Hazard, in turn allowing high-flying Spurs to take pole position in the race to land the 21-year-old.
February 19 2012
08.21 Harry Redknapp confirms that Tottenham will look to make a move for the winger in the summer transfer window.
"Hazard is a player that we have spoken about. He is a player who is definitely on our list."
Sir Alex shows his interest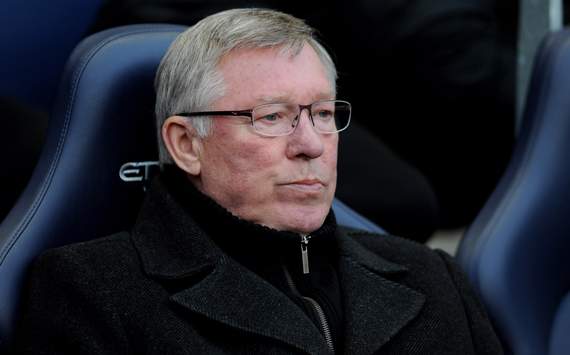 March 10 2012
22.45 Manchester United's interest in Hazard is confirmed when Sir Alex Ferguson is spotted at Stade de Gerland watching Lille's 2-1 defeat at the hands of Lyon.
March 13 2012
12.48 Having shown his aptitude for courting speculation over the previous months, Hazard is quick to reveal his excitement at being scouted by the 70-year-old Red Devils boss.
"It is a pleasure to be watched by one of the best coaches in the world, if not the best."
March 18 2012
20.40 Despite repeatedly rubbishing reports linking Manchester City with Hazard, Mancini is present for Lille's 4-0 win over Valenciennes in which the Belgian delivers a stunning display, opening the scoring and providing two assists.
March 23 2012
13.30 Lille president Michel Seydoux reveals the French side "have not received any offers" for Hazard, although reports linking the Belgian with Manchester City and United continue to grow in frequency throughout March.
April 12 2012
07.06 Red Devils coach Rene Meulensteen confirms Hazard is a serious target for the club, particularly after Sir Alex's trip across the channel to watch the player in the flesh.
"It's a sign he thinks it's an interesting player. We talked a lot about him."
April 17 2012
10.50 Former Lille team-mate and now Newcastle midfielder Yohan Cabaye states his belief that Arsenal would be the best destination for Hazard due to the style of football on display at the Emirates.
"I do not know if he is in touch with the Gunners but I think it would be the right club for him."
12.05 Tottenham left-back Benoit Assou-Ekotto once again backs Hazard to make an impact at White Hart Lane, although the club's chances of signing the 21-year-old have seriously waned by April following a slump which ultimately cost them a place in the Champions League.
April 23 2012
21.29 Sir Alex confirms his admiration for Hazard as a "very good player who has many qualities", with the Scotsman particularly impressed by the players initial burst of pace.
City would be "perfect" for Hazard

April 27 2012
09.37 Hot on the heels of his Manchester rival's comments, Mancini hails the 21-year-old's ability and reveals his belief that "City would be the perfect destination for him."
April 29 2012
22.00 Hazard looks increasingly likely to move to the north-west after Manchester City Football Development Executive Patrick Vieira and United scout Martin Ferguson are both spotted at Stade Lille-Metropole to take in Lille's Hazard-inspired 2-1 victory over Paris Saint-Germain.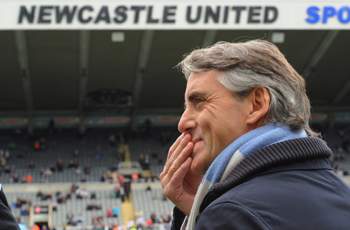 Given his technical qualities, City would be the perfect destination for him - Mancini

April 30 2012
21.50 The Belgian reportedly attends the Manchester derby at the Etihad Stadium, in which Mancini's men ran out 1-0 winners, as a guest of City, before then being shown properties in the area by club officials.
May 2 2012
07.29 With Manchester City seemingly winning the battle to entice Hazard the most, Goal.com exclusively reveals that it is increasingly likely the wideman will move to the Etihad in the summer.
May 7 2012
20.59 Despite remaining coy as to where he will move at the end of the season, Hazard suggests that a move to either Manchester club would suit him.
"I like both. They're both nice colours. I think they both suit me."
May 14 2012
20.46 The 21-year-old confirms what has been all but a two-horse race by revealing he will move to the north-west in the summer.
"To Manchester, as I have already said. The decision will be taken soon. I have made my choice 90 per cent. There are always small things that can change everything. You will soon know where my future lies."
May 16 2012
07.03 Goal.com exclusively reveal that Hazard will announce his future on in five days' time on Monday May 21 following the conclusion of the Ligue 1 season, with Manchester City still huge favourites to land the Belgian.
Kings of Europe make Hazard think twice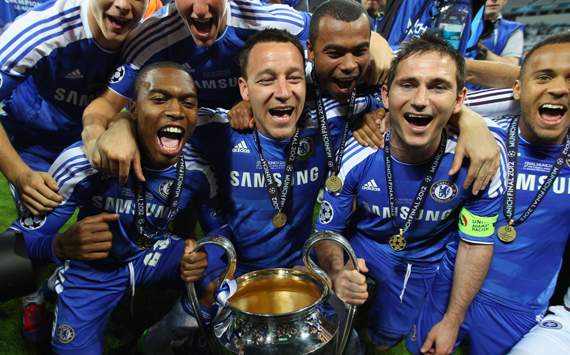 May 20 2012
23.30 However, after scoring a hat-trick in his final game in a Lille shirt, Hazard backtracks on his commitment to reveal his future following Chelsea's Champions League victory the previous day, suggesting the Blues can "make you hesitate."
"It is possible that Chelsea's arrival at the negotiation table will delay things, as nothing is done until I sign a contract."
May 21 2012
00.26 Lille boss Rudi Garcia suggests that the player has had a re-think over his proposed transfer, stating the starlet "doesn't know where he's going" and that he has "changed his mind."
May 22 2012
07.08 With Hazard's delay over his decision prompting concern from Manchester City, Goal.com exclusively reveals that Mancini will personally intervene in transfer negotiations in an attempt to seal the Belgian's switch to the Eithad Stadium.
May 24 2012
20.20 The 21-year-old verifies that he will move to either of the three English clubs most closely linked with his signature, and that the amount of guaranteed playing time will be a prominent factor in his decision.
"My decision will depend on my position and how much playing time I will get. It will be Manchester City, Manchester United or Chelsea. Not everyone can say that they have a choice between three top clubs."
"I'm signing for the Champions League winner"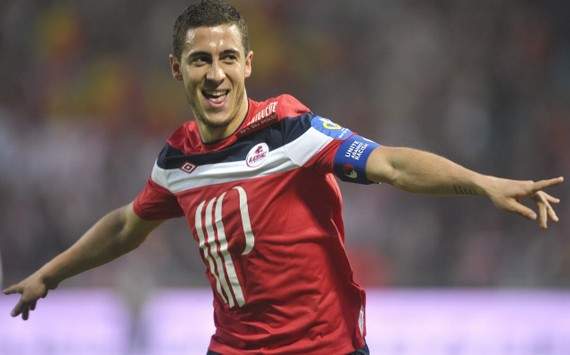 May 28 2012
11.51 Having already tweeted earlier in the day, "I made up mind. See you later", a source confirms to Goal.com that Chelsea have won the battle to sign Hazard, with the player opting for a switch to Stamford Bridge.
20.40 After months of speculation, rumours and making eyes at every major club in Europe, Hazard finally takes to Twitter to confirm he will be joining Chelsea this summer, declaring "I'm signing for the Champions League winner", and in turn putting to bed one of the biggest transfer sagas in recent memory.
Follow Andrew Kennedy on