Chelsea
midfielder
Frank Lampard
has admitted that the departure of striker
Didier Drogba
will leave a "massive hole" in the Blues team.
The Ivorian forward announced on Tuesday that he had decided not to extend his contract beyond the current season and would seek a new club in the summer.
DROGBA SET FOR CHELSEA EXIT The Ivorian will leave Stamford Bridge after eight years with his future unclear

Drogba capped off his eight-year spell in London by scoring the equalising goal and winning penalty in the Champions League final on Saturday and Lampard hailed his former team-mate as one of the best the Premier League has ever seen.
"I didn't see Didier get too many mentions when they were voting for the Premier League team of the past 20 years," Lampard told
The Sun
.
"Maybe that's because people like to make a fuss about the other side of his game. But having played with him for the last eight years I tell you without a doubt that he's the best striker I've ever played with.
"His all-round game is absolutely immense and what happened in Munich on Saturday night just confirmed what I have always believed about him. He should be right up there with Henry, Rooney and Bergkamp among the all-time greats.
"Didier is going to leave a massive hole at our club but I love him as a bloke and I can't be disappointed he's leaving because he deserves everything he gets.
"He deserves to go out on a massive finish like this and I just wish him all the best. It's been an absolute pleasure to play with him and I'm sure he'll make the right decision about his next move.
"Everything he said in his farewell press conference on Tuesday showed him to be an absolute gentleman and a great bloke."
Lampard admitted that he nearly denied Drogba his goal against Bayern Munich by inadvertently directing his header off target but described how his Champions League heroics were a fitting finale to his Chelsea career.
Drogba leaves the club having scored over 150 goals in all competitions, including six in eight appearances in Europe's premier competition this season.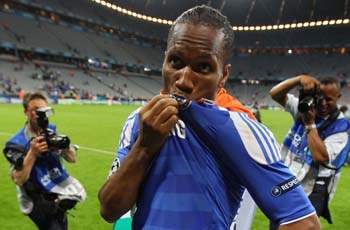 "Having played with him for the last eight years I tell you without a doubt that he's the best striker I've ever played with" - Frank Lampard

"I was at the near post and felt a 'whoosh' come right past my head," Lampard added. "It's a good job I didn't get anything on it because I'd have flicked it over the bar or something.
"I was watching his first Chelsea goal against Crystal Palace on
Sky
the other morning and it reminded me just how well he attacks the ball.
"I remember at the time thinking 'this fella doesn't half power it' and now he's gone and scored a goal like that in the Champions League final in his last game.
"Without that goal, we lose the final. It just shows how much Didier has brought to our club over the years."
The 33-year-old also revealed that he had started to doubt whether his generation of Chelsea players would ever get their hands on the Champions League trophy, having suffered defeat in the final against Manchester United in 2008.
"It's slowly sinking in just what we've achieved," Lampard told
talkSPORT
. "It's been such a long time coming and every year we've been asked 'is this the one that's going to elude you?'
"And, if you're honest, you do start to wonder if you will miss out. I'm 33, Didier's 34 and it's well documented we've got a few older boys in the team.
"The Champions League gets harder every year, Barcelona and Real Madrid have improved. So the fact that we've finally won it with that kind of performance is something very special to all of us."